Rate Now
Share Your Experience
Have you seen Dr. Abdollah Assad?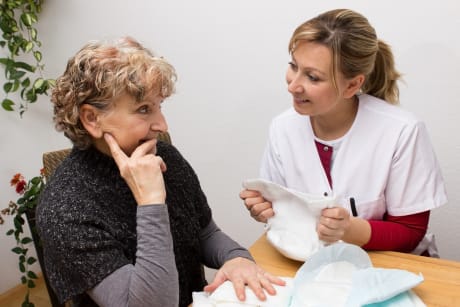 Urinary Incontinence
Learn about the symptoms and causes of urinary incontinence or urge incontinence.
42 Ratings with 14 Comments
4.0 Rating
March 30th, 2017
caring, professional
1.0 Rating
September 25th, 2016
Confused
What the he doing in the medical field? OVER BOOKING RUNNING PEOPLE IN AND OUT OF HIS LITTLE OFFICE WITHIN 5 MIN. NEVER HAVING EYE CONTACT. ASK A FEW QUESTIONS AND WHOOP HE PULLS OUT THE PERSCIPTION PAD OUT AND HERES YOUR MEDS! HOW CAN ANYONE DETERMINE WHAT KIND OD MEDICINE YOU SHOULD BE ON IN 5 MIN WHEN HE HAS NOT EVEN GIVEN YOU TIME TO EXPLAIN WHATS UP! I WAS DESPERATE 2 AND A HALF YEARS AGO AND I TRUSTED HIM BUT SINCE THEN HE HAS GOT ME SO SCREWED UP ITS INSANE GOING TO ANOTHER DOCTOR SHE SAYS I AM ON WAY TO MANY MEDS AND SHES HELPING WEEN ME OFF AND GET ME RIGHT AGAIN!
1.0 Rating
March 14th, 2016
Find a better doctor
1.0 Rating
April 8th, 2015
overpriced drug dealer
i cant believe the authorities are letting this guy get away with just writing prescription's and no counseling. I timed most of the patients when I was waiting for over and hour (because I was new) and the average patient only took 2.1/2 min. a visit. they were in his see through office just getting there fix. patients were coming in the door every 3 min which made it very crowded the whole time. after he was done with one patient he would walk really fast, get the next name called and they came out 3 min later. this guy is not there to fix the mind hes there to make money off of addicts
1.0 Rating
December 12th, 2013
Drug pusher
I saw dr Assad for 4 years because he wrote me an addictive rx which I needed at the time because I was addicted! He kept me addicted in order to get $165 a month from me. I tried over and over again to get off this medicine with no help from him. I weened myself off of it within the course of a year without him knowing. When I finally quit he tried to put me on another controlled substance and cut down my other medicines. Do not go to this man!!!
5.0 Rating
September 10th, 2013
patient
1.0 Rating
August 7th, 2013
Dr. Asad did not know everything as he believes he does in our opinion. He certainly didn't have the slightest clue to the physical/mental harm he was causing in our case. In our opinion Dr. Asad is not a good person and has a really dark heart.
3.7 Rating
March 3rd, 2013
Dr. Assad
1.0 Rating
November 19th, 2012
This man should not be practicing medicine!!
In the U.S., we have a system where patients can't get any medicine without seeing a doctor. That's a system that an unethical doctor can easily abuse, and Dr. Abdollah abuses it.You show up at his office and, after maybe 20-30 minutes, they show you upstairs to see him. He asks you perhaps five very broad, meaningless questions. "Do you sometimes feel suspicious of others?" "Do you sometimes feel unusually energetic?" (Who would say no to either of these??) And then he pulls out his pad and writes you a script.He has no idea who you are or what your issue is. He doesn't spend a minute trying to figure it out. He tries to get you in and out within five minutes or less. He just prescribes a drug apparently at random - and some of these are very hard, dangerous drugs - and bills you $285 for four minutes of his time.This man should be in jail, not practicing medicine. I think he's done a lot of harm to his "patients," if you can even call them that.
1.0 Rating
February 12th, 2012
Drug pusher
5.0 Rating
June 6th, 2011
Great doctor