Rate Now
Share Your Experience
Have you seen Dr. Adam Alperin?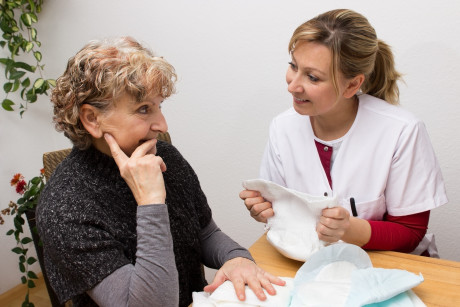 Urinary Incontinence
Learn about the symptoms and causes of urinary incontinence or urge incontinence.
Quality Rating
Highly Satisfied
45 Ratings with 17 Comments
5.0 Rating
February 7th, 2017
Dr. Alperin is Amazing!!!!
5.0 Rating
July 27th, 2015
5.0 Rating
April 5th, 2015
1.0 Rating
December 29th, 2013
Not the one for me
I did not enjoy Alprin. He always shot me down when I asked questions (this is my first pregnancy), I could NEVER get ahold of him or any nurse practioner within the office, I would sit on hold forever until someone would answer and then direct me to the wrong department again. His famous quote was "thats normal thats normal" whenever I questioned my feelings. However, I would get different answers from WebMD or another doctor. I was not pleased. I transferred providers because I was just not comfortable and (TMI) whenever he would do a vaginal check he was everything BUT gentle. Kept telling me to relax, its not easy to RELAX with that huge clamp up in your business. I went into him one time early due to having the weird pressure feeling like your organs were falling through your vagina and without warning he grabbed my belly very forcfully to feel if my son had dropped, it hurt ALOT. He didnt even say what he was doing. Never did a vaginal check to see if i was dialated and I was 33-34 weeks. I was worried. First baby, I dont know whats going on. I was going to change doctors in the practice but all the others were just hateful, due to previous experience when Alprin was out on call. No way. This is my first pregnancy experience and I wanna have someone passionate and who actually listens to me and knows what I'm going through. I would arrive on time for my appointments and even being the only one in the waiting room, I would wait almost 45 mins. Everyone is different with their taste in doctors, Alprin is just not the one for me.
5.0 Rating
October 25th, 2013
Great OB
Dr. Alperin will be delivering 4 of my 5 kids in the coming week. He's a great doctor & has great bedside manner. He's not going to baby you and fluff things up. But he's caring & very knowledgeable! With him nothing has been overlooked and I completely trust him. I don't have the easiest pregnancies. I highly recommend him!
5.0 Rating
January 24th, 2013
MizE
He is the best OB I've had... Referred all my co-workers to him to...
5.0 Rating
February 7th, 2012
5.0 Rating
February 20th, 2011
would recommend
I originally started seeing another provider at this office and felt very unhappy with her care so I decided to switch providers to Dr. Alperin. I think it was one of the best decisions I've ever made. He explains everything in detail and is stern yet gentle. He is thorough and recently diagnosed me as having preterm labor. He promptly sent me for treatment at the hospital and my contractions have slowed down quite a bit. I feel comfortable with him and his bedside manner is appropriate. I would recommend him to friends/family.
1.0 Rating
January 20th, 2011
Terribile Doctor!
OMGosh I just read all of these reviews and can not believe that he is still practicing!! I had the same experience and it was NOT GOOD! He actually made me cry during a visit and my friend was in there with me, and she was left speechless on the ride home. We were both appalled. Because of how awful Dr. Alprin was, I switched practices at 36 weeks pregnant. I had just had enough of his rude, mean, rough, uncomfortable bedside manner. It is atrocious that something has not been done about this man!!
1.0 Rating
August 5th, 2010
Pick another dr
2.3 Rating
May 20th, 2010
be careful and trust your body over his word
Some may like him, some may not. My personal experience with him, unfortunately, was negative. In the initial stages of my pregnancy, I would ask him questions about various aches and pains and he would brush them off by spouting how due to some percentage, what I was feeling was okay. Around 27 weeks of pregnancy, I got incredibly sick with food poisoning to the point that I ended up calling the ER. Contrary to what he told me, I could not reach him and ended up talking to some other doctors who told me not to go into the ER. The next day I had an appointment with him. My weight had decreased dramatically, I was feeling terrible, and I noticed my little girl's heartbeat was significantly slower. He told me this was normal and I should feel better over the next week. Despite my ordeal, he didn't bother to check me or my baby any further than a routine check up.My little girl died two weeks later from a cause that could have been caught had he not just brushed me off. Due to his judgment to not check me any further, my little girl was not even given a chance.If you do end up going with Dr. Alprine, please do trust your body and your judgment over his words and insist that he looks into a matter further. It could mean the difference between your child living or dying.