Rate Now
Share Your Experience
Have you seen Dr. Adnan Trabulsi?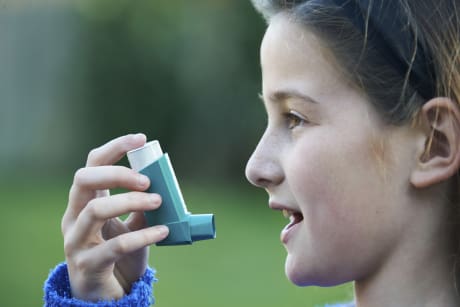 Childhood Asthma
Get the facts about childhood asthma, including the causes, symptoms and complications related to this condition.
77 Ratings with 19 Comments
2.0 Rating
October 20th, 2016
RN, BSN
No I am not a patient, but I am a school nurse who has worked with Dr. Trabulsi and his office staff on many occasions. The office staff is highly unprofessional and not willing to help. Without revealing information about my patients, he takes WEEKS to complete orders and when I do receive them, they are incomplete and contradicting. I could go on about misdiagnoses and improper treatment, but I am by no means a licensed physician. Parents, please spare yourself the headache and do not give this office the time of day. I am sure some others have had positive experiences, but among my colleagues he has a terrible reputation.
1.0 Rating
July 7th, 2015
Not if you Value Your Child
I accompanied my daughter-in-law with my 2-week old grandson. This "doctor" (and I say that with the utmost disrespect) should be investigated! Let's start with the waiting room - first of all, this is a pediatrician's office. The room was the most uninviting place I have ever had the displeasure of visiting. There is nothing for children to interact with. They have stuffed animals hanging from the ceiling - really, the ceiling!! The television which if you are going to have a television in a children's waiting room, it should have children's programs not medical information that does not pertain to children. Next, they have signs posted "CASH ONLY" - REALLY!! CASH ONLY. That's when my antenna went up and probably collided with a satellite. Everyone knows if you are only accepting cash you are not properly reporting income - now we are talking another type of investigation. Okay, now the staff. Please someone tell me how you can work in a "doctors" office and not have proper attire - you know like SCRUBS! These women were dressed like they were going shopping at WalMart. Very unsanitary! Now for the actual visit. We go into the exam room. One of the assistants comes in to ask my daughter-in-law a host of questions that quite frankly should have been asked by the doctor. After all, she is a new mother. She then needs to take my grandson's weight - FULLY CLOTHED and WITH A WET DIAPER! How is this accurate, please someone explain this to me! Now we have the "doctor". He, this doctor, who should be investigated, manhandled my 2-week old grandson to the point where I had to ask the "doctor" was he a piece of chicken! The "doctor" was in and out of the room in less than 5 minutes. AND I AM NOT EXAGGERATING! I told my daughter-in-law to find another pediatrician immediately and my grandson would not be going back over my dead body! This entire experience with this dr. trabulsi was very unpleasant. The office was uninviting and unclean, it smelled like a dirty wet mop. He needs to be investigated immediately.
4.0 Rating
March 6th, 2015
5.0 Rating
May 7th, 2014
AWESOME Pediatrician!
I have been taking my son and daughter there for alomst 6 years now. He is the friendliest man and cares about the children and also the parents. He spends adequate time with each patient and knows them by name. You can reach him by phone 24/7 and is always willing to help. My kids love him and tell him that every time we go there. He tries very hard to give the children what they need and also makes sure that you are able to afford it and with him having his own pharmacy in his office they are willing to give discounts so that you are able to afford it and your children gets the medicine they need. If he doesnt know what is wrong he tries to find someone who will so that your child is is safe. His nurses and receptionist are super nice as well and care about the children as much as he does. They are always friendly and always willing to help. Overall i would definately reccomend this loving, caring doctor to anyone who needs a pediatrician!
5.0 Rating
March 2nd, 2014
The Most Amazing Doctor
5.0 Rating
November 30th, 2013
Dr. Trabulsi
1.0 Rating
May 22nd, 2012
Worst dr. ever
1.0 Rating
November 30th, 2011
He was ok the first two visits. He only has one nurse though and she is compleatly horriable. She has the worst attitude every time we were in there. She would yell at me for asking questions. She took my 8lb baby and pulled him to the end of the table putting her 200 plus ibs on him just for two shots. When i told her not too she got an attitude and he ended up with baseball size knots on the injection site. The dr was nice but my son has reflux, he only tried one med and a few test and then refused to help us until we saw a spec. And he said my son is underweight when he is not. Now Kaneta in the office is absolutly wonderful and we will miss her.
5.0 Rating
September 26th, 2011
Great Doctor