Rate Now
Share Your Experience
Have you seen Dr. Akhil Khanna?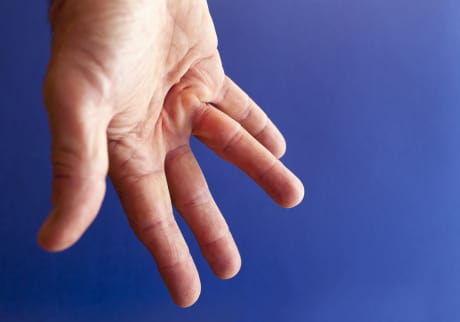 Dupuytren's Contracture
Dupuytren's contracture is a thickening of the tissue beneath the skin of the palm of your hand
Quality Rating
Highly Satisfied
75 Ratings with 40 Comments
1.0 Rating
August 28th, 2017
Very Disappointed.
5.0 Rating
August 3rd, 2017
A fantastic physician
I have been a patient of Dr. Khanna for over 2 years and I can't think of anything bad to say. I was losing the ability to walk and he performed a lumbar fusion with rods and screws and I am walking , One of the things I really like about him is that he does not rush to surgery. I saw him this morning with pain in my neck radiating down my arm.. I already 4 cervical fusions and am not looking for any more surgery. WE are going to try pain management and see If we can get this under control. I feel very lucky to have found Dr. Khanna, my original physician had retired and I needed to do something, I interviewed 5 neuro and orthopedic surgeons. I chose Dr, Khanna because he spent time with me and he listened, He gave me options, He is pretty much always on time and I have never waited more than 15 minute and of course he is an outstanding surgeon. I had one bad one and I learned my lesson Get the best and I have
5.0 Rating
December 8th, 2016
5.0 Rating
September 12th, 2016
5.0 Rating
April 15th, 2016
Very professional practice
I appreciate the high level of professionalism of this practice. Dr. Khanna treats each patient with respect, gives each patient the time to ensure all questions are answered, and the course of treatment is clearly understood. All of the staff in his office are very professional. I have referred family members to Dr. Khanna. I recommend him highly.
5.0 Rating
January 25th, 2016
This man is gift. I have followed closely doctor after doctor who have tried to help my friend with her debilitating pain from rheumatoid arthritis, fibromialgia, etc., medications, surgeries, pain specialist. She continued to be in so much back pain that doctors did what they could to relieve it. Finally a back surgeon sent her to Dr. Khanna. Within 10 minutes, he had looked at the MRI, listened to her description of pains in her back and said, "I don't think it is your back, I think it is your hips." He used some diagnostic tools to test his decision and there was immediate relief like I had not seen. He is incredible, upbeat, patient and brilliant. So is his staff: Charmaine, Mr. Volatile, Dr. Botilin. He is indeed a gift.
5.0 Rating
November 6th, 2015
Business Owner
First off...........Dr. Khanna, after several other doctors, know that I have a VERY severe case of Degenerative Disc Disease, herniated discs and additionally spondylitis I visited Dr. Khanna I saw his staff, which are very efficient, John, his PN and then Dr. Khanna. Dr. K then recommended surgery. I have recently found out that a friends father of mine has also had surgery with him. I have had 8 steroids shots in shoulder and neck equally which do not offer much solution. I am very much looking forward to surgery. He is going to replace my 4 discs and do bone marrow in between. I have advised him of my issues with DNA and swallowing issues and breathing issues due to the compression of the discs and he has assured me that I can look forward to 80% improvement. I have lived with this serious pain, lack of quality of life and inability to function as a normal human being. I LIVE and BREATH pain but definitely keep my attitude positive ALL the time. I am very much looking forward to getting back to myself. So glad to have been recommended to this Dr. and will keep you posted of my results after Thanksgiving. Having surgery day before Thanksgiving and actually am not at all worried about missing turkey day for the benefits that this will lead to afterwards. I am finally happy to know that soon I will be so much more able to have a great quality of life back. Thank you Dr. Khanna for the positive reinforcement.
5.0 Rating
October 30th, 2015
Lumbar fusion
I am physician- when I suspected I was going to need some intervention for a low back problem I researched a number of options and decided Dr Khanna was the best person to manage my problem. I am now 8 months post fusion and doing well (though I have not lost as much weight as I should have by now). It is a work in progress.
5.0 Rating
July 3rd, 2015
5.0 Rating
April 8th, 2015
5.0 Rating
April 7th, 2015
Dr. Khanna was very thoughtful in making my diagnosis and deciding on the course of treatment. I was in significant pain from impingments on my sciatic nerve from severe stenosis and scoliosis. This was an inherited condition that left my mother and aunt bedridden in their later years and on heavy pain meds. The first time I stood up after the surgery, the pain was totally gone. Dr. Khanna performed an extensive fusing and repair in order to give me the best chance at a long-lasting fix. He encouraged walking and PT to strengthen my legs, back and abs. These have done their job and I am only using a cane at 7 weeks post-surgery mainly for stability due to a knee also in need of repair. This was a life-changing surgery for me. Before it I avoided walking as much as possible and was slowly withdrawing from any activity due to my pain. There were no complications and hospital care was excellent. I couldn't be more pleased.
5.0 Rating
March 12th, 2015
Very Pleased with Dr. K
I was very fortunate to be referred to Dr. Khanna by Dr. Thiel when my MRI showed some damaged c-spine issues, which had been the cause of unrelenting pain for about 6-7 weeks. Dr. Khanna got me in to see him quickly, and fit me into his surgery schedule rapidly, so that my pain was relieved by a successful operation on 10/31. He and his PA were good with followup, etc. My only 2 complaints are 1) I had a bad case of thrush mouth right after the surgery, which left me unable to eat and thus very weak. I was referred to my primary when he easily could have called in a prescription for me, saving me from having to travel (I was very weak post-surgery) more and wait longer. 2) I had to ask for a scrip for physical therapy, which I think is rather odd considering I had significant cervical spine surgery...I would have thought a PT referral would have been standard protocal! Other than that, I was very pleased with Dr. K and his team. They really saved my life!