Rate Now
Share Your Experience
Have you seen Dr. Albert Gillespy?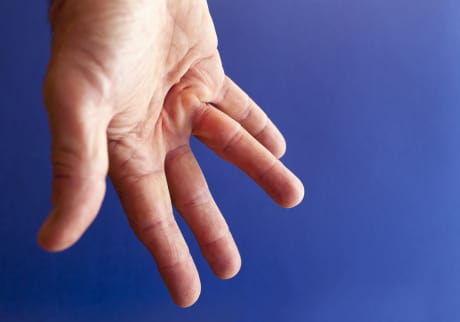 Dupuytren's Contracture
Dupuytren's contracture is a thickening of the tissue beneath the skin of the palm of your hand
21 Ratings with 15 Comments
1.0 Rating
April 26th, 2017
What a horrible experience with this office & Albert Gillespie!!! Please do not go to this group. As you wait, you feel like you are in for a car repair rather than your body. Gillespie, the little twit is less than stellar, I can say that for sure. Basically he is a cookie cutter doctor. HORRIBLE EXPERIENCE. I am walking with a cane from a very "every day" surgery.
1.0 Rating
July 18th, 2016
His overall rating of 2.5 is still too high!!!! That whole office atmosphere gives me the creeps. You feel just like a # & are there waiting for your car to get fixed. Bad place, bad staff, bad doctors. His PA made me feel like a child, literally. I have had 14 surgeries & also a breast cancer survivor, I could be my own dr! Do not recommend seeing this doctor & as a matter of fact anyone in that office.
4.0 Rating
April 20th, 2016
Doctor Listens
5.0 Rating
January 16th, 2015
Positive office visit
I had a positive experience with the doctor and his staff. My only negative was a miscommunication with one scheduling person during the period before and after the winter holiday. After the holiday I spoke to someone new and my appointment was made within the week. I found all his office staff kind and informative. The office waiting room and exam rooms clean .
5.0 Rating
October 21st, 2014
Severe back neck and hip pain
I see several negative reviews here. Dr G treats me and I love it. There is no conveyor belt medicine practiced here. He has a very thorough staff who are very attentive from the time you arrive until you leave. It's true it takes a while to get him into the exam room, but with me he has always taken plenty of time to do a complete exam and allows me to ask questions. He is very much a point blank, matter of fact doctor, what else could you ask for. I am extremely impressed by this great practice. I have benefited from his care and I feel confident I finally found the right orthopedic Dr for my needs. This practice is a well developed, busy practice with a well equipped and well staffed office.
1.0 Rating
July 1st, 2014
very disapointed
2.3 Rating
June 4th, 2014
pain in the neck
waited 2 hours in the xam room pain so bad for 6 weeks told me to try predisone which I had already taken did nothing but keep me from sleeping had a mri sitting can not lay flat pain from neck to hand unbearable now wants a cat scan im on medicare does the doctor care??
1.0 Rating
August 25th, 2013
anyone but him
I was sent to him for a back injury caused by a work accident. The xrays and MRI show ruptured discs, leaking spinal fluid, etc. My last visit I waited over 3 hours for my appt. He walks in and said 'good morning' and I replied 'good afternoon'. He got mad that I dared mention being inconvenienced and decided all my injuries were degenerative disc disease. Pretty much kicked me out of his office and said I was 100% healed. I was sent to another Dr. who referred me to a neurosurgeon, who said yes I can fix it with surgery. But after workers comp talked with him he did a 180 and told me get used to living with pain every day. If I could select 0 stars I would.
2.3 Rating
February 16th, 2013
Needs to improve talking to patients
Sorry I have a bad experience with this doctor. He did surgery on me previously. Went to see him again. This time he was rude and no compassion whatsoever. Telling me to wait months to see if pain goes away. Said no need for MRI, but he thinks I have a herniated disk. Wouldn't it be better to know for sure yes or no.
5.0 Rating
June 4th, 2012
he's worth the waiting time
our family has been seeing dr. albert gillespy for twenty three years. he saved my son's life in 1990. he has cared for me for all these years also. true it's a long wait to see him, but if you have to wait it must mean someone else needs him too. true he doesn't hold your hand, he's a doctor not a minister. if you need surgery then you need dr. al, there's none better.
1.0 Rating
October 26th, 2011
overwight or if you smoke do not go
1.0 Rating
October 20th, 2011
Nearby Doctors

Dr. Albert Gillespy is similar to the following 3 Doctors near Daytona Beach, FL.