Rate Now
Share Your Experience
Have you seen Dr. Allan Moede?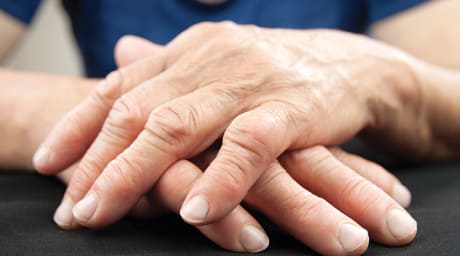 Osteoarthritis
Get the facts about osteoarthritis, including the symptoms and doctors who treat it.
9 Ratings with 4 Comments
2.0 Rating
March 31st, 2015
Not symphathetic to patient suffering
after he cuts thru skin, muscle and nerves, saws of you bone and the files it, sticks a metal rod in your bone and a new metal joint, he shows no empathy or concern for your pain after all he puts you thru. Had a knee replacement recently, and he was more focused in follow up appts about my range of motion progress. His standard was 125 degrees rom. He actually was quite rude and kept demanding I do more movement exercises even though I told him I was having such debilatating pain. Wanted me to be at 120 rom within weeks of surgery, even though PT told me repeatedly it takes a long time and every patient is different. PT sent him reports on my progress, having used devices to measure my progress each week. He just takes the knee, bends it back and eyeballs the angle, then tells me its not good enough. I told him to look at the PT report he was sent that same week, and his reply was that he doesn't read the PT reports sent to him. Really? They spent 3 separate hours a week (PT 3x per week) for five weeks, and used range of motion devices to plot my progress. I saw him twice in that time period, and he just takes my leg, bends the knee back and eyeballs the angle, then chews me out for not achieving enough rom quick enough! I am thinking of going to another Dr for my other knee replacement. It can only get better after enduring his cold indifferece and lack of empathy.
1.0 Rating
December 13th, 2014
lacks empathy and compassion
Surgery: TKR, at hospital. dr curt, short abrupt. after dicharge and while in PT, I saw him twice so far and found him to be a rude jerk. No positive ecouragement for gains in P t, just negative attitude telling me my progress Each time, (hard won!) was not good enough. Not kind, friendly, encouraging. or compassionate. Bedside manner sucks, one step above House M.D. Skill may be great but prepare yourself for an indifferent, cold, uncaring person who will show no understanding or compassion for your post op pain or struggles to regain strength despite hard pain.
1.0 Rating
October 7th, 2012
Shoulder Surgery
I went to this doctor because I had an accident at work (Workers Comp). He did not talk to me before the surgery (very poor bedside manner). He does not look at you when he is talking to you also in his office. He was suppose to complete the paperwork for after care and it was a blank piece of paper. I was not sure how to take care of my shoulder because I had no directions. When I went to have my stiches removed, there was a lot of pain because there was a stich inside (that was not suppose to be there) that that had to be pulled out, it was very painful. I continued to have pain months after the surgery, and instead of investigating my problem, he sent me to the pain specialist (who was wonderful - Dr. Chin). They injected my shoulder, neck and back, but the pain kept coming back within hours. Dr. Moede would NOT do any further evaluations even thought I was unable to move my shoulder. Finally, after 5 months (at my instance) they did another MRI with contrast. I still had the two rotator cuff tears. The reported stated "the superaspinatus demonstrates deep extreme tearing along the articular surfaces" When I took the results back to Dr. Moede, he told me "I don't read diagnostic imaging reports, I just look at the images" I could not believe this, a trained radiologist read the report and the doctor ignored it. I would NEVER recommend this doctor to anyone, and if you are reading this review - stay far away from this doctor.
1.0 Rating
October 7th, 2012
Shoulder Surgery
He did my surgery and after months of continued pain (5 months), there was multple tears of the rotator cuff that were never repaired. If you are rea ...
3.0 Rating
July 9th, 2016
5.0 Rating
January 19th, 2015
5.0 Rating
September 22nd, 2014
5.0 Rating
June 27th, 2014
Nearby Doctors

Dr. Allan Moede is similar to the following 3 Doctors near Marinette, WI.