Rate Now
Share Your Experience
Have you seen Dr. Alma Parker II?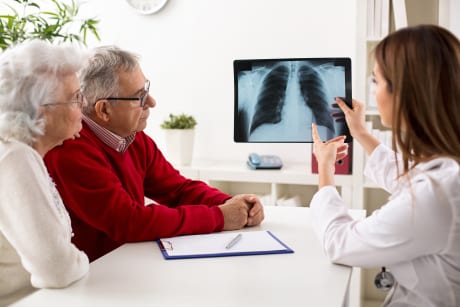 Lung Cancer
Get the facts about lung cancer, including how many people get it and what increases your risk for developing it.
Quality Rating
Highly Satisfied
23 Ratings with 7 Comments
1.0 Rating
July 13th, 2017
Elder abuse
I've been taking my mother to him for years. We were one of his first patients. Now that He's seeing younger and younger people he don't have time for my mother now. I can't ever get her seen and if she ever does get an appointment the nurses are so mean and short with us it's not worth it. I'm driving to roosevelt with her now because he don't care.
4.0 Rating
March 16th, 2017
I have been going to him for about 6 years. the first day he came to Vernal.
at first I was not happy. But since I have found if you ask him questions and tell you need his expert advise he has reall changed with my family. I have a lot of issues and he has been there from the start. His staff is not the best I told him how mad they made me since then they have been great. just let him know if you have a complaint he is real good about finding the solution. The only thing I do not like about the office is getting test results are not good. I do not like having to call to ask for them. I have told DR parker my anger about this and it has gotten better. He did not know why they had this problem but I think he has got on them about this because I no longer have this problem. He is so busy with all he does. I think he need to slow down on somethings. He does the care center and good shepherd, the med floor and the emergency room a couple weekends of the month as well as his office. I feel he has to much going and should let something's go. I told him I want him to smile more so when he comes in and I am there or in the hospital he smiles at me. so ya just let him know what you expect and you will really like him.
4.0 Rating
June 14th, 2016
1.0 Rating
December 27th, 2015
Why did my life mean nothing to you?
He failed to tell me what tests revealed, he didn't provide proper care concerning on going issues, even once he had tests results proving a problem, he still did nothing to correct the problem, I only found out certain medical diagnosis because I requested my medical records from his office. I laid my life in his hands and I almost died as a result, I wasn't even 40 yet, congestion heart failure,atherosclerosis of abdominal and illiac arteriesarteries, bone problems and he claimed to do things he never did like checking eyes, ears, throat and things like those. Also he waited for awhile before even getting tests that were needed and refused to try to get insurance company to authorize the needed test, it was truly like he just didn't care whether I lived or died
1.0 Rating
June 17th, 2015
Not Dr. Parker but his FNP Melinda Allen has absolutely no bedside manner. I feel like I just left a debate session. She talked down to me, treated me like I was faking symptoms, like I was stupid, and she did not care about how I have been feeling or what may be wrong with me. I will never return there. Dr. Parker has been kind to me in the past but his decision to add this beast to his staff is very disappointing. This is another clear indication of what happens when a new Dr comes to the area and then gets too busy. He chooses to hire some one to help without realizing that he is going to loose patients if he doesn't hire someone with the ability to relate to people. Ms. Allen may be a good FNP one day when she can get over herself and her ego. Oh and when she realizes people come to her when they are in need of someone who cares about their health.
5.0 Rating
August 31st, 2010
Dr Parker
5.0 Rating
April 30th, 2017
5.0 Rating
April 29th, 2017
5.0 Rating
March 28th, 2017