Rate Now
Share Your Experience
Have you seen Dr. Ana Sanchez?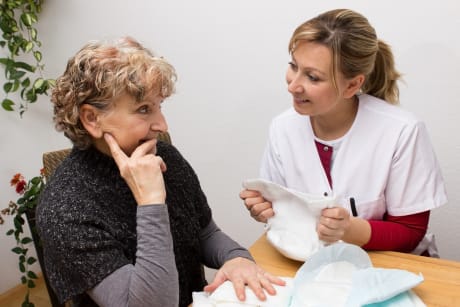 Urinary Incontinence
Learn about the symptoms and causes of urinary incontinence or urge incontinence.
32 Ratings with 14 Comments
1.0 Rating
June 6th, 2016
1.0 Rating
January 16th, 2015
never going to visit this doctor again
1.0 Rating
February 13th, 2014
Worst Doctor
I wish I had never gone to see Dr. Sanchez. She is rude, and it's all about the money. I can't believe I read some reviews on here and still went. I was desperate to see an OBGYN, and figured it would be ok, and I totally regret it now. All the reviews are right on, and all I can say is cancel your appointment and do your research on finding a new OBGYN. I have never left a doctors office in so much pain, and I want to just warn everyone about her.
1.0 Rating
June 3rd, 2013
Trust the Reviews. I should have. She doesn't care about people.
I had my insurance and PCP approve everything before getting an appointment and going to her office. But because she didn't have the paper work and was afraid that she wasn't going to get paid, she would only do a well-check which is not why I made my appointment. I had to go to urgent care prior to seeing her. And it was still difficult to make an appointment for an emergency. While I was on hold with my insurance the doctor came in twice while I was on hold. The first time she said that she was going to see another patient then. Then she told me to take the call outside in the waiting room because she needed the room. They told me to undress and I was in a paper napkin cover!!! I am appalled at her rudeness and only concern if she was going to get paid. She in her first conversation with me was that if she didn't have the paper work she wouldn't get paid.
1.0 Rating
September 18th, 2012
AWFUL
I sent my 18 year old daughter there to get a pap-smear and to start birth control. Her experience was awful - she had to wait almost an hour and then when Dr. Sanchez came into the room, she made my daughter feel stupid and made rude remarks and was uncaring the entire time. I would highly recommend you switching to a doctor who cares about her patients - not makes them feel like they are stupid girls.
1.0 Rating
February 22nd, 2012
Worst doctor ever
do not go to this doctor, I loss my baby because of her, at 6 months I came to her and I was in lots of pain, she told me all pregnant woman through this, she told me to suck it up and rush me out of the office, she is only nice to if your husband or another person is there with you, that day I came myself. So I went to a near by ER near my house in a different city, I was told I was having early contraction, I went into preterm labor. My baby past away at 7 months after delivery. Her office is stone age, has no machine or equipment, her staff is rude, the girl that calls insurance company so rude. If Dr Sanchez reads this review she knows exactly who I am.
1.0 Rating
May 11th, 2011
Be carefull
I was six months pregnant with a weakening cervix experiencing cramps. She said I needed to sit while at work. I felt she did not know what she was doing so I switched to another doctor. I was immediately placed on medical disability and bed rest for the remainder of the pregnancy. Had I not sought professional help elsewhere I believe I would have aborted my baby. Dr. Ana Sanchez in my opinion is incompetent and does not care about the well being of her patients.
5.0 Rating
November 30th, 2010
1.0 Rating
January 19th, 2010
1.0 Rating
November 13th, 2009
Horrible Experience!
I will never go back to Ana Sanchez! She didnt make me feel comfortable; she seemed to be in a rush the moment she walked in to the room. I didnt even have a chance to ask her questions and when I tried she was very cold and her answers were short. She did the pap-smear in 10 min! I WOULD NOT RECOMMED going to her!!
1.0 Rating
September 14th, 2009
Don't go to Dr. Sanchez
1.0 Rating
September 3rd, 2009
Went in for high blood pressure and edema 5 days post partum. 1st - She prescribed bedrest; with a 5 day old infant, this does not happen.2nd - She considered the exam she gave me to be sufficient; as in, I did not need a 6 week post-partum check up. This is 5 days PP. My uterus was not fully contracted, the placental site was not healed, I still had 10 stitches (the site of one of which was inflamed); this was only 5 days after giving birth.3rd - When I insisted on a 6 week check up, the office gave me a date and time. When I arrived, I find that they did not actually reschedule the first canceled appointment and were not expecting me for another 5 months and routine pap smear.If I had (or have, I still haven't been seen) any related medical issues will be criminal negligence in my books.