Rate Now
Share Your Experience
Have you seen Dr. Anand Thakur?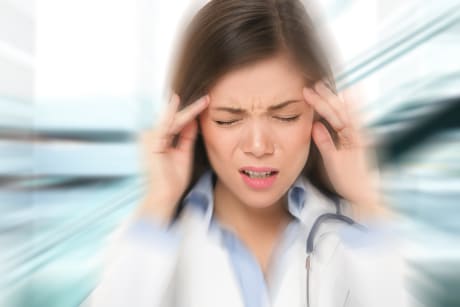 Migraine
Get the facts about migraine headaches, including the different types of migraine and migraine triggers.
30 Ratings with 12 Comments
1.0 Rating
July 10th, 2017
Real BAD!
Don't even waste your time with this self centered "know it all". He could care less about you and managing your pain - all he is after is the money. He uses the pain you are in as leverage to take useless in office treatments. His mandatory urine testing at every visit helps him justify increasing the frequency of your visits so he can charge your insurance company more often for not only the visit but his "in house" lab charges! Have a urine test done at a normal lab before or after he does his and just compare the difference. Dr. Crook
4.0 Rating
November 10th, 2016
Very friendly and knowledgable staff and doctor
1.0 Rating
October 18th, 2016
Worst Pain ,management doctor every had in the 10 plus years!
After having pain doctors for over 10 years. This is the only doctor that blocks second opinions, he has NO PA's and types own records, which is leaves vital information out! He compares patient's and himself not only to his own injuries but others. He is all about infections, that is how he makes his money. He accepts many types of rewards from Big Pharma. Never once did I have an actually full physical by him! He using Henry Ford Hospital for MRI's and that machine is so old, plus the fact that the people who read them I question. When a person has had an uncorrectable problem with their pics, for over 6 years, seen only 3 months early, there MRI showed it GONE, and he accepts that? His bed side manners are the worst. He has that he can do it better than past doctors when it comes to injections On injections he does, I had one by him, Hurt so bad during the injection and did't work. I have had over 10 injections only once did I get short lived relief! He is all about the money! sorry to say that, but it is a turn,, I can bring up so much more, but there is too much~ I have been searching for new doctor, with his blocking my acceptance by another doctor makes things very hard! If I could put the star to ZERO! So had to votes, so gave 1
1.0 Rating
October 4th, 2016
Awe full
I just say I have some major medical issues, then I was in a bad MVA disabling me and putting me in icu for 6 weeks. All specialists I've ever seen in 33 years is hard pressed to find a medication that will relieve enough pain to get out of bed. I went to ANA from a referral and he flipped through all paperwork mumbling healedhealed and then not only thought suboxone would help, he also wrote a report saying I was fine and are looking for pain killers because of my addition. Now I can't find Pain doctor that will help once he sees that report Dr Quaker wrote. I will be doing everything in my power to make sure his pain license is revoked and anyone's testimony like mine will help. I'm a man of Christian values and have never been willing to do anything like this but I feel it's the only way to stop him from making hundreds more miserable while he laughs all the way to the bank. If you want in I'll be checking for anyone who leaves me a email which I will respond to as an anonymous, from there you can get my information, this is not the place. Thank you all who respond, it's the right thing in my opinion to do about this ( doctor)
1.0 Rating
August 21st, 2016
MEDICAID PATIENTS HAVE RIGHTS TOO!!
Just because we are on Medicaid we(the patients) should be treated just like any other person who has any other insurance that pays more to the doctor!!! We have heard this way too many times from doctors after they've been seeing you-"Medicaid don't pay much", "they only pay half & we eat the cost"!! We are human beings with pain, some chronic & you doctors should have some compassion, I wish there was doctors just for Medicaid, sorry the poor folk!!! Shame on all doctors who continue to turn us Medicaid patients away....Thank God for reviews...my experience, well the reviews have said it all so thank you to that!!! Put yourself in our shoes, better yet our backs & stop with all injections, they are more harmful than you think!
1.0 Rating
July 14th, 2016
Cares more about money than patients!
Dr Thakur is rude, arrogant and greedy. He actually told me (exact words) "Your insurance (medicaid) doesn't pay me enough to care about you"! Every time I have seen him (3 regular visits, 1 injection) he has rushed me in and out, each appointment lasting less than 7 minutes. The injection took a total of 4-5 minutes or less because he was in a hurry after making me wait 2+ hours. He also breached patient/doctor confidentiality by discussing my medical information with my father who was not on the list! I waited 1 to 3 hours every time, people with appointments AFTER mine were taken in BEFORE me. He also did not actually treat me. He has made my life a living he** by NOT managing my pain. I gave him the benefit of the doubt but when he told me my insurance doesn't pay enough, I am done with him. I complained to the staff about my wait and they TATTLED on me to the doctor and he chastised me for 4 of the 7 minute appointment. Very terrible staff, doctor, facility. NEVER GO THERE.
3.0 Rating
August 25th, 2015
1.0 Rating
May 11th, 2015
Doctor blatantly told me that he does not like taking medicaid patients because they don't pay good. He is injection happy. He wants everyone to get injections and makes you feel guilty if you don't want them. He does not treat all of his staff the same. He picks favorites. He does not answer questions fully.
5.0 Rating
March 14th, 2015
5.0 Rating
March 12th, 2015
Nearby Doctors

Dr. Anand Thakur is similar to the following 3 Doctors near Clinton Township, MI.