Rate Now
Share Your Experience
Have you seen Dr. Andrea Vidali?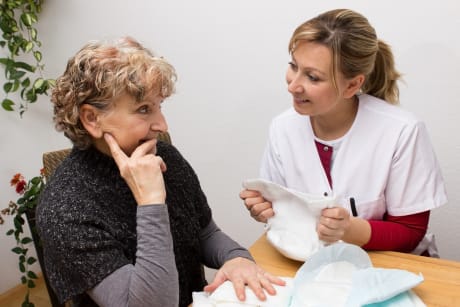 Urinary Incontinence
Learn about the symptoms and causes of urinary incontinence or urge incontinence.
Quality Rating
Highly Satisfied
66 Ratings with 29 Comments
1.0 Rating
May 22nd, 2015
You do not want to work with this doctor. Trust me.
5.0 Rating
April 22nd, 2015
Dr. Andrea Vidali is amazing
Absolutely amazing, personable, and takes HIGH interest in YOUR case. I've been on 9 IVF cycles and I can't compare my positive experience with him against the others. He did my implant and it STUCK - I am now happily 10 weeks pregnant; and I honestly do believe it had to do with him making me feel so comfortable and his touch. His staff is super nice, no attitude and always willing to help / provide info you need. The visits are never rushed and you actually feel like a real patient, not a number or a statistic in a IVF clinic. Dr. Vidali is just amazing, there really are no words. If you get him as your MD - you are in good hands!!!
5.0 Rating
June 9th, 2014
I had a Direct Line with Dr. Vidali
Dr. Vidali is the only doctor I ever had who gave me his personal cell phone number to reach him. It was on his business card! I have spoken with Dr. Vidali after hours office hours, on the weekends .......whenever! He was always available to answer my questions and in a cheerful mood. I left NYU and went to see Dr. Vidali because I felt rushed and I had some medical issues that were not being addressed and I needed extra attention. I am a single woman and conceived with IUI.
5.0 Rating
June 4th, 2014
the ultimate professional
I came to NY summer 1999 seeking sound medical advise. Dr vidali had returned my distressed message left on his answering machine.That first visit would set my heart at ease for the rest of my life.He was thorough and made you feel at ease. I always felt special because of the interest and concern he and his staff showed whilst in their care. Continued blessings
5.0 Rating
March 23rd, 2014
Thank You Dr. V!
My problem was multiple miscarriage. The doctor did a full workup, and the cause was immunological. It was not easy , ended up doing IVF with Intralipinds and Neupogen. Having dealt with failure for so long we are finally heading towards success in our 6 month of pregnancy. The dr. was always honest with us and never made us false promises and relieved our anxiety. Thank You Dr. V!
5.0 Rating
February 28th, 2014
One of the best
I get the feeling that fertility is not a science. Every doctor you see throws at you treatment and statistics that half the time are completely unsubstantiated. When you look at SART, many centers do not report all of their cases because they do embryo banking or PGD on everybody artificially raising their pregnancy rates and the worst offenders are the largest centers. Check it out for yourself and look at the SART page and compare the total number of cycles on the upper left corner of the window with the actual cycles reported. I know this because I am a scientist working in reproduction. In Dr. Vidali, I found a straightforward physician who helped me out with honesty and a positive attitude.
5.0 Rating
February 18th, 2014
Good for egg fe
5.0 Rating
February 10th, 2014
Amazing experience and pregnant
Doctor Andre made our dream come true! After two years of trying, we were recommended to the good doctor and he immediately put us to ease with his confidence and expertise. Adjusting our treatment to our personal needs we were successful in our second attempt! We would highly recommend Doctor Vidali to any other couples looking to get pregnant! Thank you dr.Vidali :)
5.0 Rating
November 11th, 2013
Thank You Dr. Vidali
After having been told by RMA NJ that I had "bad eggs" and that i needed egg donation at 37 I went to see Dr. Vidali for a second opinion. We tried a modified clomid/injectable cycle and today I am a mother! Do not believe the hype that some of these "big" centers have created.Most of these big centers play with their pregnancy results by excluding patients like me! Find a doctor you can trust. I am happy I found Dr. Vidali. I saw Dr. Vidali in his NY office.
1.0 Rating
July 2nd, 2013
This review is late but I thought important. I saw dr vidali in 2010 for countless rounds of IUI and 2 rounds of IVF with no success. Dr vidali is the first dr we went to for fertility treatments so I had nothing to compare his clinic to at the time. After having gone through even more IUI and IVF and having a beautiful baby boy I feel like I have more perspective to write this review. AFS did not do any testing to determine the causes of my infertility (which were many). I believe they treat every patient with the protocols that render the highest success. If the protocol works for you great, if it does not, you are just out of luck with this dr. After a 2nd failed round of IVF Dr. Vidali told me to cut my losses and adopt. I was devasted at hearing this from my dr. The compassion and care for each individual patient was certainly lacking at this clinic. Also, other clinics/drs actually give you an apt for your bloods/US which saves you from having to line up like cattle and wasting countless hours of your time waiting. If you want to be treated like an individual, go elsewhere.
5.0 Rating
June 6th, 2013
Great Doctor
Andrea really takes the time to answer all of your questions. He diagnosed my problem and helped me to find a solution. I had been to few other clinics prior to going to Andrea. It's nice going into his office and not being the 20th person waiting in line. I have a son that was IVF from his office and now I am pregnant with my second child. I highly recommend Andrea Vidali.
Nearby Doctors

Dr. Andrea Vidali is similar to the following 3 Doctors near Brooklyn, NY.