Rate Now
Share Your Experience
Have you seen Dr. Andrew Berchuck?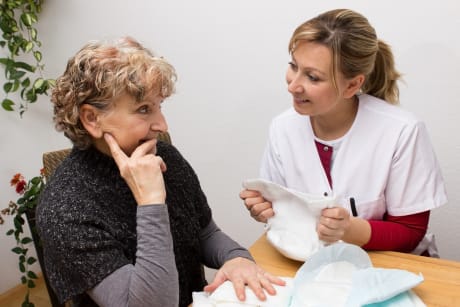 Urinary Incontinence
Learn about the symptoms and causes of urinary incontinence or urge incontinence.
19 Ratings with 13 Comments
1.0 Rating
October 8th, 2016
Run run run
2.3 Rating
September 23rd, 2014
bad experience
Terrible experience. You would think the man was mute and burned out taking care of patients. missing the biggest element of care-human contact. Does not communicate as cancer phases progress. Limited support for progressive cancer. Does not believe in ct scans. Just another cancer number to get thru his day
1.0 Rating
August 18th, 2013
Would not recommend him
He may have a high up position in Duke, but I would never recommend him to anybody close. His diagnosis was okay and his patient care was terrible. Treated me like just a number. Never going to him again. I cannot understand how Duke put a man like him as Director of Oncology.
5.0 Rating
July 5th, 2013
3.7 Rating
May 16th, 2013
Dr. Berchuck
5.0 Rating
May 13th, 2013
I love Dr. Berchuck. He is the BEST!! He is the reason I am alive today. I am a 3 1/2 year, stage IIIC Ovarian Cancer survivor. After having tests in my local town that indicated Ovarian Cancer, I was told it would be several weeks before I could see the local GYN Oncologist. Not satisfied with that, I called Dr. Berchuck's office at Duke on Wednesday. By that Friday I had an appt. with him and after looking at my test results, he already had me scheduled for surgery on Tuesday. I then went through chemo and continue to have 3 month checkups. I feel Dr. Berchuck is VERY competent and has been very honest and forthright in our many discussions we have had. I couldn't be happier with the treatment and care I have received from Dr. Berchuck, Kim, Charlotte and the rest of his staff.
5.0 Rating
March 22nd, 2013
My experience
Highest ranked program in NC for GYN cancers in my research. I do not think he is at all arrogant, I do think he is a little shy and very busy. He does tend to give yes and no answers. In my visits (now going on two years), I have rarely, if ever, had to wait more than 30 minutes before seeing him. He is very timely. At times the wait for treatment in the infusion center can be really long. This is a top notch doctor and quality care.
5.0 Rating
February 22nd, 2013
Awesome
I owe my life to Dr Berchuck he went above and beyond. I am very impressed with his knowledge and desire to work with cancer, I have read some of the not so nice reviews and I do believe that if I wanted someone to be a buddy I would not want cancer to find that person if I want an extremely good Dr then I want him to be a focused Dr with knowledge on my cancer and that is what I found. It has been six years since my stage 3 diagnosis and all is great. He really does care but he is also someone with extreme intelligence and they are always thinking so maybe not so chatty I have chatty people in my life but they are not who I look to to save my like. Thank you for all you have done for me.
1.0 Rating
July 31st, 2012
Not what you think he is based on his accreditations
5.0 Rating
June 8th, 2012
Outstanding team.
1.0 Rating
January 22nd, 2012
Horrible. Would NEVER recommend him
Terrible doctor. Cannot believe Duke hired him. Would never recommend him to anybody. Could tell he saw me as just another number than a patient. Went to him once and never came back. Spent 10 minutes max with me. Didn't care much, no compassion. Would recommend anyone to see another doctor rather than Dr. Berchuck. Horrible experience.
5.0 Rating
December 27th, 2011
One Patient
Love Dr. Berchuck. I was fortunate to get in to see him quickly when I called with a biopsy and diagnosis and I was also fortunate that he was able to schedule my surgery very quickly. He may not be very "chatty" but he is very good at what he does and has a very strong treatment team to work with. There are not all that many Oncologic Gynecologists out there in general, let alone of this caliber, so sometimes you have to wait in line, but I could not be happier with anyone else or more confident that I had the best surgeon for optimal results.
Nearby Doctors

Dr. Andrew Berchuck is similar to the following 3 Doctors near Durham, NC.