Rate Now
Share Your Experience
Have you seen Dr. Angelina Devera?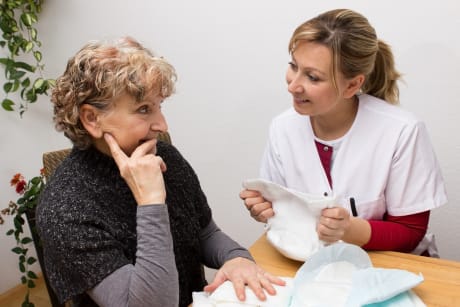 Urinary Incontinence
Learn about the symptoms and causes of urinary incontinence or urge incontinence.
18 Ratings with 10 Comments
1.0 Rating
August 2nd, 2014
Just awful.
1.0 Rating
March 17th, 2014
Dr. Devera is weird.
Extremely unprofessional. Being a first time patient, I was shocked to see her walk in wearing a provocative dress. More so, because she clearly is in her 60s and far from a slender young thing. That said, what truly irked me is her taking a personal call on a mobile phone not long after she came in, and then laughs and converses with the caller for a few minutes regarding some party for the evening. One strange experience with a weird person.
1.0 Rating
December 8th, 2013
Unprofessional Dr. & Staff
Dr. D is a friendly person, but not professional. She takes phone call during the physical exam.I went to see her for pap smear test. She picked her cell phone & started conversation in Tagalog for over 3 minutes when I was lying down in the exam bed! The stuff is not professional either. She dresses like she is going to club. Dr. D talks loud at the front office, so there is no privacy at the office. Dr.D wants you to come back to get test result, so she can bill office visit.
1.0 Rating
May 29th, 2013
Unprofessional
She didn't listen to what I wanted done, but did what she wanted without considering what I wanted. I think because it lessens the time I could use the groupon treatments. From being 4 to just 2 times. She advised me to buy more. As she was doing my treatment, she got a phone call. She put the treatment on hold to answer the call and begin to talk socially. Then she left me half naked in the middle of treatment and then her assistant came and continued the treatment. I though that was rude and so UNPROFESSIONAL. I had to come back because I needed to finish the treatment, but I would NEVER go back again. Oh and the treatment didn't work and her assistant burned my skin a little bit. Her assistant was also unprofessional. She was dressed like she was going to the gym.. I could go on and on. Worst doctor office I've been to is all I can say.
1.0 Rating
August 6th, 2011
OBGYN not a board certified dermotologist or plstic surgeon
she is a nice bubbly person, but i would not recommend laser procedures or fillers or botox she is not a certified dermotologist or plastic surgeon, she is not degreed in the field to be doing laser procedures as a certified derm is even the co2 dot laser she rents the machine for specific days shes present in the room but another person performs the procedure dont fall for it. what happens is she sells the laser procedures for laser companies and she makes profit and so do the laser companies. her staff is great buti think its sad that they upfront dont say upfront that they are not certified in dermotology or plastic surgeon and agin they dont have to , thats why its important to do your research and pay the extra dollar a certified dermo and plastic surgeon went to school for there field a OBGYN is not educated on fat grafts or laser procedures by the way co2 dot or fractional lasers can hypop or hyper pigment your skin thats darken or whiten the skin its a fact something that she will not say the side effects but will tell you all the benefiits like less wrinkles you trade a problem for another major problem.
5.0 Rating
April 15th, 2011
Dr. Angelina is the best!
Not only did i lose my problem bulges, i have younger looking face and skin. i will keep coming back and referring Dr. Angelina. she is the best!
5.0 Rating
March 30th, 2011
Laser Hair Removal Works!
I guess im lucky because she is always there when I have my appointments set. The laser is painless and effective. I love her front desk girl, she's the nicest
1.0 Rating
September 22nd, 2010
Worst Dr I've ever met
You wait forever for HER to get to the office. She makes you come back for a medication refill to bill for additional office visits, where none of my other Dr's EVER do! She won't even give you lab results unless you come in to go over them, again to bill for additional visits. She is more concerned in the way SHE looks than how her patients are feeling! She is always comparing herself to others. She thinks everyone is out to get her for the mistakes she makes on her own. Always making excuses. Really a whacked and egocentric person. Be very careful.
5.0 Rating
July 1st, 2010
The Greatest Doctor
Dr Angelina Devera is a natural M.D. whoknows the diagnosis with just a few clues. Once she examines you, she can immediately know your problem as an OB/GYN. Other than that, she spends time learning about beauty, anti-aging and wellness and implements this in her practice. The doctor shares all her knowledge and sees the patient as a whole human being. She's been my doctor for more than 20 years and I follow her around.
5.0 Rating
July 6th, 2017
1.0 Rating
November 8th, 2016
Nearby Doctors

Dr. Angelina Devera is similar to the following 3 Doctors near Fountain Valley, CA.