Rate Now
Share Your Experience
Have you seen Dr. Anita Sadaty?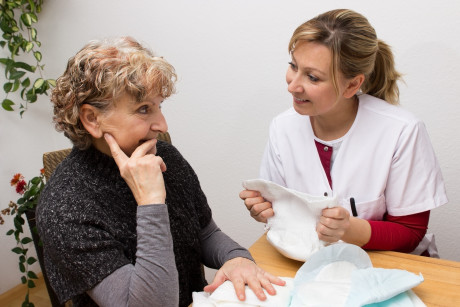 Urinary Incontinence
Learn about the symptoms and causes of urinary incontinence or urge incontinence.
47 Ratings with 20 Comments
5.0 Rating
August 2nd, 2017
Best gyn doctor ever!!
Dr. Sadaty has been my doctor for the past five years, from the first time I met her I knew I made the right choice in doctors. Being someone who suffers from anxiety Dr. Sadaty immediately made me feel comfortable and at ease. Over the past year she got me through a very difficult nine months of my first pregnancy, she delivered my baby eight weeks ago and I could not have asked for more from a doctor. On a professional and personal level, Dr. Sadaty was amazing, she shared in my excitement throughout my pregnancy and calmed all of my fears. While I am sad she will not be delivering any of my future children, I will definitely be following her to her new office in Roslyn. I personally feel there is no better gyn out there!!
5.0 Rating
July 26th, 2017
I have been Dr. Sadaty's patient for approx. 13 yrs., and I must say she's an excellent Dr., should you have an issue as I've had in he past she thoroughly explains everything,. She's also very pleasant and a woman which makes it so much nicer/pleasant. I have referred several of my friends and their children and we all agree she's awesome !! I'm so ecstatic and happy for her, she has her own Practice in Roslyn, beautiful Office, staff is nice & personable, Kudos Dr. Sadaty !!
5.0 Rating
July 24th, 2017
I have had Dr. Sadaty as my doctor for 15 years. The first time I met her I couldn't believe it - I had found an amazing doctor who always is available for you, who hears you out. When I heard she started her new office, I had to follow her. I would follow her anywhere! I love this new office - my appointment was for 10:45 and I was out of there by 11:20. Dr. Sadaty is wonderful and polite. She is a great person and doctor and she truly cares. ~ Louise Fraraccio
5.0 Rating
July 21st, 2017
The best doctor
5.0 Rating
January 11th, 2017
5.0 Rating
January 4th, 2017
Excellent Doctor
4.0 Rating
November 8th, 2016
Wonderful!!
Dr. sadaty is beyond amazing! Extremely knowledgeable, professional, thorough, caring, compassionate and patient. I highly recommend her and Great neck obgyn. A wonderful office and staff that is run in a very organized, efficient manner.
1.0 Rating
October 6th, 2015
Dr. Anita Sadaty is a horrible doctor with poor information.
Dr. Anita Sadaty is a horrible, cold, insensitive and a rude doctor which lacks in lots of information. I visited her only once and I decided not to go her practice any more. Instead of explaining me the meaning of medical and symptoms terminologies for which I was required to give the blood test during my pregnancy, she asked me to look up the internet. She did not even bother to explain it to me what the word mean that I asked her. The word was "Down syndrome". In order to explain this to me with an example, she told me that a baby with down syndrome has Chinese looking eyes. That was enough for me to leave her office for ever.
5.0 Rating
April 20th, 2015
Dr. Sadaty has been my doctor for over 12 years. She has delivered two of my children. One was born at 32 weeks old and is a thriving 12 year old. She has not only been an amazing gynecologist but she has also caught two medical issues that I have. She is knowledgeable and is always willing to spend the time with me. I completely trust her judgment. She has truly changed my life
1.0 Rating
December 22nd, 2014
Just so rude
I wish i could give her zero stars. I refilled my birth control on my app and 3 days later i get a call that i cannot get it refilled since i haven't been to the doctor in 2 years. (my bad but i didn't have any thing wrong in that time) I was not aware of that doctor policy since this is the only meds i am on. So the office calls and says i have to come in or no birth control but i started a new job and could not get time off. After 30 mintes of arguing how i needed a refill or id get pregnant they "squeezed" me in. I get there at 9 on a sat morning for a 915 appt. Doctor doesnt show up till 945. Comes in and says oh so your the person who thought you could just not come in for 2 years and keep getting birth control. I shrugged that off and she continues w routine questions. I Brought up i may want to switch to a birth control where i dont have to take a pill. She looked at me like i spoke of something unheard of. Finally asks so do you want hormonal or non hormonal? I asked her to explain the difference and shes goes "one has hormones and one doesn't...." SO sarcastically. I told her never mind forget it...since it was too difficult to get an answer and i didn't want things to get too much more awkward before she looks inside my vagina. I will not be going back.
1.0 Rating
May 16th, 2014
LACK OF BEDSIDE MANNER
I cannot believe the lack of bedside manner coming from this woman. Everyone has bad days but she was just so blunt and rude giving one word answers to serious questions that needed more explaining. She literally said that she would not read my birthing plan! Seriously? What am I paying her for then? Obviously, I want my child to be born in certain settings so that is up to me and not up to her. She was not reassuring at all especially since this is my first child. The office even lost a specimen from my first trimester and never called to confirm. Dr. Santoyo is awesome, though! She has less experience but awesome bedside manner. Will be staying with her from now on.