Rate Now
Share Your Experience
Have you seen Dr. Ann Marie Arrigo?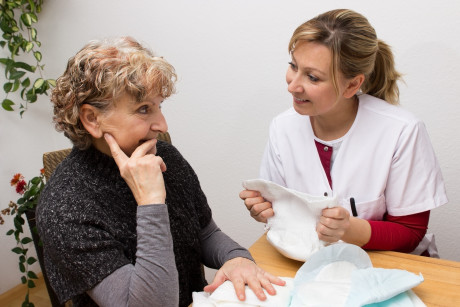 Urinary Incontinence
Learn about the symptoms and causes of urinary incontinence or urge incontinence.
Quality Rating
Highly Satisfied
24 Ratings with 7 Comments
5.0 Rating
August 28th, 2012
Wonderful
I never thought that I would think of a gynecologist as "wonderful" or "excellent," but Dr. Arrigo definitely is. Her staff is very kind and greets by name, Dr. Arrigo and her fellow doctors have eased me through many gyno appointments. I used to dread going to them until I found this office. I've had to wait a few minutes to be seen a couple times, but everyone apologized and the past few times have been very quick. Prompt when getting things faxed and call me back within a few days of visiting to go over results. They all really take their time to make sure you are happy.
5.0 Rating
May 29th, 2011
The Best!
5.0 Rating
May 27th, 2011
Wonderful, caring and excellent physician
5.0 Rating
May 27th, 2011
100% The Best Doctor in Denver. Period.
Dr. Arrigo delivered my 2 children born 16 months apart. My first delivery lasted very long and she was calm and patient, even when I spiked a very high fever. I recently recommended her to my best friend who is pregnant with her first child. She also loves Dr. Arrigo and her calm demeanor and friendly attitude. When I go into her office, I always feel very relaxed and at ease. I never felt that way at my former doctor, especially for an OB. Whenever Dr. Arrigo had an unexpected delivery, her office always called me to warn me or reschedule my appointment. Having a 2 year old already, I really appreciated that and everything her office did to make my pregnancy go as smoothly as possible!
5.0 Rating
May 25th, 2011
Best O.B. in Denver
Dr. Arrigo delivered both of my sons at St. Joseph's Hospital in Denver, and I can't imagine ever finding a better doctor to deliver my children! My first son was somewhat of a scary delivery, and Dr. Arrigo was calm, caring and professional the entire time. I recommended Dr. Arrigo to my sister, and she delivered both of my beautiful nephews during the past two years. Our family has had only wonderful experiences while being in Dr. Arrigo's care, and I trust her. All doctors offices have wait times, especially when the doctors are delivering babies that will come at any time of the day or night, but if you are looking for a doctor that is caring, calm, and professional, look no further than Dr. Arrigo!!
1.0 Rating
May 10th, 2011
The girl at the front desk was disorganized and was busy dealing with something else when I got there, so I waited over ten minutes to even check in as a new patient. Then, I waited over an hour to be called back.I didn't see Dr. Arrigo. I saw one of the other ladies there. I had never had a PAP smear before, and I mentioned that three times in the paperwork and also when she asked because she couldn't be bothered to read any of my paperwork.It was horrible. I had no idea what to expect, and she was rough, did everything with absolutely zero explanation first, and was really, really rude when I said it hurt and asked what was going on.Afterward, she apologized and said she hadn't realized that I'd never had one before. Then she explained what she had done and sent me on my way.Two weeks later, I still hadn't heard anything about my results. I called in and was told that they don't call with results unless something is wrong. It would have been nice to have been told that.Then, a few weeks ago, I received a bill saying I was 60 days delinquent on my payment--the payment I paid before I even left the office after my appointment.In short, I felt disrespected, violated, and unimportant. I got in my car and cried but was relieved I'd never have to deal with them again. Until I had to call about my results and to deal with a bogus bill.
1.0 Rating
March 28th, 2011
Choose another OB!!!
Although Dr. Arrigo is very pleasant and nice she lacks organization and follow through. She often would forget my chart and ask me if I remembered my last weight, blood pressure, and babies heart rate. By the time I figured out her lack of organization and attention to detail I was about 8 months pregnant. I didn't want to switch OBs at that time so I asked her what days she wasn't on call and hoped and prayed that I wouldn't have my baby on that day. A friend of mine had her as an OB and she missed the birth of her baby by about 10 minutes. She was in labor all night and baby was born at 7am in the morning... not sure why she missed it but she didn't forget to stop by Starbucks on her way in (yes, she had a Starbucks but missed the delivery). Like I said, her relaxed attitude usually leaves the patient with the short end of the straw. When I was 9 months pregnant I had an appointment with her. After waiting about 30 minutes (usually 45) I was told to undress from the waist down and wait in the exam room. After another 30 minutes I got dressed again and went to talk to the receptionist to see where she was. The receptionist told me she was in surgery and it lasted longer than she thought it would. So I asked "where is Dr. Arrigo right now" and she said "at the hospital". Needless to say this 9 month pregnant woman who had been waiting for an hour now was a little angry. When I spoke with Dr. Arrigo about it she said "Well... to get accurate information about appointments and wait times you need to talk to (a specific) staff member. Really?? You allow staff members to treat your patients this way??I have recently learned that she has had at least two formal complaints one of which a woman had breast cancer that she failed to notify her of. I believe Dr. Arrigo is careless. Don't let her good bedside manner fool you. If you have a condition that needs attention she may not follow up with you.
Nearby Doctors

Dr. Ann Marie Arrigo is similar to the following 3 Doctors near Denver, CO.