Rate Now
Share Your Experience
Have you seen Dr. Ann Mitzner?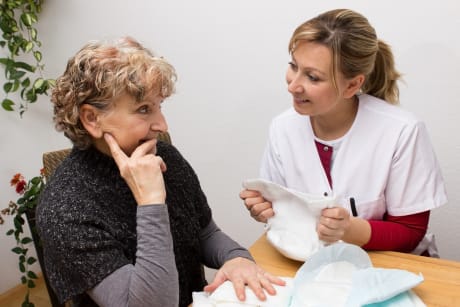 Urinary Incontinence
Learn about the symptoms and causes of urinary incontinence or urge incontinence.
26 Ratings with 12 Comments
1.0 Rating
July 13th, 2016
Horrible Experience with Dr. Mitzner
Stay away from this Doctor she does not know how to make a diagnosis! Dismissed the fact that my Mom came in with a horrible burning - and dismissed all of her symptoms. I asked her if she might have Vulodynia and told me no only younger women get this-- wrong! She was diagnosed by another GYN with this exact disorder. My mother suffered and was on a waiting list to see another GYN. She finally is getting the treatment she needs - on a low Oxalate diet.
1.0 Rating
June 1st, 2016
Threats and no concern for patient even 10 plus year patient.
4.0 Rating
March 17th, 2016
Improved
1.0 Rating
February 7th, 2014
Unpleasant
Very cold and unfriendly. She had no problem writing me a prescription for Gardasil (that I didn't want, nor asked for) but refused me Paraguard because I haven't been pregnant. I know many women my age who haven't been pregnant, but were given Paragruard with no problem. I'll be looking for a new GYN.
1.0 Rating
September 23rd, 2013
The worst doctor
2.3 Rating
August 10th, 2012
not caring
I have been a patient of this pratice for a few years, i never had any bad issues, untill i met with Dr. Mitzner. She was in a rush, she did not ask me the correct questions for my problem, she made me feel stupid for the conerns i had, i still have 100 questions and no answers. NEVER WILL SEE HER AGAIN
1.0 Rating
July 9th, 2012
Not Recommended!!!
After 2 weeks plus and 3 phone calls I have not received the results of my DEXA. Spoke to the receptionist who is looking into it, and is the only professional and courteous one there. I left several messages and never received a phone call. Would not recommend. My MD retired from this practice. This would never happen with him.
1.0 Rating
April 30th, 2012
1.0 Rating
September 27th, 2011
Not recommended
This doctor I truly believe caused me all kinds of problems and I ended up losing my pregnancy in the second trimester. I had an issue which I asked her about before getting pregnant and was told "oh, do not worry about it." I should have been more closely monitored in the beginning of my pregnancy but because I was not, the problem got worse, I had placental abruption and lost the pregnancy. Her bedside manner is terrible and she does not pay enough attention to her patients. She is continuosly making you wait after they take you in, and dismisses you when you ask questions. I should have been on bedrest and was not, and ended up switching 1 week before I lost the baby to a high-risk doctor who saved my life. If there is any indication of an issue or that you might be high-risk, please do not see this doctor.
1.0 Rating
July 23rd, 2011
This woman was more interested in bashing my previous dr. who owns the place and is now retired. Did not see any of my points of view and would not complete the course of action that my previus doctor had given. Sent me to a specialist before doing the steps she was suppossed to do, specialist were baffled, and told me to go back and get the necessary tests before going to them. I would not recommend this Dr.
1.0 Rating
October 13th, 2010
negative review
I had a very negative experience with Dr.Mitzner. She is always late for appt. and spend about 5 minutes with you. She does not care about a patient just how she can make more money billing more people. She has absolutely no interest to discuss health problems with the patient.I would not recommend her to anyone.
1.0 Rating
December 22nd, 2008
Negative attitude