Rate Now
Share Your Experience
Have you seen Dr. Annie Santos?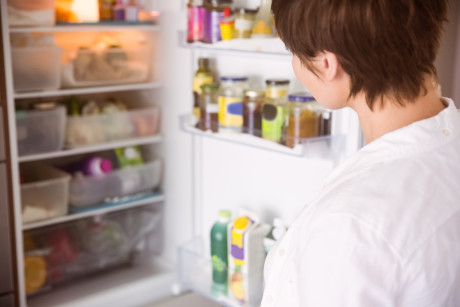 Binge Eating Disorder
Get the facts about binge eating disorder, including symptoms, causes and related conditions.
32 Ratings with 18 Comments
1.0 Rating
August 30th, 2017
Dr. Santos PLEASE RETIRE , IT IS TIME TO GO!
This has to be the absolute worst version of a doctor I have ever seen. When you visit her office she see more pharmaceutical reps than patients. She wants you all to be on some sort of "treatment". If you submit to nodding when speaking to her and saying "of course Dr." she will keep you as a patient, and if you do that YOU BELONG THERE! BUT, if you ask any questions or want to understand something better about your health she will become angry . I'm not sure if the anger comes from you wanting to know something , but I think it's more about questioning her intellect. She will become angry and never answer the question. She has some deep flaws in her personality. I would expect my doctor to answer my question with facts, not anger then disregard the questions completely. It does seem to be that her intellect is in question as it should be. HMMMM... So here's the deal, everyone should have questions when they go to the doctor. This creates a healthy conversation that hopefully will create a better understanding for both parties (Dr. and Patient), and if you disagree you can go home and research for more facts to draw your own conclusion. There should never be a hostile environment created by a so called Physician. If your Dr refuses to listen to you like Annie Marie then fire her and go get a real DR. She tends to forget you are her customer, you can go elsewhere, gotta love our freedoms in this country! Anyway, don't let her get you hooked on medicine, get out while you can.
1.0 Rating
July 30th, 2017
DR SANTOS IS AN ABSOLUTE DETRIMENT TO HER PROFESSION
After spending a few minutes with her on my first visit I assumed she was having a bad day, but every visit after has been the same.She is extremely condescending and attacks her patients for asking any questions or disagreeing with her. She doesn't even care to know about how you got from A to B in the progress of a medical condition. She REALLY DOESN'T CARE! Her behavior goes beyond not caring. When I questioned her on disease and quoted some facts, she came back at me that she had been practicing for 30 plus years and continues her education yearly , which after a little research I found out that she takes training staff as credits towards continued education. This is permissible but it does not update her antiquated information she is working off of to supposedly heal people. Come on, medicine has made huge advancements and when this women was trying to site some of those and was completely off of what the conclusions that were made by some really credible medical studies. She made bizarre statements and the entire conversation seemed to be based around "I am a DR. and you are stupid. Do what I say or else!". there was no conversation about how I felt about certain treatments when I tried to express how I felt she spoke over me and did not listen to get a full picture of what I knew to be true about my health. I really knew she was a crackpot when she said that an A1C test was a once in a lifetime test. I think she needs to throw in the towel before she really does some damage. Please here me you do not want to see this QUACK. She is so twice removed from what good medical practice is , that it is frightening. Go anywhere even a veterinarian has more concern over their patient than this old duck.
1.0 Rating
September 13th, 2015
Dr. was an absolute witch (with a B)
I accompanied my 70 year old mother to her appointment & was apalled at the way this woman spoke & acted toward first my mother, & then me also. I had expected there to be some dr./patient communication as my mom is facing knee replacement surgery & has some other health issues. This woman does not ALLOW questions of any kind and responded in the most condescending manner, almost like she was trying to make my mother look stupid for asking a simple question. When I tried to voice my concern about something I'd recently read about aspirin, this person actually insulted me with her snotty attitude, informing me that I am not a doctor & never even allowed me to finish my sentence. How can someone who treats people in such a way even know her patients' full condition or unique problems? And please don't think I went there to be rude; I wouldn't disrespect a medical professional because I've met so many that truly are trying to help people. I had simply read an article & wondered if she knew about it & the source it came from. I was just amazed at the way dr. Santos belittled my mother in front of me, speechless actually. When we left, I explained to my mom that there are other places to go where she'll be treated like a person who matters. Hopefully (& my mom feels the same way) neither of us will ever have to see that witches (with a B) face again. Sorry Dr. but you totally suck.
5.0 Rating
September 2nd, 2015
3.0 Rating
May 29th, 2015
Extremely poor time scheduling
When you can see her she's a pretty good doctor. Although she tends to be dismissive of your thoughts or ideas. She will make assumptions based on just what she sees without asking any additional questions. She is also habitually late. I usually wait an hour and a half or more between the arriving and finally seeing her in the exam room. The time of day of the appointment seems to have no impact on timeliness.
5.0 Rating
July 9th, 2013
Exceptional Doctor, lady & person~!!
I met Dr. Santos in 2010. She gave me hope when I had none~ Dr. Santos is very receptive and inspiring. I am thankful I found her when I did~ I have waited only minimal time~ She listens and then she tells me her findings~ Dr. Santos has awesome bedside manner. I love her as a Dr. Her staff is always friendly especially Nina~!! The office calls and checks in with me knowing all my dxs. This is awesome~!!! She never rushes me. I will keep Dr. Santos forever~!!
1.0 Rating
July 8th, 2013
Dr. Santos is unavailable for patients who need same day appointments and lacks compassion for individuals who have had a serious medical incident (i.e., first time seizure) and are scared. She can't even take the time to meet for ten minutes to refer to any specialists for further testing that needs to be performed. I would never recommend this doctor to anyone and will be encouraging my family member to find a new doctor as soon as possible. Good luck to anyone who is currently a patient.
3.7 Rating
February 27th, 2013
Good Provider
Just to start off YES you will have a long wait time, this is because Dr. Santos will try to accommodate her patient's for same day appointments for those patient who seem to wait 2-3 weeks being sick before they will call to be seen. She is a good provider who still make house calls and will see her own patients if they are in the hospital. She cares for her patient and it shows by her being willing to see you if you are sick instead of sending you to urgent care where you will have a longer wail and a higher copay. I have yet to find a doctor that you get seen at your appointment time and are out within 30 min at least for a good doctor.
1.0 Rating
March 2nd, 2012
5.0 Rating
June 12th, 2011
well I don't know about other people .but I have no problem with DR.Annie.some times I have to wait a little while,but I spend that time fighting with the staff(they let me win)I have been with her over 20 years,we have fought,cried,laughted,and prayed together,she has pulled me through some pretty bad things,as I have a few health problems(ha ha).I guess all I can say to the complainers.SHE LIKES ME BEST!!!!!!
5.0 Rating
April 28th, 2011
Best doctor I have had.
I have to say Dr. Santos is the best doctor that I have had in a long time. Yes I will say that the wait time that you have is a while but it is worth it! She knows what she is doing and she is a very caring doctor. I have sent many of my friends to see her I just let them know a head of time about the wait time. She is a very busy practice and she has a lot of patients,(and she spends the time with each patient) that makes for a good doctor. There is a nurse practitioner in the office that is also great so if you dont want to much of a wait you can see her.
5.0 Rating
March 23rd, 2011
long-time patient
Nearby Doctors

Dr. Annie Santos is similar to the following 3 Doctors near Lodi, CA.