Vitals cannot verify whether or not this professional is currently practicing. We recommend that you attempt to contact the provider to verify their status. Please email us at support@vitals.com if you have any additional information.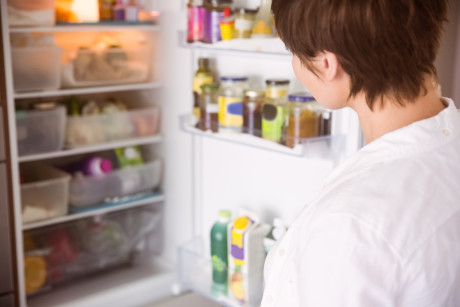 Binge Eating Disorder
Get the facts about binge eating disorder, including symptoms, causes and related conditions.
Quality Rating
Highly Satisfied
19 Ratings with 11 Comments
5.0 Rating
October 7th, 2015
Dr. Was excellent I did not like his front desk and billing staff
5.0 Rating
August 15th, 2013
Outstanding
Dr Restuccio is the best Dr I have had. His office rarely runs late. However if they do he is quick to apologize. Although he has many patients he never makes me feel rushed. He listens to me and believes that no one knows me like me. So if I think there is something wrong he will search until he has found something or exhausted all options. I have always felt like he cares for my well being. I have been seeing him for more than 10 years and have followed him through 3 different offices. I would highly recommend Dr Restuccio to anyone.
5.0 Rating
July 14th, 2013
One of the finest Doctors I have ever used
I have been a patient of his for 20 years and for good reason. He is patient and kind, attentive and thorough. I first saw him when he worked in an urgent care facility on SR 3 in Westerville, then he moved to a practice in Powell and I followed him there. I have seen many doctors over the years in ohio and in different states I have lived in, and honestly some dont care, some are arrogant, rude, some have staff that is horrible (which is a true deal breaker)...Restuccio and his staff are awesome and all my grown kids and my spouse see him as well. We love Dr Restuccio.
5.0 Rating
January 22nd, 2013
pharmacist
Dr Restuccio is a consumate professional. I was very fortunate to have been referred to him by my previous physician who has retired. He is up to date on the most recent developments in medicine and he is completely dedicated to his patients' health. You only need to Google him to know what a fine physician and patient advocate he is. I highly recommend him!!!
5.0 Rating
May 21st, 2012
professional
Dr Restuccio is extremely professional and knowledgeable; He has a distinct advantage over other well qualified physicians in that he obtained his license as a Registered Pharmacist before going on the obtain his medical license. From my first appointment with him, I felt he cared for me as a close friend rather than just another patient. I heartily recommend Dr Restuccio!!!
5.0 Rating
March 5th, 2012
Great Doc
I have followed Dr. Restuccio from one practice in Westerville, to another in Westerville, to a third on Sawmill Parkway, and back to Westerville and his current practice. Obviously I think highly of him or I wouldn't have driven an hour and 20 minutes round trip each time I saw him in the Sawmill location. As someone with multiple health issues and need for a lot of different medications, Dr. R's background in pharmacology is very helpful. I am not an easy patient, not because of my demeanor, but because of the unrelenting multiple illnesses. I have had doctors not want to see me -- I think because it just is not possible to "fix" me. Dr. R is one of only 2 general practitioners I have ever had that made me feel like they were glad I was their patient. I have to see him a lot, and amazingly he is almost always on time. I'm not sure what the previous poster is talking about. I have never had a problem with any of the staff. There is one staffer who is not overly friendly, but she is definitely not rude. Dr. R's assistant is excellent. It IS a bit of a pain to make an appointment on occasion (sometimes you have to leave a message and they will call you back). If I need to come in somewhat urgently, they always see me that day. Yes the records are on paper still and I will say that Dr. R is not the best doctor I have ever seen at charting, but he is far from the worst.Once or twice in 15 years I remember having to call them for the lab results. I think that this is pretty good, especially since the results were normal. They always call immediately if something is outside of normal limits. As to the comment about "off the cuff diagnoses and failure to listen". Dr. R is very to the point and not chit-chatty. However he has ALWAYS listened to me. He is confident in his diagnoses, and I guess that could come across as being arrogant. But the thing is, 99 times out of 100 he is totally right. There was one minor thing (I actually can't even remember what it was it was so minor), that the specialist said was something different than Dr. R diagnosed. Given the complexity of my case, I think this is pretty amazing. And he has told me before that he was stumped -- so he has no problem admitting he doesn't know.Sorry I wrote a book. It is just that Dr. R is one of my top 3 physicians (of all types) that I have ever had in my 50 some years of life.
1.0 Rating
February 23rd, 2012
terrible experience with the entire practice
the office staff behaves as if you are bothering them when you make an appt. and when you show up for your appt. Restuccio seems to be more interested in letting you know that he is the smartest guy in the room with his off the cuff diagnoses and failure to listen to any of the patients questions/explanation of symptoms. i am in the process of exiting this office. lab results have been forgotten, the records are paper, the equipment is dated and just an overall poor customer experience. perhaps their practice is thriving and they don't care about one patient leaving but i will only return to the office to submit an authorization to transfer records...which of course will be forgotten and i will have to follow up on...i can predict that one.
5.0 Rating
March 18th, 2011
Great family practice doctor
He listens and spends as much time as you need. Because he asks you to be clear about the time needed when you make your appointment, he typically runs on time. He is careful not to do unnecessary testing or to overmedicate. He was a pharmacist prior to becoming an MD so this knowledge is very helpful if you need to be on medication.
5.0 Rating
February 25th, 2011
Good doctor
5.0 Rating
February 15th, 2011
Dr. Restuccio is amazing....
I work for a surgeon who recommended Dr. Restuccio to me. I tried to get him in 2008, but his staff said he wasn't taking new patients. I had another Dr. who was a female at West Schrock Rd and her office was horrible. I was able to finally get in to see Dr. Restuccio and he is amazing. His knowledge of Pharmacology and his ability to diagnose were incredible. I have complete faith in him and I am so grateful that he is my doctor.
5.0 Rating
October 9th, 2009
4.0 Rating
March 15th, 2017