Rate Now
Share Your Experience
Have you seen Dr. Aubrey Swartz?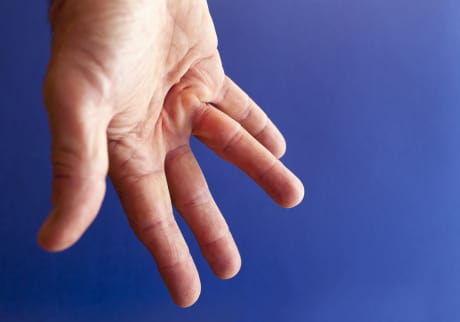 Dupuytren's Contracture
Dupuytren's contracture is a thickening of the tissue beneath the skin of the palm of your hand
Quality Rating
Dissatisfied
55 Ratings with 23 Comments
5.0 Rating
July 12th, 2017
1.0 Rating
April 5th, 2017
Disability report
1.0 Rating
July 15th, 2016
Biased and Harmful
BEWARE OF THIS DOCTOR!! This doctor injured me during the exam. I was sent to him for an IME and he ended up causing pain and suffering to an old injury that he was not even supposed to examine!! PLEASE refuse to see this doctor, do your research, always take someone with you and videotape the appointment for your protection.
1.0 Rating
March 23rd, 2016
retiree
I had an appt for 11:00am and had to wait until 2:30 PM to see the doctor. His waiting room is a rented room with folding chairs and folding tables. His staff is very incompetent. A female and her daughter were his helpers, not nurses. When we started the IME exam, he lost his glasses, lost his IPhone, had a runny nose, snorting etc. Very confused, kept repeating himself. He performed a sensitivity test on my left leg and cut it with a pizza cutter. My leg was bleeding, he had no band aid, no rubber gloves or alcohol for cleaning. My blood was on his hands and he didn't care. He told me on my video that I needed both knees total replace and he wrote a report to the insurance company stating only the left knee was authorized. He lied. He is 80 years old and should no longer practice medicine. I believe he is any easy out for the insurance companies to deny patients medical care needed and covered under the insurance plan available.
1.0 Rating
March 2nd, 2016
1.0 Rating
January 28th, 2016
Do not visit him
1.0 Rating
October 9th, 2015
OWCP injuryed
I meet with Dr. Swartz in Sacramento. I was there for less then 30 minutes and he told me all about his health how at the age of 80 he is such great shape, he doesn't understand why everyone else is't. He then told both myself and my husband( he was there as my witness) that I was a in very bad shape. He then wrote a report and stated that I can return to work with only a 35 lb. limit. In his report he states that I have all the documented problems but they went away 6 weeks after being off work. I saw Dr. Swartz 20 months after being off work. How can he see the injury on date of the 30 minute visit but states in his report that it when away??? This Dr. is for worker comp. only and is NOT to be trusted. I rate him less then one. if I could I would rate him -10.
1.0 Rating
September 27th, 2015
1.0 Rating
September 8th, 2015
Insurance shill!!!! Beware.
Just had a worker's comp eval with this guy. BEWARE!!!! Your well being is not in his interest. He's a hired gun for insurance companies!!! I had to wait over an hour to see him, then he made me wait another 10 minutes with him in the exam room while he verbally abused and berated one of his staff over the phone for not understanding what he wanted. I could tell something was off about him and his practice the moment I walked in the door. he was very blasé about the whole examination; giving me the "are you kidding me" look at times when asking about different outcomes of the examination. Overall, I felt the whole experience was rushed, sloppy and extremely superficial. Please reevaluate your decision to see this doctor of your own cognizance.; if you're seeing him because of an insurance claim like myself..... BEWARE!!!!! Google confirmed my suspicions once I was done with the exam.
1.0 Rating
September 1st, 2015
Do not waste time with this Dr.
1.0 Rating
May 12th, 2015
Nearby Doctors

Dr. Aubrey Swartz is similar to the following 3 Doctors near Oakland, CA.