Rate Now
Share Your Experience
Have you seen Dr. Austin Chen?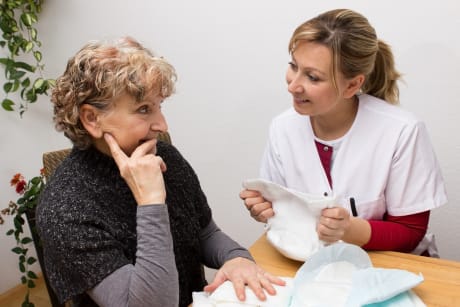 Urinary Incontinence
Learn about the symptoms and causes of urinary incontinence or urge incontinence.
29 Ratings with 12 Comments
5.0 Rating
July 29th, 2017
Highly Recommend
I went to see Dr. Chen yesterday and was totally satisfied with her professional bedside manner. I am having "woman" problems and am not a fan of pap smears, biopsies, and the like but Dr. Chen seemed to lower my anxiety. She was very gracious and gentle during my examination and answered all of my questions. She also went into detail about my options which I greatly appreciated because I had done some research prior to meeting with her so I was prepared on what to ask. I will definitely recommend her.
5.0 Rating
July 18th, 2017
4.0 Rating
July 12th, 2017
5.0 Rating
May 4th, 2017
Saved my life
Dr. Chen was on duty at Sunrise Hospital the night I was rushed to the ER due to severe abdominal pain. Very long story short, I was internally bleeding from a Fallopian tube rupture caused by an ectopic pregnancy. I needed a 6 liter mass blood transfusion and an emergency surgery to stop the bleeding and remove the tube. Dr. Chen was VERY thorough in her post surgery instructions and spent an hour with me during my follow up visit. She's a straightforward New Yorker that tells it like it is.
5.0 Rating
December 16th, 2015
1.0 Rating
July 27th, 2010
WARNING! Worst doctor
Dr Austin Chen is the worst doctor in my entire life. She is insensitive to your serious concerns when a problem occurs. I will not go into detail my personal experience with Dr Austin Chen, only to say Dr Austin Chen is negligent, totally unprofessional, and is too arrogant to listen to her patients serious concerns, and that her errors may have caused me fertility issues that we are looking into at this point. this is a serious matter and I would not send my worst enemy to this horrible, insensitive, abusive doctor.
2.3 Rating
July 23rd, 2010
Would not Recommend
I went to Dr. Chen based on a friend's recommendation but I was very disappointed. I waited almost two hours to see the doctor who was extremely rushed and erratic. She nice enough but I felt like she did not really address my concerns adequately. No one took my blood pressure which I've never had happen before, and I was prescribed medication that could have negative side effects with high blood pressure. Also, there was a container of instruments on the floor in the exam room. I can only assume that they were dirty since it would not be a very sanitary way to store clean ones but either way it's troublesome! The ridiculous wait time combined with the questionable storage processes as well as her hurried manner will definately prevent me from returning.
1.0 Rating
July 21st, 2010
don't know why she is so highly rated
I was relieved but sad to see that I wasn't the only one who thought this highly rated doctor was awful. A friend spoke so highly of her, so I went to see her when my husband and I were having difficulties trying to conceive. Without even doing a physical exam, she basically told me my infertility issues were in my head and referred me to a psychiatrist. I never went back to her again, but her "evaluation" caused me to second guess myself to the point that I didn't seek help for infertility until three years later when we finally discovered that there was in fact a real biological problem. Had Chen bothered to take my concerns seriously, we might have discovered it sooner. Instead her arrogance caused us years of needless failure and self-doubt. (Thankfully with the help of a more caring, patient oriented doctor, we were able to conceive.) She is AWFUL!
5.0 Rating
January 15th, 2010
No Complaints!
I made an appt easily, only waited 5 mins to see her when I arrived, and I appreciate that she was very thorough with me. She responded to all my questions, and explained everything well. I've had terrible experiences with OB/GYNs in the past, so I was initially skeptical. However, I have no complaints!
5.0 Rating
August 11th, 2009
No bull, no hugs. Totally honest and practical.
Dr Chen is an enthusiastic high-energy fast-talking person, who does not mince words. If you want a tender discussion about your feelings, go see a therapist instead. Despite her rushed and abrupt manner, she has been pro-active about performing tests, correct about every diagnosis, supportive during treatment, and open-minded about concurrent alt therapy.Dr Chen does not seem to take notes, so be prepared, do your own research in advance, recap your history and explain your problems first thing. She is very knowledgable if you can ask the right questions ahd I am still a fan. Patient of 5 years.
3.7 Rating
June 1st, 2009
Long wait for a good appointment
I got in at 5 for a 5:15 appointment and didn't leave the office until 7:15. From the other ladies in the waiting room (there were 3 ahead of me when I got there) this is pretty standard, when there is a birth all appointments get pushed back and the patients wait. There is no nurse practitioner or anyone who can help out. In any case, the appointment was good, Dr. Chen took the time to asnswer quetions and explain things. She was very nice and I would go back again, but maybe for a morning appointment!
1.0 Rating
January 5th, 2009
awful
Nearby Doctors

Dr. Austin Chen is similar to the following 3 Doctors near Las Vegas, NV.