Rate Now
Share Your Experience
Have you seen Dr. Barbara Coulter-Smith?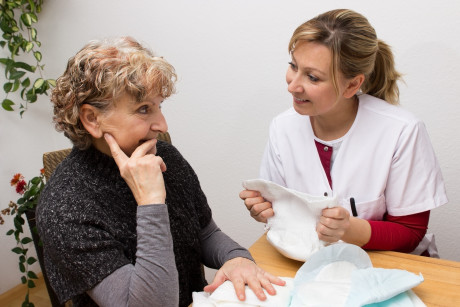 Urinary Incontinence
Learn about the symptoms and causes of urinary incontinence or urge incontinence.
18 Ratings with 9 Comments
1.0 Rating
July 24th, 2016
FIND ANOTHER DR IF YOU WANT GOOD OB CARE
Always have to see PA instead of Dr Coulter smith. Once I had to wait 3 hrs after scheduled appt and wasn't told until I got there that she want even there, she was at hospital and had been for hours. They could h e called and let me reschedule instead of making me take off work and waste my time waiting. Then another time I had to see PA because dr was out of office but nobody told me she was on vacation that week until after I got there. PA is so incompetent, couldn't even stick me to take blood and tried 4 times! Then a phlebotomist that went to school for maybe 3 mos had to be called in after the PA tortured me. Then the PA told me she had no idea why I was passing blood clots the size of beef Liver and no idea how to treat or stabilize me. That I should go to ER if I was worried! Then another time I was supposed to get an injection of medication that keeps me from going no to labor and they didn't tell me until after I took off work and sat there waiting that not only was dr coulter smith not available and I'd have to see the PA, they didn't have my medication available and it would be there tomorrow! Why waste my time? I'm looking for a new dr and might deliver baby in bathtub myself if I have to... So disgusted and irritated with this ob practice!!!
5.0 Rating
October 7th, 2015
1.0 Rating
September 30th, 2014
Unbelievably rude staff...
First, let me start by saying that I actually like Dr. Coulter Smith, it's her staff, one in particular, that I have a major problem with. Dr. Coulter-Smith delivered two of my babies and for that I am thankful. On my third pregnancy, I went in for a standard ultrasound around 8 weeks (I'm high risk) and the ultrasound technician said very nonchalantly "there's no heartbeat" and "why are you hear again?" as this was my 2nd ultrasound. She then sent me back to the waiting room, full of other mothers and children, to wait for the doctor. Nice way of treating someone that had apparently just miscarried. I left the practice immediately after that and it's taken me some time to actually get the nerve to post this. Many of the nurses there are rushed and too busy to give a darn as well. But this ultrasound technician will never ever be forgotten for the manner in which she treated me. Disgusting.
3.7 Rating
June 28th, 2012
A great doctor (with probably too many patients)
Dr. Coulter-Smith is the perfect combination of knowledgeable and kind that is so rare in a physician. Her nurses and techs are also wonderful. I wouldn't want anyone else to deliver my three girls! The only negative is that the office wait times are often very long. I know this is common in obstetrics, but the fact that she does not see patients on Fridays and that her wait times are often long can be frustrating, particularly if you are having a difficult pregnancy.
5.0 Rating
September 14th, 2011
1.0 Rating
June 2nd, 2011
5.0 Rating
May 16th, 2011
Dr Coulter-Smith deliverd my daughter 10 years ago & I've been with her practice as she has grown. There has most definately been some growing pains during this process. Not only has Dr Coulter-Smith delivered my daughter, she has also performed surgery on me removing an ovary & also LEEP proceedure. I find Dr Coulter-Smith to be extremely knowledgeable & creditable! I've recommended her to several of my friends & they are now using her & are also extremely happy with her & her care. LOVE HER!!!!
3.7 Rating
May 13th, 2010
Pros: I really like this physician. She is very knowlegeable and aggressive in her treatments. Cons: Nurse (in office) makes you feel like whatever the issue is, she has more important things to do. Nurse (phone) is helpful and friendly. Some office staff are nice, some are abrupt. Also, this being a woman owned ob/gyn, they should know that a small paper drape during exams is not suffcient.
2.3 Rating
October 15th, 2009
Dr. Coulter-Smith is okay but Im not so crazy about her nurse. Her nurse is not very nice, nor the knowledgable. I can hear she talked negative about me while I waited in the room. If you are expecting the better bedside manner, I recommend Dr. Walters at the same office. She's the sweetest and spend more time to talk and explain things.
5.0 Rating
July 8th, 2017
1.0 Rating
September 4th, 2015
Nearby Doctors

Dr. Barbara Coulter-Smith is similar to the following 3 Doctors near Grapevine, TX.