Rate Now
Share Your Experience
Have you seen Dr. Barbara Vaneeckhout?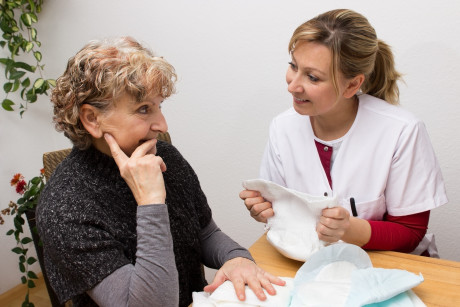 Urinary Incontinence
Learn about the symptoms and causes of urinary incontinence or urge incontinence.
31 Ratings with 15 Comments
1.0 Rating
May 6th, 2016
She performed a hysterectomy on me. Would not recommend her to anyone. The after care was horrible. The office staff was nice initially. Left numerous messages to have the doctor call. Dr. claimed she never received my messages. The office manager speaks for the doctor. Dr. Van Eeckhout was not good about answering my questions after the surgery. Her comment to me was, "I don't know. I am not God."
1.0 Rating
June 26th, 2015
Traumatizing
Literally one of the worst experiences of my life.. let alone with a doctor... To give an account of my experience. I was new in town and just found out from my doctor in LA that i needed a Leap procedure. I got a recommendation to go to Van Eeckhout. The initial check up was fine, really just a briefing on setting up the procedure. SO the day arrives and I am in the procedure room where the other nurses or whatever are prepping me and the area for everything. The doctor comes in, does not say hi or anything... dose not explain what she is about to do...says absolutely nothing. sits down and inserts the biggest speculum i have ever felt in my in my life ..(evidently they need one 2x the size for serological procedures than a reg check up.... which i was completely unaware of and was never told about) (time from the dr. walking trough the door to insertions was about 15 sec. ) I gasp as this thing is inserted into me like I was being punched in the gut/ an non consensual sexual experience. (they wont let me say the word on here) Let me tell you im a tough chic i am not one to freak out or anything, but I started crying and gasping for air... i remember I kept saying its so big its so big... meanwhile the ladies are trying to calm me down, i was trying to explain that it wasn't the shot or the procedure i was freaking out about it was the fact i had this giant thing SHOVED inside me...(she didn't insert it slowly either it was literally like 1 second shoved in... finally it was over and she left.. I cant remember if she said anything i was still in shock. I was required to go back for a follow up a short while after that to make sure everything went well.. I decided to confront her, and told her that i was really unprepared for the size of the speculum and that it was really a horrible experience. You know what she says to this...?... " well, women who have had children don't seem to be bothered " what!!!!! are you kidding me! I of course do not have children, so this rational was so insane, and unacceptable to me........ NEVER GO TO THIS DR. On the other hand my paps have been clean for years, so she did the job, but seriously I'm scarred for life.
1.0 Rating
May 16th, 2015
Terrible Doctor
2.3 Rating
January 7th, 2015
Not the best experience
5.0 Rating
July 17th, 2013
LOVE this office!
Finally! I found an office with a staff, nurse practitioner and doctor who are friendly, direct, and interested in solving problems that every other doctor I've seen has just blown off. These gals have it going on and for any woman looking for real explanations for issues and really honest answers to your questions (and honest replies if they don't have the answer, OMG!)...LOOK NO FURTHER! Dr Barb and Eileen and the staff are amazing.
5.0 Rating
July 2nd, 2013
Not only a great doctor, but a fantastic human being
I have seen Dr. Van Eeckhout for over 9 years. I first saw her in Albuquerque where she practiced, then I followed her practice to Santa Fe, because my husband and I felt she gave such good care. My husband and I had a very difficult pregnancy and I was in and out of the hospital. We will never forget when we were in the hospital during the Christmas holidays and Dr. Van Eeckhout came to our room on Christmas Eve, to check on me as a patient as well as to check on my husband. For weeks she came by everyday and spent as much time as we needed her to. She answered all our questions and was always compassionate with her responses . My body would not accept my pregnancy and I became Very ill. Dr. Van Eeckhout did everything she could as well as consult specialist in and out of the state. She spent hours and hours helping me through the pregnancy. Unfortunately, we were not able to make it to term. Other physicians, like my primary doctor, have explained if I had not had the care I did with Dr. Van Eeckhout, I could of easily died myself because of how my body responded when I was pregnant. We are so grateful that she helped me to survive in order for me to now be a mom to two adoptive amazing little boys. I recently had a hysterecronomy that Dr. Van Eeckhout performed and again, she was and is answering all my questions. She took the time with me and my husband to make sure we understood everything involved. Her follow through is fantastic , she calls you right back and treats you with such respect. The office staff is great. Her mom is the office manager and has always helped us with billing or any other questions we have had. When I was pregnant she always would have kind and supportive words for me. The surgery scheduler is exceptional , she answered all my questions, even if I asked them twice!! She helped me find dates and times for surgery that worked for my family and my recoverary time away from work... The Medical assistant is always there with a smile and compassion. She is so helpful and I know when I tell her something, she has such a good line of communication with the doctor that the doctor always gets the information.... I would urge any women that wants to understand her body and what needs to happen for her medical care to go to Dr. Van Eeckhout. We have found her to be so knowledgable and caring through the years..
5.0 Rating
June 9th, 2013
Great doctor
My experience in visiting the office of Dr Barbara Van Eeckhout has been exceptional. She is compassionate, understanding, smart, a true professional and an exceptional physician. She always exceeds my expectations with every visit. Dr Van Eeckhout always takes as much time as needed to answer all my questions and address all my concerns. She always calls me to report Laboratory results. Her diagnostic skills are exceptional. She discovered a thyroid condition that was not detected by my primary care doctor. The staff in her office are always polite. They are willing to schedule appointments that fit my needs. Dr Van Eeckhout is a marvelous physician. There is no one better to address woman health issues. .
5.0 Rating
June 5th, 2013
As a patient of Dr Van Eeckhout since 2001 I have been extremely pleased and happy with the care she and her staff have provided. She or a member of her staff always call me with pertinent lab results---my wait time have varied but the stuff has always kept me appraised of the reason for the wait. I am a breast cancer survivor and Dr Van Eeckhout has been very supportive and careful with my continued care. She is the BEST!!!
5.0 Rating
June 5th, 2013
Long-Term Patient
What an exceptional Doctor! Dr. Van Eeckhout always answers my questions completely and makes me feel I am her only priority. When I have issues, she gives me all of my options, makes recommendations and explains why, then respects my choices. I have never had any of the issues cited below. Dr. Van Eeckhout is accessible; I have contacted her several times throughout the years with questions and never had a problem getting in touch with her. I have complete confidence in her care. I have recommended Dr. Van Eeckhout to many of my friends and family because she is outstanding.
5.0 Rating
June 4th, 2013
WOW! After reading these horror reviews that only angry patients have written about Dr Van Eeckout and her staff makes me need to write and tell just how wonderful of an experience I have had with them. I have been with Dr Van Eeckout for many years and she and her NP who I also see have been nothing but kind and patient and very understanding to my needs. ALWAYS! I have never had any problems with making appointments or talking with the Dr or NP all you need to do is leave your name and phone number and a brief description of why you want them to call you back and its that easy. I still tell my friends and family to go see Dr. Van Eeckout :0)
1.0 Rating
August 28th, 2012
In checking out options for prenatal care, I had one visit to this office. I did not even meet the Dr., had a brief informational appointment with no exam, and then received an outrageous bill which the office claimed was a fair and going rate for starting new patient charts. I later heard from my midwife that the Dr. has the highest rate of C-sections in town as well. I'm relieved I chose elsewhere and don't recommend this Dr.