Rate Now
Share Your Experience
Have you seen Dr. Barry Goldsmith?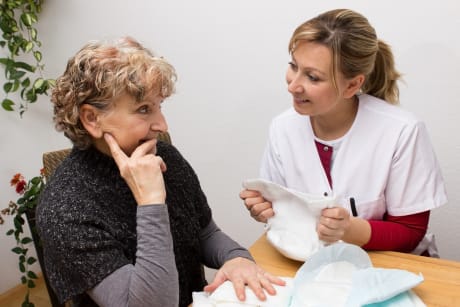 Urinary Incontinence
Learn about the symptoms and causes of urinary incontinence or urge incontinence.
10 Ratings with 3 Comments
4.0 Rating
August 7th, 2015
1.0 Rating
June 26th, 2013
I really had a great experience in this office until recently. When I saw Dr. Goldsmith for normal routine paps everything was fine. In 2010, I got pregnant with twins. He said he could handle twin pregnancies and everything was fine. I started experiencing first trimester bleeding and I asked if I should be going to a specialist and he said no. Finally, after bleeding up to about 12 weeks, he did a full blood panel work up and found that I had three clotting disorders and then referred me to Dr. Larson. Once I saw Larson, it was too late and the placenta wasn't able to attach fully because of the blood clots. I then delivered still born girls at 21 weeks 5 days. Had I been referred sooner, we would have been able to save them. Since my intentions were to get pregnant immediately following, Larson continued to see me and give me medications to treat my condition so that I could get pregnant again. I successfully carried a baby boy to term. I then got pregnant again soon after and saw Larson which helped me successfully carry a baby girl to term. I then went back to Goldsmith since I also have PCOS and expected to be helped like every other time I had visited. Unfortunately, that was not the case. He came in and did the exam but there was an awkwardness. When he told me to get dressed and he came back in he very quickly told me that there was nothing wrong with me at all and I was fine. I was very taken back by that because I was in pain and new that I had new cysts that had developed. Dr. Goldsmith then proceeded to tell me that he was uncomfortable with me because I went to see Larson for my pregnancies. He repeated how uncomfortable it was to see me over and over. He had no intention of telling me that day that anything was actually wrong because he didn't want me to come back because apparently his feelings were too hurt that I saw another doctor. However, he is the one that referred me to the specialist in the first place! I have never felt so violated. If you had no intention of treating me, then don't do an exam and certainly don't charge me for it. Needless to say, with the inappropriateness of the appointment, I will not be returning.
3.7 Rating
September 17th, 2011
Very compassionate doctor
I had a total abdominal hysterectomy and lateral salpingo-oopherectomy done by Dr. Goldsmith. He was extremely nice, spent plenty of time talking to me before, during, and after my time in the hospital. He did a great job, and I have healed beautifully. My only complaint is that he is light on the post-op pain management. He likes a combo of IV Tylenol (Ofirmev) and IV Ibuprofen (Caldolor), rather than anything stronger. I was in agony until he realized it wasn't working and finally switched me to Dilaudid + Caldolor. At home, I had to really ration my small allotment of Percocet, so my healing took longer because the pain wasn't under control, IMO. Still, I liked him very much, and probably a good discussion about pain mgmt. would have resolved this problem--but do it ahead of time. You won't feel up to talking too much post-op.
1.0 Rating
January 4th, 2017
3.0 Rating
December 8th, 2015
1.0 Rating
October 4th, 2015
1.0 Rating
December 24th, 2009