Rate Now
Share Your Experience
Have you seen Dr. Barry Jacobson?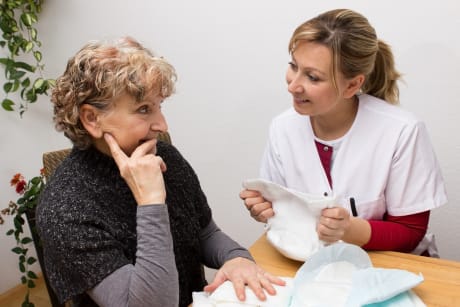 Urinary Incontinence
Learn about the symptoms and causes of urinary incontinence or urge incontinence.
33 Ratings with 10 Comments
1.0 Rating
September 4th, 2017
Prolia Pusher
Visits people with fractures at inpatient rehab centers pushing Prolia. Does not check other medication interactions or medical conditions. All I know is after the 3 and 4th injection the person I care for problems started. After some hospitalizations, was told by hospital to stop the Prolia. The Man even had the nerve to call and ask why it was stopped and try to talk back into taking it again. Most likely because it is a expensive drug.
5.0 Rating
June 15th, 2017
Absolutely a great doctor
1.0 Rating
March 31st, 2017
Disrespectful, no empathy, rushed
I was incredibly disappointed with this doctor. Throughout my visit he Barely looked at me (into his computer) Spoke quickly Was extremely disrespectful forcing me to get genetic testing because of family history and if I did not stating that he never wanted to hear about my family history again? Does he get a cut from genetic testing? Zero empathy I'll never go back to him
1.0 Rating
September 10th, 2015
Dishonest
A few months back I saw Dr. Jacobsen. I was never informed by him how much the Reclast treatment would cost. Hiss assistant, Karen, checked with my insurance and informed me that I wad fully covered. i went ahead with it. I have been receiving a bill for $300 some dollars. It was their mistake not letting me know there would be a charge. If known, I would have not done it. I would have taken monthly medication. Of course its more moneyIin his pocket. I was lied to and wil not pay the bil. He takes advantage of his patients for personal gain. I will never go back again.
2.0 Rating
March 30th, 2015
Inadequate staffing/Unresponsive
Staff do not always answer the phone and admit there is not enough office staff to keep up with the patient volume. Messages may go several days without a response. Massive communication where my mother was in-patient and taken off coumadin. Dr. Jacobson, with offices in the same building, was added as a consulting physician so she could get the prolia shot on time. Dr. Jacobson was unresponsive and the treating physicians said they could wait no longer, they needed to restart the coumadin. Dr jacobson them told me to call his office when she was being discharged. They could stop the coumadin and she could be wheeled right up to his office. The additional bone loss would be minimal. I tried to call his office to let him know she was being discharged on a Tuesday several times but got no response to messages -- until Monday morning when i was advised they just didn't have the staff to respond to all the messages and now my 91 year old mother, having suffered a fall, broken bones and 3 months in and out of hospitals and rehab centers will need to make yet another appt. Dr Jacobson may be the greatest bone density doctor in the world but if you have to leave 4 messages to get a return call for an appointment and can't get a response, I'm not sure the overall impact is good.
5.0 Rating
December 30th, 2014
Professional and great bedside manner
5.0 Rating
May 1st, 2014
Good Doctor, great Doctor.
Tell's you what you need to do for your health , he does not hold anything back , explains everything so you can make a better choice with your lifestyle.
5.0 Rating
January 19th, 2014
Awesome,down to earth doc
I have been a patient of Dr. Barry Jacobson for more than 25 years. I have been through it all, diagnosis of endometriosis,several surgeries for it, 2 pregnancies,both high risk. My first pregnancy involved surgery at 5 months,which turned out to be endo. Dr. Jacobson did the risky surgery,my baby was fine. He is now 24 years old. He did several amazing other surgeries where his expertise allowed an easier surgery with much less recovery time. Even was taken through partial hysterectomy and into menopause with him. He also delivered my twins in a drug free, natural childbirth. I even moved out of the area and still go to see him. He is an amazing doctor!!
5.0 Rating
May 19th, 2012
I love this Doctor!
5.0 Rating
July 12th, 2011
best doctor
5.0 Rating
July 10th, 2017
5.0 Rating
April 7th, 2017
Nearby Doctors

Dr. Barry Jacobson is similar to the following 3 Doctors near Springfield, PA.