Rate Now
Share Your Experience
Have you seen Dr. Benjamin Domb?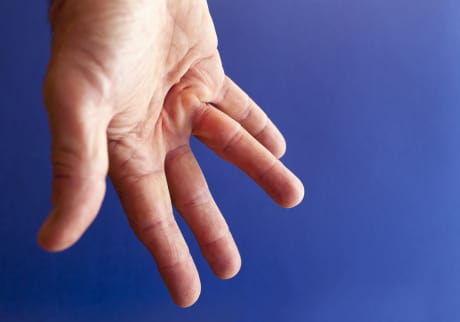 Dupuytren's Contracture
Dupuytren's contracture is a thickening of the tissue beneath the skin of the palm of your hand
Quality Rating
Highly Satisfied
125 Ratings with 42 Comments
5.0 Rating
August 17th, 2017
5.0 Rating
August 1st, 2017
Excellent Doctor.
5.0 Rating
August 1st, 2017
Excellent Doctor.
5.0 Rating
July 13th, 2017
Hip repair
5.0 Rating
June 8th, 2017
5.0 Rating
April 18th, 2017
1.0 Rating
October 17th, 2016
Financial nightmare
This has been a two year process for me, wish I'd have taken my business elsewhere. After being diagnosed with a labrum tear I was scheduled for surgery. One person at the office told me to start PT prior to surgery and another told me to not waste time and money on pre op PT so stopped. Less than a week before my scheduled surgery insurance denied me because I had not completed the PT. when I finally became elegible again the office scheduled me for surgery in Indiana in an out of network and told me if I wanted an in network site I'd have to wait 6 months for an appointment. And don't get me started on the $5000 deposit! Never ever sign a waiver or give a deposit until you speak to your insurance! I learned this lesson the hard way. He's trying to bill me almost $2500 now because that was the part not covered by insurance and i gave him the deposit. But he makes it sound like this deposit is for your benefit. I went to him because my mother in law had a fine experience with him and spoke highly. But the more people I talk to with similar injuries have nothing good to say. He has tried to spread himself too thin with so many offices and high volume, this should have been a big red flag to me.
5.0 Rating
April 16th, 2016
Hip Surgery, Excellent experience and outcome! Talented and compassionate doctor!
Recently had hip surgery by Dr Domb. Excellent experience from start to finish! I have been suffering from hip pain for years now, and after many inaccurate diagnoses by multiple specialists, I was referred to Dr Domb by a colleague who also had hip surgery by him, and had an equally excellent experience and outcome. His staff was helpful and thorough and guided me through the process, and Dr Domb's experience, reputation, education and bedside manner were top notch. He is not only a very skilled surgeon, but a compassionate physician. I am now 3 months post surgery and feel better than I have in years! I am finally able to return to my active lifestyle and get back to doing the activities I love, pain free! Many, many thanks Dr Domb!
1.0 Rating
April 7th, 2016
Not good
5.0 Rating
March 22nd, 2016
3.0 Rating
March 20th, 2016
Beware of the $5000.00 Deposit and massive over charges.
I went to Dr. Domb as Hip scope patient. I chose him as he seemed the only OS close to me other than going to NY who had the experience necessary. Only time will tell whether it has been worth the extensive repair vs. a THR. I will post back on that later and revise my post on the outcome. One thing you need to be aware of is the $5000 deposit. This is required for all patients no matter what your insurance carrier you have. You are supposed to get that refunded once your insurance has paid out but,thus far nothing has been returned and its been over 3 months. I keep getting the same response from his billing service which is not located here but, in Florida. They keep saying it's being reviewed and they have sent the correct backup information requested from the insurance company. I have dealt with insurance companies a long time and usually you have some answer from them after 3 months. Also he billed over $300,000.00 for a 2 hour surgery which includes his awful care surgery center bill more expensive than any hospital I have ever been in over $100,000. I have had many surgeries including very serious ones and no one has ever billed that much. It would seem that if you billed out that much you would never get paid by any Insurance company nor, would the patient receive a refund on their deposit??? Something is wrong with this picture. So if he collects $5000.per patient and he performs surgery on 12 patients per day or even 10 or 5 which is supposedly what his staff indicated you can do the math and he would never receive payment from an insurance company only the patient. He seems like a great surgeon only time will tell not that one but, I don't expect to ever receive my deposit back. I suppose $5000. is a cheaper way to pay but, not when your already paying a $6000. deductible and premiums over $500.per month. I just hope the surgery was worth it?
3.0 Rating
February 22nd, 2016