Rate Now
Share Your Experience
Have you seen Dr. Boyd Flinders II?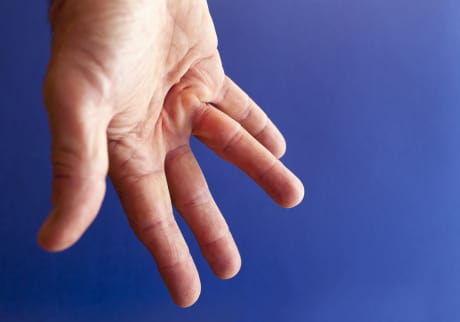 Dupuytren's Contracture
Dupuytren's contracture is a thickening of the tissue beneath the skin of the palm of your hand
9 Ratings with 2 Comments
1.0 Rating
February 13th, 2014
In 1984 I had a fall on stairs at work where I had injured my head, back, neck, and spine. in 1987 I had a failed Hemil-laminectomy surgery by a neurosurgeon because he said I had bulging lumbar discs. I first visited Dr. Flinders in 1988, subsequent to that first failed back surgery.That year I had seen many neurosurgeons and orthopedic surgeons. All said I needed to have lumbar surgery, however different techniques were offered.I chose Dr. Flinders because he was recommended by Dr. Charles Hutter, the great orthopedic surgeon, who could not perform the surgery himself because he was terminally Ill. But, Dr. Hutter said if I had this inter-body fusion, I would be so good that I would be able to "Play tennis" afterward. I was disappointed that Dr. Flinders REFUSED to accept me as a Work Comp patient, and would only accept me as a COBRA Insurance/Medicare patient. (I had Medicare because I had become permanently disabled). However, I didn't have much improvement, if any, after Dr. Flinders' surgery. Later I found out that his inter-body fusion actually did not fuse, yet he didn't tell me that. He just screamed at me and told me, "You have to accept that you are permanently disabled!" However, he never wrote a report stating that I had to accept that I was permanently disabled, and when it came time for me to go before the Work Comp judge in 1992, she gave me only a partial disability rating, "because of a lack of evidence", and she "reserved jurisdiction in the interest of justice should either party be able to present further evidence in this case." Upper Cervical Chiropractor, R. Weldon Muncy, DC QME had evaluated all the surgeon's reports, and then wrote a report that said, "These physicians treated and operated on her back, when the cause of her difficulty was the injury to her cervical spine." Specifically, the Blaire Upper Cervical X-rays that he used confirmed that I had a C1/C2 Vertebral Subluxation caused by that fall on the stairs. Later, I became a patient of Cedars-Sinai Chief of Internal Medicine Rheumatology, who viewed the x-rays that Dr. Flinders had ordered, and he showed me that his inter-body fusion had NEVER FUSED. He treated me for fibromyalgia and wrote prescriptions for Upper Cervical Chiropractic care that subsequent orthopedic surgeons agreed that I should continue. In 2003, my attorney finally got to court, and based on the "further evidence" that was provided by other QME's, I was allocated finally my 100% permanent disability status. However, the Work Comp insurance company appealed the award based on a legal technicality, stating that the 1992 Judge did not have the authority to reserve jurisdiction in my case, and their appeal was granted, overriding the WC Judge's 11-page justification for awarding my permanent disability pension. Bottom line -- Dr. Flinders should have taken me as a Work Comp patient, he should have told me that my fusion operation had failed to fuse, and in the interest of justice and fairness he should have written a report stating that I was PERMANENTLY DISABLED so that I could have been awarded the pension to which I was entitled and which all permanently disabled injured workers receive by law. Him not doing so cost me my justly deserved permanent disability award for life. Furthermore, he ignored the origin of the cause of my herniated lumbar discs - an upper cervical C1/C2 Vertebral Subluxation Complex. Since 1984 I have suffered not only from the wrong orthopedic lumbar surgeries for an upper cervical injury - but also through the corrupted work comp system, whose corruption is further enhanced through the refusal of "respected physicians" such as Dr. Flinders who won't take legitimately injured workers. I went to college for 12 years, working hard to obtain degrees in multi-media and computer science. I was disabled as a systems programmer analyst. Do you think a Social Security pension can in any way compensate me for my injuries? Certainly not. Dr. Flinders should have done the right thing and written a report - not just verbally in frustration tell me that I am "permanently disabled" - because he cost me a Work Comp permanent disability pension worth $450,000 - because he didn't want to be inconvenienced. No, I cannot recommend the physician who ruined me financially and who did not even realize that the cause of all my cervical, thoracic, and lumbar bulging discs was the ATLAX/AXIS Vertebral Subluxation Complex, which have been treated now by Upper Cervical Chiropractic specialists - where his orthopedically prescribed physical therapists just twisted my neck, or hung me upside down, causing me even more pain, discomfort, and muscle spasms. I thought physicians took an oath to do no harm. This physician has done me half a lifetime of harm, I have been permanently disabled for 30 years without a proper pension. I am glad that he has become successful - but at whose expense and at what personal cost?
5.0 Rating
May 13th, 2009
The Best!
I've been to this doctor at least a dozen times and he preformed surgery on my back. He has a wonderful bedside manner and is very kind, accessible and caring. His practices are a little conservative for my taste however, and he seems to go very slow when diagnosing a problem. He does a through job, but I prefer to get everything done in one visit. I highly recommend him to anyone experiencing joint, back or arthritis problems.
5.0 Rating
January 27th, 2017
1.0 Rating
August 2nd, 2016
5.0 Rating
December 11th, 2015
5.0 Rating
February 9th, 2015
5.0 Rating
September 5th, 2014
5.0 Rating
June 9th, 2014
Nearby Doctors

Dr. Boyd Flinders II is similar to the following 3 Doctors near Burbank, CA.