Rate Now
Share Your Experience
Have you seen Dr. Brenda Barry?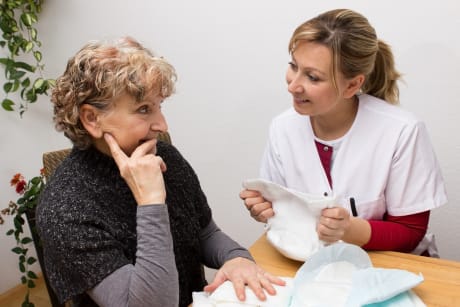 Urinary Incontinence
Learn about the symptoms and causes of urinary incontinence or urge incontinence.
37 Ratings with 19 Comments
1.0 Rating
July 12th, 2017
Get with the times
5.0 Rating
August 15th, 2016
5.0 Rating
September 16th, 2015
5.0 Rating
August 26th, 2015
1.0 Rating
March 19th, 2015
Won't be back
This office is like a drive through fast food chain. They do not care about high quality medial care. I was going there just for an annual exam. And very time I was there, I was told that I was fine. When I went to another doctor, I was diagnosed with huge fibroids that this doctor missed. Enough said.
Doctor's Response
We regret you are unhappy with your visit to our office. Fibroids are common in women and they can increase and decrease in size. Also, during an examination the provider can mistake a fibroid for other organs, especially if the patient is not symptomatic and/or if they are overweight. -Vickie, Office Manager
SHOW
1.0 Rating
March 28th, 2014
Inconsiderate Physician
I just received a CERTIFIED LETTER from Dr Barry's clinic, saying that they don't want to treat me anymore, because of having to cancel appointments. not only do they charge me $50 for a missed appointment, they asked me not to bring in my 5 month old baby in with me who I have no one to watch her sometimes. The staff is cold and rude, the Dr herself is very cold as well, her physical examinations hurt and she dose not care to ease the pain neither physically or emotionally. The Dr. barley spends time with after the exam which she always rushes to follow up with any concerns I have. I never left the clinic feeling at ease. My cancelled appointments were called in ahead of time or if I did it on the same day it was only because I didn't have someone to watch my baby girl. I had heard of the same problems with other patients, but did not want to judge until I received that very unfriendly, uncaring , dismissal letter.
Doctor's Response
Our office has a "no show" fee of $35 for a regular missed appointment and $50 for a missed procedure appointment. When patients call ahead of time and cancel or reschedule their appointment there is no fee. We appreciate the phone call as then we are able to offer that appointment slot to another patient who may really need to be seen that day. We are an office of all women, many of us who are moms, and understand there are times when it is difficult to find a sitter for your children. We are happy to assist with keeping an eye on your children when needed but sometimes the little ones do not want anyone but their Mom. During pelvic examinations and procedures it can be very challenging and awkward with a child in the examination room too. -Vickie Office Manager
SHOW
ttcqeayetrwczwezdueawsrsbdyr
3.7 Rating
August 23rd, 2013
menopause patient
I was impressed with Dr Barry's knowledge of menopause and her keeping up with the latest science. She is wise enough to use outside sources such as a menopause educator and compounding pharmacy to help her patients. She is not that easy to talk to because she does not easily engage with the patient. I think that is just her personality. Her answers tend to be short and to the point.
Doctor's Response
We appreciate you taking the time to provide us with your feedback. - Vickie Office Manager
1.0 Rating
October 17th, 2012
Horrible
I have visited Brenda Barry after I had a miscarriage. I started having some problems and ended up going to dr Barry's office every two weeks for six months and paying for every appointment out of pocket in the end, they would not tell me until after a few months that my insurance would not cover any of the visits. I went into the office with a mild infection and ended up with the worst case of bacterial and yeast infection you can possibly have. It almost destroyed my marriage. Dr Barry had no idea what she was doing. I would not recommend her to anyone, she should be ashamed of herself.
Doctor's Response
We regret we did not meet your expectations. While our office strives to do the best we can with obtaining insurance benefits on each patient, there are times when we are given incorrect information from the insurance representatives and in the end have to bill the patient. It is not uncommon for the insurance companies to pay us for multiple visits and then months later require us to give them the money back because they say that the patient did not have coverage at the time of service.-Vickie Office Manager
SHOW
1.0 Rating
September 18th, 2012
you cant get an apt with Dr Barry only the PA
the PA gave me a bone density pill and i had a severe reaction couldnt get them on the phone for 3 days and then they never saw me for approx 30 days at which time i saw the PA again had to argue to get an apt with Dr Barry 60 days later I have been going to her for 15 years + and now i am just another pacient with insurance
Doctor's Response
We regret you had a reaction to the medication and difficulty contacting the office. We have a dedicated team member in the office, during business hours, who handles nursing calls all day long. We also have phone service after hours that patients can call when they have an emergency. We can usually offer patients an appointment the same or next day with one of our Nurse Practitioners. While Dr. Barry's schedule does tend to fill up a little faster, we are able to make exceptions for patients who need to see her sooner. -Vickie Office Manager
SHOW
5.0 Rating
August 6th, 2012
I've been seeing Dr. Barry for routine exams for the last 5 years and have always been very happy with her practice. I recently had occasion to call for a non regular appointment and was happy that they were able to fit me in a couple of days later.This practice makes great use of email reminders and you have access to your reports online.Dr. Barry is a caring attentive doctor who takes the time to explain the hows and whys of tests, prescriptions etc.
Doctor's Response
A BIG THANKS for your supportive feedback! - Vickie Office Manager
5.0 Rating
June 5th, 2012
Good Gyn
Nearby Doctors

Dr. Brenda Barry is similar to the following 3 Doctors near Orlando, FL.