Rate Now
Share Your Experience
Have you seen Dr. Brent Imbody?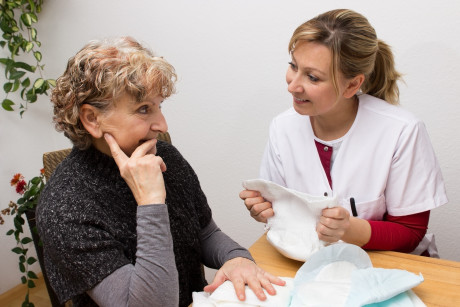 Urinary Incontinence
Learn about the symptoms and causes of urinary incontinence or urge incontinence.
Quality Rating
Highly Satisfied
25 Ratings with 10 Comments
4.0 Rating
September 2nd, 2016
He's great!
I have seen Dr. Imbody a few times, but every time he has made me feel like my concerns are valid and that I'm not only a patient. I left my former OB/GYN because they had less concern or interest for non-pregnant patients. Dr. Imbody has fantastic problem solving skills as he tries to make you feel better, instead of automatically writing a script. I had questions, but he never made me feel rushed or foolish.
5.0 Rating
March 10th, 2015
Outstanding doctor and staff
I left my previous OB/GYN, because I was very frustrated that she wouldn't listen to me! My first appointment with Dr. Imbody put me at ease. He really listens to your concerns and eases your anxieties. After 16 months of trying to get pregnant, I finally did under his care. Unfortunately, it ended in a missed miscarriage. Dr. Imbody and his staff were incredibly caring and empathetic and helped me to weigh my options. Although it was a very sad time, Dr. Imbody made the experience so much easier. I have full confidence that I will have a healthy baby under his care!
5.0 Rating
February 3rd, 2015
Excellent Doctor!!
After suffering a miscarriage with my first pregnancy and in search of a new doctor, I found Dr. Imbody after continuing to read nothing but good things about him. Our first initial appointment with him, I knew we had made the right decision. He not only listened to our needs, fears, he answered our questions, eased our minds and gave us hope. We have been treated so well by Dr. Imbody and his staff, they are AMAZING! I am now 35 weeks pregnant, and have all the confidence in the world that Dr. Imbody will take good care of us as we welcome our son.
1.0 Rating
April 11th, 2013
Beware....
I went to Dr. Imbody for over 15 years-- through 2 pregnancies, and a couple surgeries. The last 2 years I was seeing him, I was complaining of horrific abdominal pain. One day I was in so much pain, they had me come in to see one of his associates since he was busy. That associate indicated that my pain was most likely from my fibroids. Wait, what?!? Dr. Imbody had NEVER told me I had fibroids, even after I kept coming in complaininf of pelvic pain-- he just wanted to put me on the birth control pill or do yet another surgery......I was floored, to say the least. I subsequently requested ALL of my hospital and medical records from the entire time I had been seeing him, both pregnancies, deliveries, and my surgeries....and Dr. Imbody HAD NOTED in my charts and records that I had fibroids YEARS before I "accidentally" found out about them from his associate (who has since left the practice, and I followed him!). I tried to call Dr. Imbody a couple times to give him the opportunity to explain why on earth he would withhold such vital health information from his own patient...he never called me back. Bottom line--- yes, he's a charmer, but he's not very knowledgeable (when I developed post tubal ligation syndrome, he had never even heard of it and I had to print out some journal articles to take to him! And HE'S THE DOCTOR!!), and in my case, he was downright neglectful. He allowed a patient (me) to suffer needlessly and for no reason other than just a complete lack of actually READING a patient's chart, I guess. I don't know what other excuse there could be.....
5.0 Rating
May 17th, 2011
Awesome
1.0 Rating
April 10th, 2011
AvoAvoid this doctor if you want safe pregnancy
do not lat his charming bbedside manners fool you. I was fooled by it too. I transferred out after a bad oucome with my 1st pregnancy. during labor, the nurses kep calling him when my baby got in trouble and he did not answer mutiple beeps. He finally did come, but he still didn't take care of me & I ended up with disasterous results. I will never ever get over this. To this day, I still haven't figured out if he just doesn't care about his patients or if he doesn't know what to do, but if you want a sage pregnancy, go anywhere else.
5.0 Rating
January 24th, 2011
Dr. Imbody is out of this world!!! He has a ridiculously amazing bedside manner! He's so cautious and respectable, and always takes time to talk to you and actually listens to what you have to say! You never feel rushed! If I had one complaint, it would be to get an early appointment, because it seems like the wait is longer if you go in the afternoon. But like someone else said if you have to wait... it's worth the quality care you're going to get! If you're in need of a fantastic OB/GYN go see Dr.I, he's the best!!
5.0 Rating
January 19th, 2010
Dr. Imbody ALWAYS give you enough time to speak and listens to every word you say! He is so caring and his bedside manner is out of this world! I guess you could say that unfortunately, you do have to wait a little longer in the office because he listens to all patients, but to me, that is a small price to pay since I can ALWAYS COUNT ON HIM to hear me!!! I will be a patient for LIFE!
5.0 Rating
February 6th, 2009
5.0 Rating
September 23rd, 2008
great Dr., great personality and ability
Dr. Imbody is an excellent, caring doctor. He always gives you the time you need, does a careful exam, and tells you that if you need to speak to him, be sure to tell the office staff that it is important and necessary that you speak directly to him. I have been a patient for many years and have great confidence in his knowledge.
5.0 Rating
December 9th, 2015
Nearby Doctors

Dr. Brent Imbody is similar to the following 3 Doctors near Centerville, OH.