Rate Now
Share Your Experience
Have you seen Dr. Brett Gerstman?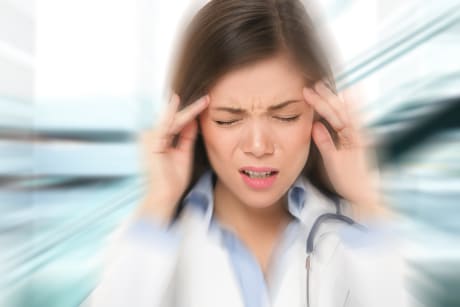 Migraine
Get the facts about migraine headaches, including the different types of migraine and migraine triggers.
Quality Rating
Highly Satisfied
42 Ratings with 13 Comments
5.0 Rating
August 10th, 2017
Dr Gertsman
5.0 Rating
October 16th, 2015
5.0 Rating
September 22nd, 2015
5.0 Rating
May 15th, 2015
Great doctor!
5.0 Rating
August 26th, 2014
Kind, Gentle, Invested Doctor Who Listens !
I have been seeing Dr Gerstman for about 3 years now. I came to him in immense pain thinking I had a pinched nerve that could be cured by surgery. As it turned out I was partially right, I have several pinched nerves but surgery will not help as it was caused by trauma over 20 years ago. The problem is that it had become hypersensitive and over the course of time I was also diagnosed with severe fibromyalgia. Dr Gerstman took his time to be sure he had the proper diagnosis and when he was sure, he gently informed me. It took about a year to get my meds to the point where I am "stable". Additionally, he didn't just throw medication at the problem. We tried everything we possibly could. He is extremely patient. I have brought him every single idea that I have heard of as possible treatments and/or cure for fibro. He has heard me out and tested me for things that he didn't even think would cause it because he isn't a person to just arbitrarily rule things out because he doesn't think it will work. He is an expert in his field and I respect his opinion highly. I not only would recommend Dr. Gerstman but have to friends, family & complete strangers on the street. He is amazing!
5.0 Rating
November 13th, 2013
Can't say Enough Good Things
.... seriously. Like many pain patients, I have been through the gamut of doctors and treatments. Dr. Gerstman is far and away one of the most compassionate, knowledgeable, and friendly doctors I have ever had the pleasure of working with. He is he first doctor I have seen in years who has successfully made me feel "not so sick" anymore, and given me some quality of life back. I am in my early twenties, and I have found that by default, many pain management doctors are frequently suspicious towards people of my age group because of some of the medicines typically doled out in such places. Not so with Dr. Gerstman, and it's a really refreshing change of pace. I could go on and on about how wonderful he is, but I think I'm running out of space. If you are looking to change providers, I strongly recommend making a consultation. I doubt you will ever look back.
5.0 Rating
June 4th, 2013
Best Doctor I have been to.
I have had back, leg and hip for years. I had a back surgery that helped some issues but created new problems. I had been struggling with horrible back and leg pain even after the surgery. I saw doctor's that would just write me a script for pain meds and send me on my way.....by the time I saw Dr. Gerstman I was pretty much expecting the same treatment but I was desperate so I decided that I would see one more doctor. Thank goodness I did!!! He has made such a difference in my quality of life!!! He spent over an hour talking with me about EVERYTHING! He LISENED He asked questions HE CARED!! The combination of meds he has put me on has helped my leg pain to where I feel better than I have in over 4 years. He is, by far, the best doctor I have seen since all of my back issues have started. I highly recomend anyone who is fed up with all the other doctors to make an appointment with Dr. Gerstman ASAP!!
5.0 Rating
April 11th, 2013
Best Back Doctor I Ever Saw
I've had chronic neck pain for about 9 years now. I saw several other doctors including orthopaedists and physiatrists. I did 3 separate rounds of physical therapy, chiropractic, and even acupuncture. None of it worked. Then I happened to drive by the NJ Spine Center. I went online and read up on it, and then I called up and booked appointment. Dr. Gerstman was not only the first doctor to successfully diagnose my condition. He was the first to successfully treat it. He's also just about the friendliest doctor you'll ever meet. He took more time with me and explained everything he was doing in more detail than any doctor I've been to. He may be young but he knows his stuff.
5.0 Rating
April 11th, 2013
Best Pain Doctor I've Ever Seen
5.0 Rating
June 21st, 2012
A great Doctor.
5.0 Rating
January 14th, 2012
Great Young Doctor
Great young doctor who is compassionate, intelligent and patient.
Nearby Doctors

Dr. Brett Gerstman is similar to the following 3 Doctors near Chatham, NJ.