Rate Now
Share Your Experience
Have you seen Dr. Brian Hoffman?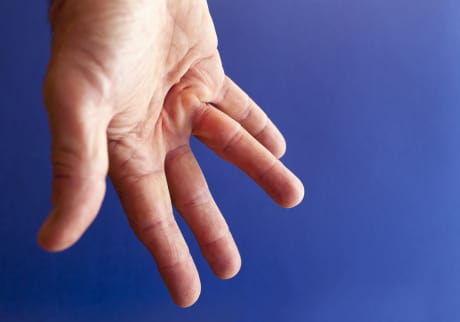 Dupuytren's Contracture
Dupuytren's contracture is a thickening of the tissue beneath the skin of the palm of your hand
17 Ratings with 11 Comments
5.0 Rating
December 26th, 2016
Kind, thorough, informative, courteous and great surgeon
He has treated my teenager and me and we could not be happier patients. Dr. Hayer refused to take the time to explain MRI to my son, and patronized me, so we moved to Dr. Hoffman who was friendly and informative and out a very anxious kid at ease. I highly recommend Dr. Hoffman. His staff is courteous, friendly and prompt!
5.0 Rating
December 15th, 2016
it was so easy. no pain and everyone was very helpful
it was very easy and i felt confindent i was in good hands the entire time!!
1.0 Rating
July 12th, 2016
Don't go to him
I am very unhappy with this doctor. Her old me I could only pick one place on my foot that hurt. I have arthritis one place doesn't just hurt.and when I said stop pushing on it and was crying he did not stop until I yelled. Then he gave me attitude about he has to cause pain to figure it out. He had such a attitude on. Until my friend said his wife is a doctor. Then he talked nicer but didn't care about me. Yea I am poor disabled and. Have public health insurance. How dare he treat anyone like that. He told I didn't have arthritis. I have five other doctors and blood test x rays and MRI that say other wise.
2.0 Rating
January 14th, 2016
Not a People Person
I saw Dr. Hoffman for Sesamoid Nercosis (dead bones in my big toe). While very thorough and explanatory, Dr. Hoffman treated me like I was an idiot. He was sarcastic and belittling if I didn't understand something. He very well may be a good surgeon, but he's horrible with people. No thanks, going elsewhere.
2.0 Rating
September 2nd, 2015
Great surgeon, not so good after
Dr. Hoffman is an excellent surgeon - knowledgeable, fun to talk with, on the mark. I had meniscus surgery. However, when I came back two months later because I am still having pain, he blew into the room and said, "Want a shot?" before even speaking with me. He was a little defensive and insisted that my pain was simply due to overuse. He just didn't seem at all interested in exploring it further or listening to my reasons for believing that the problem is more than overuse. This is a huge disappointment because up until this point, I would have highly recommended him. So, I'm on to the second opinion.
2.0 Rating
March 17th, 2015
Very poor follow up. Very frustrating office to deal with,
It took me a week to get an appointment for multiple broken bones seen in the ER. He ordered a CAT scan, to be sure whether I needed reconstructive surgery,. I had the CAT immediately after the appointment. He said not to bother waiting for the result, he would call me that afternoon. It's now been four days and five phone calls from me with no response from Dr. Hoffman, And nothing in my chart about the CAT scan. If he does recommend surgery, after almost two weeks since the injury, I will not have him do it. Go to Boston and don't waste your time or risk your health in Western MA!
5.0 Rating
May 9th, 2014
I slipped on the ice and fell on the upside down foot. Severed the fibula in my ankle. Dr. Hoffman recommended surgery and it was really the right thing. I had to wait a week for the swelling to go down, during which time the fracture didn't heal at all. Once the surgery was done, it began healing rapidly. At this point I'm walking with a cane and the scar is very faint. I had no complications. I think he did a great job. He's often busy and runs a bit late for appointments, but he was always friendly, compassionate, humble and took time to answer my questions.
5.0 Rating
September 4th, 2011
Great doctor
5.0 Rating
July 2nd, 2011
Outstanding surgeon, really nice person
You usually don't see these two qualities together, unfortunately. Dr. Hoffman is a compassionate person who took plenty of time to explain my problem to me, and even used drawings and models to help me understand. I ended up having surgery, and can already barely see my scar! During therapy, I met several other patients who had also seen Dr. Hoffman, and had nothing but good things to say about him and his wonderful staff (except he sometimes ran a little behind, but these days, it's worth it to be treated by a skilled doctor you can trust!).
5.0 Rating
May 5th, 2011
Nice, honest, and NOT bigoted!
I saw Dr. Hoffman for painful knee arthritis and he told me I would probably need a knee replacement. I weigh 245 lbs, and he informed me of the relationship between being overweight and painful arthritis. He also said that if I lost weight my knees might feel better enough not to need a knee replacement for a long time. When I told him I'd tried dieting, he mentioned weight loss surgery was an option. I appreciated his honest, and I have not lost 35 lbs. My knee feels MUCH better! I think the other reviewed is totally sensitive about her weight, and shouldn't take it out on doctors trying to help the WHOLE patient.
1.0 Rating
March 9th, 2011
Prejudiced/bigoted against overweight people
Wanted a second opinion about replacement hip surgery. Without even looking at me Dr. Hoffman told me I needed gastric bypass surgery instead because I weighed 218 lbs. X-rays show I have no cartilage left in my hip socket, but this man's aversion to fat led him to insult and embarass me over the phone. Since that conversation other patients have told me he is obsessed with obesity. Where does the hippocratic oath say you should pick your patients by size?