Rate Now
Share Your Experience
Have you seen Dr. Carl Basamania?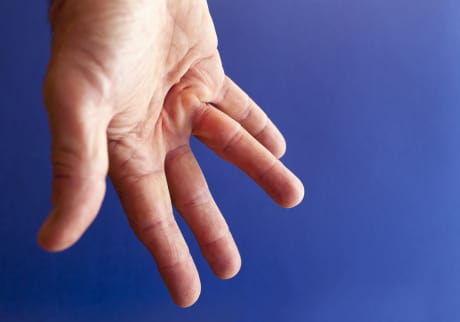 Dupuytren's Contracture
Dupuytren's contracture is a thickening of the tissue beneath the skin of the palm of your hand
Quality Rating
Highly Satisfied
48 Ratings with 13 Comments
5.0 Rating
September 25th, 2016
Two shoulder replacements
5.0 Rating
August 31st, 2016
Best surgeon ever
I had to write a review, dr. Basmania did my shoulder surgery in 2004 ,when he was with duke sportsmed in N.C. You will never find a better, more articulate ,more caring surgeon, he repaired labriel tear, removed damaged cartilidge, had to move biceps tendon. (I was in a work related accident that caused a lot of damage). i wish he was still in nc to do my husbands shoulder.
5.0 Rating
August 26th, 2016
Yes the best Ortho doc hand down lol
5.0 Rating
June 23rd, 2016
5.0 Rating
September 7th, 2015
Shoulder repair
Staff was pleasant and efficient Dr B explained what was needed to repair rotator cuff and arthritic debris. Surgery and recovery smooth. No pain and no pain pills needed post op. No PT needed and back to office in two days. Fantastically skilled surgeon
5.0 Rating
December 17th, 2013
3.7 Rating
September 25th, 2013
distal clavical
I came from Mass to see Dr. B for a distal clavicle fracture that was 2 yrs old. Best dr in boston could only give me a long plate and a nasty scar which I did not want. Initially dr's said to just live w/ it broken. I couldnt and lived in alot discomfort. Best advice for clavicle fractures, go see Dr.B. He put a small plate and tiny incision. Only it didn't heal well. I wishd he used bone graft from my hip instead first. A 2nd surgery was needed w/ hip bone graft. Ill be seeing him again if I need to. Only thing was his med. Assist Maria was rude w/ follow up. Follow up was not great, communication bad. A doc like b shld have a nurse.
5.0 Rating
July 16th, 2013
Amazing MD!
I saw Dr B after struggling with shoulder pain & symptoms for several years which included an open rotator cuff repair and excruciating PT several times a week for 2 years. Even with pain meds, I cried the whole time. My family doctor recommended Dr B for a second opinion. I did have to wait for an appointment, but when I saw him, he listened to my complaints and story, then immediately touched a spot on my shoulder. He knew exactly what the problem was! This was confirmed with MRI, and I had surgery (biceps tenotomy and "clean up" from the prior surgery) about a month later, I needed no further PT, and got my life back. I am truly indebted to Dr B and can't thank him enough. This was several years ago, while he was in Durham NC. Unfortunately (for me,) he moved to Seattle only a couple months after my surgery, If I ever needed shoulder surgery again, I'd absolutely travel across country to see him!
5.0 Rating
September 25th, 2012
AMAZING KNOWLEDGE AND SKILL
It took several weeks for me to get into Dr. Basamania for a second opinion. I had fractured my right shoulder in 3 places in January. My fractures were very rare, one of them extremely rare. He was not only familiar with this fracture and the surgical procedure required. He had the same fracture and procedure years ago. I will never regret waiting to see him and I so thankful that I knew someone that referred him to me as my best option for fixing my shoulder. I am now 5 months post surgery and have full use and range of motion in my dominant arm. I would recommend him to ANYONE! He is in high demand for a reason! He is the BEST! A delight to work with. Great bedside manner!
5.0 Rating
October 20th, 2011
AMAZING doctor who CARES a LOT ! !
Getting an appointment with Dr. Basamania was not easy because he is in such high demand. As much pain as I had, I look back and realize the wait was worth it. He really CARES about his patients and is recognized as an expert in his speciality. He works with such precision and follows his patients for a year. His treatment plan is different than some, but obviously his reason is for perffect outcome of his patients. May I never need another shoulder surgery, but if I did, I hope he is there to treat me. He goes the extra mile and is such a delightful doctor with a winning smile.
1.0 Rating
August 22nd, 2011
Feeling lucky?
Dr B came highly reccommeded as a surgeon but my overall experience was terrible. Waited 6 weeks to get on the operating table after an injury and progressively lost movement during that time. Post-op follow up was awful/ borderline unethical and I developed complications which were avoidable with proper care. Although I know some patients had excellent results, ask yourself this question: Are you feeling lucky?
1.0 Rating
May 24th, 2010
Never got to see him
I arrived 10 minutes early for my appointment, but because the Polyclinic has everyone check in at the main desk, and it was a busy afternoon, it took me 20 minutes to get to his office (so 10 minutes late). Then I had to go to x-ray, where they tried to x-ray the wrong shoulder. Once I got back to the office (now 25 minutes late), they decided that because I was late, they could not see me right away. Now, I can wait at a doc's office, but it was the WAY it was handled. I could hear the back office staff talking very loudly about me and not in a polite manner. I was embarrassed beyond belief. Everyone in the waiting room could hear her tell everyone that because I was 25 minutes late (like I said, I had to wait in a long line to check in AND go to xray), then I would just have to wait. If they had said something to me privately and politely, I would not be writing this now. The receptionist asked if I would like to reschedule - did I mention it took FOUR WEEKS to get this appointment? Seattle is full of respected and talented shoulder orthopedists. I decided to take my medical dollars elsewhere. Dr. Carl Basmania's office staff are loud, rude, and they snap their gum.
Nearby Doctors

Dr. Carl Basamania is similar to the following 3 Doctors near Seattle, WA.

Dr. Nicholas Seibert

Foot and Ankle Orthopedics, Orthopedic Surgery, Sports Medicine

Seattle, WA 0 mi