Rate Now
Share Your Experience
Have you seen Dr. Carl Ollivierre?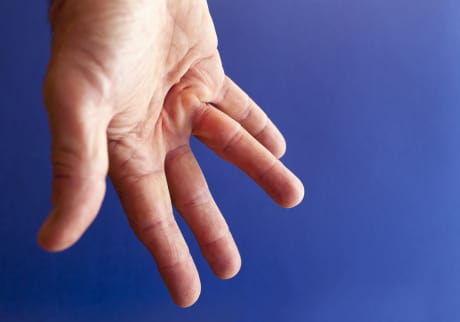 Dupuytren's Contracture
Dupuytren's contracture is a thickening of the tissue beneath the skin of the palm of your hand
Quality Rating
Highly Satisfied
37 Ratings with 18 Comments
5.0 Rating
July 4th, 2016
Very happy
This is the 2nd time I've seen him. I saw his associate, in the same office 2 other times, who left. I am happy with the promptness, his tech's friendliness, and the fact that he's in and out with no frills. Some may find this too abrupt but I don't and feel that is why he's always on time. The shot he administered in my knee was virtually painless. He, as well as his predecessor, explained that surgery is always the last resort and he will try shots, wraps, rubs, splints, before knee replacement. Those are my choices, also. Wait time has always been minimal, i.e. 5-15 minutes.
5.0 Rating
May 21st, 2016
1.0 Rating
November 11th, 2015
Too easy to get an appointment. I wish that I had never met him. I had had knee replacement before my other leg so I knew what to expect. I complained about the pain never lessening even after 6 months. Finally went to another orthopod who confirmed that the prosthesis was incorrectly placed and I needed a revision. I was in agony and Dr.O kept telling me that the X-rays showed that all was fine but the confirmation of 2 other orthpods indicated that all was NOT fine.
5.0 Rating
December 12th, 2014
My Mother had Dr. O do both of her hip replacement surgeries and she did great both times. In my opinion he is the best Orthopedic Surgeon in the Lake County area, and I wouldn't go to anyone else for any type of bone related surgery. Me and my Mother would recommend him to everyone we know if they need an Orthopedic Surgeon.
2.3 Rating
May 5th, 2014
Poor office staff
1.0 Rating
December 12th, 2013
I had hip replacement 3yrs. ago and I still have pain. I went back to him and he said I had scare tissue that was causing the pain. He said there was nothing that could be done , so I have to live with it. I wouldn't have him For any thing again .
5.0 Rating
November 11th, 2013
I had such a postive and informative first viisit with Dr. Ollivierre, from the time I checked in to checking out. Dr. Ollivierre introduced himself and got right to my problem. He listened to my complaint and advised me how it should be treated. I was thankful that surgery was not his first recommendation for my knee pain. I would recommend Dr Ollivierre to my family, friends and co-workers. Thanks to yor staff also.
5.0 Rating
November 9th, 2013
VERY IMPRESSED
5.0 Rating
November 8th, 2013
Athlete ACL reconstruction
Dr. Ollivierre has taken care of all of my sports medicine/athletic injuries for the past 15 years. I have endured a broken wrist, a torn ACL, two broken ankles and various other strains and sprains as a soccer player. Not only was his bedside manner incredible, he did a wonderful job at getting me back on the soccer field healthier and stronger than before. After tearing my ACL, Dr. Ollivierre performed surgery, which went seamlessly. My surgery was 11 years ago and I have never once had a problem with my knee. I would highly recommend Dr. Ollivierre to anyone with an Orthopedic problem.
1.0 Rating
September 23rd, 2013
Money Grabbing S _ _
I received a bill just two days before my appointment from my last appointment 2 months ago for $57.00. When I arrived at my appointment I was told that I could not see the doctor until I paid the bill I explained that I just received the bill two days ago. I explained that I only receive my retirement pay the first of the month and would not have the money until then and that I was in pain and needed to see the Doctor. I was told I needed to reschedule after I could pay. I will not be back. I see where Dr. Ollivierre focus is and it is not the patient but the patient's wallet.
5.0 Rating
August 2nd, 2012
Great Doctor
Dr. Ollivierre has performed two surgeries on my knees, and recently has helped me through some severe back pain. I cannot say enough about his caring and his professionalism. He took as much time as I needed to explain things to him, and then took enough time to explain my options after the testing he did. Actually, because of my previous good experiences, he was my first line of defense for the back pain instead of my family doctor or even going to a neurologist right away. He confirmed my faith in him.