Rate Now
Share Your Experience
Have you seen Dr. W Reckling?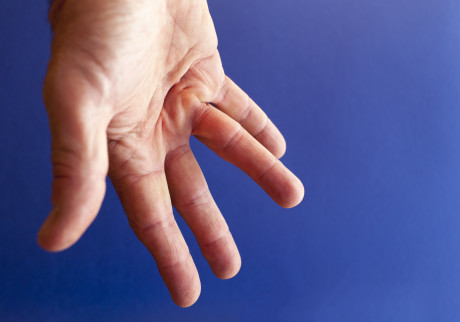 Dupuytren's Contracture
Dupuytren's contracture is a thickening of the tissue beneath the skin of the palm of your hand
10 Ratings with 8 Comments
1.0 Rating
September 22nd, 2012
Neck came undone
He did my neck in 2010, well it came undone. I'm on medicare only can't make money on me.He was so unprofessional it was unreal. He did a 180 when I went from Workers Comp to Medicare. And he knew I had a torn rotar cuff tear. He kept giving me shots. Well quess what, I NO longer have a rotar cuff, it's gone. I can have it rebuilt but I don't have the money. He could have saved it if I have insurance.I wouldn't recommend him to my dead dog.
1.0 Rating
May 4th, 2012
Will never go back
In 2008 Dr. Reckling did my back, L4, L%, S1. I ended up with drop foot. When I went to see him in "!!" I mentioned the drop foot and he said, and I quote "not my fault" then who's fault is it? Not mind. Now my foot is trying very hard to turn right and stay there. And he lied to me. He told me he could not do the middle of my back because of were it's located, by my ribs.5-4-2012, looked it up and he can do the middle of my back. But here is the kicker, I'm on medicare. He would not make money. Here is how I know. It was when he did my neck. Went home next day with no orders. NONE Had to look it up. I will never tell anyone to go to him. He thinks he is god and never would make a mistake and only care about money.I was very well treated when my back surgery was Workers Comp.Don't go to him unless you have alot of money.
5.0 Rating
January 3rd, 2012
1.0 Rating
December 3rd, 2011
BEWARE - DO NOT LET HIM DO SURGERY ON YOU!!!!!!!!!
He will charm you with his personality but please do your research and find a doctor who knows what he is doing. He did a simple Spinal Cord Stimlator surgery on me. When things went wrong he stopped talking to me. I ended up in ICU the day after surgery to have emergency laminectomy to reduce the swelling from the mistakes he made. Damaged my dura, caused nerve root damage, and now I am left with severe pain around my chest due to his grave surgical mistakes. He refuses to talk about what mistakes he made. Had surgery a year later to remove the stimulator and redo the laminectomy which he improperly performed. PLEASE do not let him even get a knife close to your body as you will regret it. When things go wrong he runs the other direction. Do not put your life in this mans hands!!!!!!!!!!!!
1.0 Rating
December 2nd, 2011
BEWARE - DO NOT LET HIM DO SUGERY ON YOU
He will charm you with his personality but please do your research and find a doctor who knows what he is doing. He did a simple Spinal Cord Stimlato ...
5.0 Rating
June 25th, 2010
patient
5.0 Rating
April 20th, 2010
an exceptional orthopedic surgeon
dr. reckling helped put me back to work,just when i thought i was going to loose my career of 17 years,dr. reckling diagnosed the problems i was having,walked me through the procedures,and carefully corrected the problems,he's got a great bedside manner that makes him very comfortable to talk with,the staff has always answered any questions and has always been courteous, you wont find a better orthopedic surgeon and staff in the region..
5.0 Rating
January 21st, 2009
Dr. Reckling was wonderful to me. He took a great deal of time listening to me & then an equal amount of time for the physical exam. I ended up having a 2 level cervical spine fusion. The surgery was quick & my pain was better immediately. I see him annually & I am doing great. Dr. Reckling has been kind & concerned about my progress. I am quite young to have had a herniated disc without injury, the disc above was degenerative as well. I had been in pain for quite some time & had seen 3 other orthopedic surgeons who missed the diagnosis. My next problem was elbow pain & I went in to see Dr. Reckling, I was diagnosed & treated nonoperatively with an injection. A few years later I had severe pain in my pelvis during pregnancy, I could hardly walk. Dr. Reckling encouraged PT because he did not want to jeopardize my baby. He also did not want to give me an MRI because of my baby. I ended up fine after some PT and am eternally grateful to Dr. Reckling for such continued great care.
1.0 Rating
October 16th, 2014
3.7 Rating
September 2nd, 2014