Rate Now
Share Your Experience
Have you seen Dr. Carmen Muresan?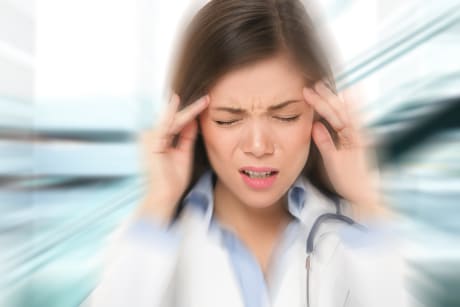 Migraine
Get the facts about migraine headaches, including the different types of migraine and migraine triggers.
Quality Rating
Highly Satisfied
78 Ratings with 24 Comments
4.0 Rating
December 27th, 2016
Take your pain away
5.0 Rating
September 16th, 2016
WOWW QUE EXPERIENCIA, QUE ALEGRIA HABER ENCONTRADO A LA DOCTORA MURESAN. YO SOY UN PASIENTE QUE A PESAR DE SOLO TENER 39 ANIOS TENGO UNA NEUROPATIA DIABETICA MUY FUERTE. POR MUCHOS ANIOS HE SUFRIDO UNOS DOLORES INSOPORTABLES, MI NEUROLOGO ME RECOMENDO A LA DOCTORA MURESAN Y FUI ME EXAMINO Y ME HIZO UNOS BLOQUEOS DE NERVIOS, INCREIBLE LOS DOLORES SE ME HAN DESAPARECIDO POR COMPLETO. POR MUCHOS ANIOS HABIA PENSADO QUE NUNCA ME PODRIA SALIR DE ESTOS DOLORES PORQUE LOS MEDICAMENTOS AYUDAN PERO NO ELIMINAN EL DOLOR. PERO AHORA SI YA SE QUE MI PROBLEMA TIENE SOLUCION Y SI ME VUELVE EL DOLOR REGRESARE CON LA DOCTORA MURESAN
5.0 Rating
September 11th, 2016
La mejor doctora de america
Yo vivo en Ecuador pero mis hijos viven en Miami. Yo he sufrido de dolores de espalda por 17 anos que tube un accidente y siempre he tenido dolores. Estando en mi ultima visita en miami mis hijos me hablaron de la doctora Muresan y me sacaron una cita. Pues increible me vio la doctora me hizo un estudio y me hizo un procedimiento y adios dolor ya no me ha vuelto a doler fue increible. Me alegro mucho haber tenido la oportunidas de atenderme con la doctora murasan
5.0 Rating
August 29th, 2016
MARIVILLOSO
LES QUIERO COMPARTIR MI OPINION ACERCA DE LA DOCTORA MURESAN PORQUE ESTOY REALMENTE IMPRESIONADO. YO HE TENIDO DOLOR EN EL CUELLO POR MAS DE 6 MESES. HE HECHO DE TODO HE VISTO VARIOS MEDICOS, QUIROPRACTICOS, TERAPISTAS Y NADA NINGUN RESULTADO YA ESTABA LISTO PARA HACERME UNA CIRUJIA CUANDO VI A LA DOCTORA EN LA TELEVISION Y ME DIJE VOY A PROBAR LO ULTIMO YA ANTES DE LA CIRUJIA, PUES FUE UNA BENDICION LA DOCTORA ME HIZO 3 PROCEDIMIENTOS UNO POR SEMANA Y ELIMINO EL DOLOR POR COMPLETO QUE MARAVILLA. POR SUERTE FUI A VER A LA DOCTORA ANTES DE LA CIRUJIA PORQUE A SABER COMO HUBIERA QUEDADO DESPUES DE UNA CIRUJIA CERVICAL.
5.0 Rating
August 29th, 2016
INCREIBLE DOCTORA
INCREIBLE LA DOCTORA CARMEN, MI MADRE LLEVABA MUCHO TIEMPO CON UN DOLOR EN SU LUMBAR QUE LE CORRIA HACIA LAS PIERNAS INSOPORTABLE YA NO SABIAMOS QUE HACER MI MADRE ESTABA SUFRIENDO MUCHISIMO Y YA HABIAMOS TRATADO CON 3 DOCTORES AQUI EN MIAMI SIN NINGUN RESULTADO. LA DOCTORA CARMEN LA VIO LE MANDO UN MRI NUEVO Y AL SIGUIENTE DIA LE HIZO UN PROCEDIMIENTO, INCREIBLE MI MADRE AL OTRO DIA SE DESPERTO SIN NINGUN DOLOR "0" WOW TODAVIA NO ME LO PUEDO CREER QUE ALEGRIA PODER VER A MI MADRE CAMINAR OTRA VEZ SIN BASTON Y SIN DOLOR. LA DOCTORA ES ESPECTACULAR. GRACIAS DOC.
5.0 Rating
July 12th, 2016
EXCELENTE DOCTORA
A TODOS LES RECOMIENDO A LA DOCTORA CARMEN ES ESPECTACULAR. YO HE VISITADO VARIOS MEDICOS Y QUIROPRACTICOS POR UN DOLOR EN EL CUELLO QUE NO ME DEJABA VIVIR. FUI A VER A LA DOCTORA CARMEN Y ME MANDO UN MRI PARA VER QUE ESTABA PASANDO Y YO PENSE QUE NO ME LO HIBA A PODER HACER PORQUE OTROS DOCTORES ME LO HABIAN MANDADO PERO MI SEGURO SIEMPRE LO DENEGABA. PERO INCREIBLEMENTE SU STAFF PROCESO LA AUTORIZACION Y EN UN DIA ESTABA AUTORIZADO ME HICE EL ESTUDIO Y LUEGO 3 PROCEDIMIENTOS CON LA DOCTORA QUE ME ELIMINARON EL DOLOR POR COMPLETO, YA LLEVO 4 MESES SIN DOLOR Y HOY FUI A UNA CONSULTA DE SEGUIMIENTO Y ESTOY SUPER CONTENTA ESPERO EL DOLOR NO ME REGRESA PERO SI VUELVE NO DUDARE NI UN SEGUNDO EN IR DONDE LA DOCTORA CARMEN. GRACIAS!!!
5.0 Rating
July 10th, 2016
Excelente doctora tiene manos de ángel. Mi experiencia mejor imposible. Yo he vivido con dolor por más de 6 anios y habia probado de todo ya no sabia que mas hacer. Fui donde la doctora porq una amiga me la recomendo y fui a verla un lunes me evaluo y regrese el martes para el primer procedimiento. Cuando me desperte el miercoles no lo creia pense que estaba sonando q no tenia dolor porq no me dolia nada llame a mi hija y le dije que creia q estaba dormida todavia porq no tenia dolor y mi hija muy contenta me dijo mama no se q hiciste pero te funciono de maravilla porq estas despierta. Dios mío fue increible gracias doctora y que dios bendiga sus manos
5.0 Rating
July 10th, 2016
Increíble doctora!!! Ojalá en Miami hubieran mas doctores como ella. Yo he tenido dolores por años y había hido a ver varios doctores, quiropracticos, terapias, y nada el dolor igual yo estaba de tanto dolor siempre de mal carácter y mal humor no quería ir al baño para no levantarme de la cama un dolor insoportable y fui donde la doctora Carmen y después del primer procedimiento es increíble el alivio me sentía como otra persona después me hice otros dos procesimientos y ahora estoy con 0 dolor nada no me duele absolutamente nada le agradesco muchísimo a la doctora carmen
5.0 Rating
July 8th, 2016
INCREIBLE!!! YO TODAVIA NO ME PUEDO CREER COMO ME SIENTO YO HE SUFRIDO DE DOLORES DE ESPALDA POR MUCHISIMO TIEMPO, UNOS DOLORES INSOPORTABLES QUE NO ME DEJABAN NI MOVERME. TENGO UNA HIJA QUE ACABA DE CUMPLIR 15 ANIOS Y QUERIA IRSE DE CRUCERO Y YO PENSABA MANDARLA CON SU HERMANA Y SU MAMA PORQUE YO CON MIS DOLORES LO HIBA A ARRUINAR SU CUMPLEANOS. FUI DONDE LA DOCTORA CARMEN Y ME HIZO UNA SERIE DE PROCEDIMIENTOS Y AHORA EN 3 SEMANAS YA ESTABA COMO SI NUNCA ME HUBIERA DOLIDO LA COLUMNA ES INCREIBLE NOS FUIMOS DE CRUCERO Y MI HIJA LA PASO DE MARAVILLAS Y YO LA PUDE DISFRUTAR TAMBIEN. WOWWW QUE MARAVILLAS. GRACIAS DOCTORA
5.0 Rating
July 8th, 2016
GRACIAS DOCTORA
Estoy muy agradecido con la doctora Carmen Muresan, yo estaba con un dolor insoportable, que no me dejaba dormir y no podia ni caminar, estube asi por varios anos y ningun doctor me podia decir que estaba pasando conmigo, la doctora Carmen me examino y me mando un estudio que demostro lo que estaba pasando, de emergencia la doctora me llamo a mi casa y me mando a ver ese mismo dia a uno de los mejores cirujanos de Miami, porque tenia una compression en la medula que me podia dejar invalido para el resto de mi vida, me hicieron una cirujia minima invasiva y ahora solo dos semanas despues estoy caminando y sin dolor. No tengo maneras de agradecerle a la doctora Carmen, le voy a estar agradecido el resto de mi vida. "GRACIAS" ERES UN ANGEL
5.0 Rating
June 3rd, 2016
5.0 Rating
June 3rd, 2016
Me siento de maravilla ir a donde la Doctora Carmen ha sido una bendicion. Desde que llegue por primera vez me senti como en familia porque el personal que trabaja en su oficina hacen que el trabajo sea rapido y eficaz. El tratamiento por su parte a sido un exito porque yo llevaba mucho tiempo con dolor debido a la neuropatia, artritis y el nervio siatico que me provocaban mucho dolor. Hoy he vuelto a la vida porque con dolor no hay vida. DIOS BENDIGA LAS MANOS DE LA DOCTORA