Rate Now
Share Your Experience
Have you seen Dr. Carole Rizzo?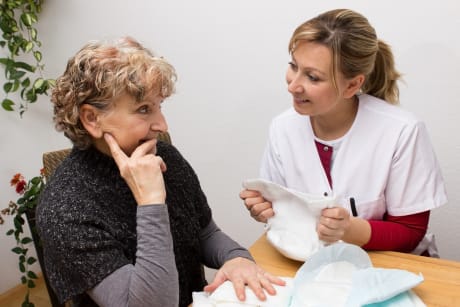 Urinary Incontinence
Learn about the symptoms and causes of urinary incontinence or urge incontinence.
19 Ratings with 8 Comments
1.0 Rating
September 30th, 2014
Pig
5.0 Rating
September 16th, 2014
Best Ever!!!
5.0 Rating
June 9th, 2014
1.0 Rating
January 15th, 2014
Awful
1.0 Rating
November 1st, 2013
Terrible
This is the worst experience I ever had with a doctor, I was treated unprofessional and was made to wait 2 hrs in the waiting room before I was seen, this is the worst female doctor I have ever seen in my life, was told I was fat and ugly and that I have a attitude when clearly she's the one with a attitude, this doctor is very rude and has no knowledge of anything medical, please save yourself the hassle of seeing this so called doctor, just terrible
5.0 Rating
September 9th, 2011
Doctor is wonderful, staff is so so
I love Dr. Rizzo. She has been my doctor for many years. She is competent, professional and very caring. I would not see anyone else. However, some members of her staff are rather rude. I am sure they work very hard and deal with a lot of difficult patients, but one staff member in particular NEVER says "good-bye", She simply hangs up the phone. I have been hung up on several times by her and I find it to be offensive and EXTREMELY unprofessional. Too busy to say "good-bye"? Too good to waste your time with a "good-bye"? Both "reasons" are inexcusable. Somebody needs lessons in telephone manners!!!!!
1.0 Rating
November 4th, 2010
Worst Doctor I have ever been to. Manipulative, two - faced
I went to Dr. Rizzo a month ago for a new script for birth control. She told me she would only give me one if my blood tests come out clean. She spoke of 2 tests, and I had my other doctor fax info from tests from 1.5 years ago to her. NOW>>> I just got a bill from the lab - $800 after insurance!!!. The tests were unnecessary but she told me she wouldn't give me a script for birth control unless I had them. I got full blood work done a year and a half ago, with nothing wrong, and nothing has changed in my life!!! I'm appalled. She was not upfront about her intentions. I was additionally billed $280 from her office! That's about 1100 dollars for NOTHING - PLUS she gave me a hard time. She still hasn't given me the script, now saying I need an ultrasound that they can do "IN HOUSE." What can I do???? - WARNING DON'T USE HER!!!
1.0 Rating
September 29th, 2009
I had one appointment with Dr. Rizzo, and that was all I needed. I have been emotionally and physically traumatized from her abruptness, her condescension, and her lack of warning of ANYTHING she did to me (surprise rectal examination, anyone?). She wouldn't allow me to put my clothes on before I had my blood drawn, which is unlawful. I feel violated and humiliated from the experience, not to mention judged and unnecessarily categorized. She insisted on doing a cervical exam, PAP smear, rectal exam, blood work, and a urine sample, even though I was only in there for a BIRTH CONTROL CONSULTATION (and I had a PAP and cervical exam less than two months prior). Dr. Rizzo is a terrible human being, regardless of the "knowledge" she feels she imparts. I have filed a complaint with the Michigan Department of Community Health, and I urge you to do the same if you were similarly wronged by this awful, unethical, cruel doctor (who isn't even a gynecologist!).
4.0 Rating
May 21st, 2015
3.0 Rating
March 9th, 2015
5.0 Rating
November 18th, 2014
Nearby Doctors

Dr. Carole Rizzo is similar to the following 3 Doctors near Bloomfield Hills, MI.