Rate Now
Share Your Experience
Have you seen Dr. Catalina Dinu?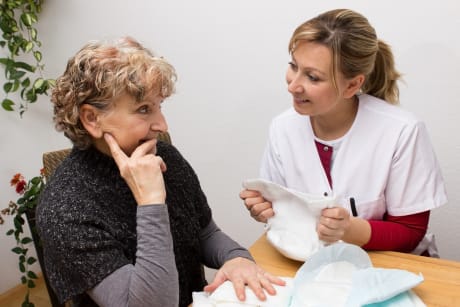 Urinary Incontinence
Learn about the symptoms and causes of urinary incontinence or urge incontinence.
41 Ratings with 12 Comments
1.0 Rating
February 19th, 2017
Highly unprofessional doctor and staff
Staff is extremely rude and incompetent. Dr was extremely rude as well and defensive. Complained to NJ Medical Board and insurance about her unprofessionalism and poor conduct. She seems to lack basic ethics and values when it comes to the medical field. She didn't seem too knowledgeable about the questions I asked her. She wasn't polite and seemed like she just wanted to rush through the appointment. Go to another doctor who knows what he/she is doing! Save yourself the hassle.
3.0 Rating
August 25th, 2016
So nice...but not worth the wait.
1.0 Rating
August 22nd, 2016
Good Doctor, but AVOID the Office!
Doctor is nice enough but her staff is terrible. If you call in, expect a 20+ minute wait for a simple question. Also, expect that your bills will all be submitted to your insurance incorrectly and they will show that you owe money for things that either didn't happen or should have been covered. The woman who does billing is extremely rude and will refuse to work with you, and the receptionists are next to useless.
1.0 Rating
April 25th, 2016
Never again!! Horrible experience !
Horrible! They only accept cash and they gave me such a hard time. I waited over an hour, the staff didn't seem to know what they were doing. They gave me a hard time about my insurance , they ended up being wrong. They finally called my daughter in to see her , which was her first time seeing a gynecologist. My daughter was very upset after the appointment. She was have a few complications and was very nervous because it was her first time. She said the doctor spent 4 minutes with her and didn't even explain what they were doing to her. She felt very violated and not well taken care of. I will not be returning with my daughter to this doctor . So upset about my visit. Never again.
1.0 Rating
November 7th, 2015
Doctor doesn't respect her patients
Some of the secretaries have attitudes. I was kept waiting for more than 40 minutes inside the doctors office with no information about where the doctor is so I went out to ask the secretary how long it would be and that I had another appointment I had to be at, she said give the doctor a minute. 20 minutes later still no sign when there was absolutely no one in the waiting room to be seen either. So I went out and asked again how long it would be and the secretary literally gave me a death stare at which time the doctor showed up. I guess the secretary complained to her because the doctor herself gave me an attitude. She informed me that I could leave if I wanted, I told her after waiting around an hour for her and her finally getting there, I would like to get her consultation. She said if waiting would be a problem for me she could give me numbers to other doctors. I said no thank you I already have numbers for other doctors and that it would be courteous to at least INFORM the patient how long it would take and that the doctor would be with you in a minute. No apologies, no nothing. She talked over me, saw me quickly and then let me out. this is not the first time she has done this either. First time I had an appointment with her, I was her first appointment. She was late. I was kept waiting in the room with a gown on for 40 minutes. Again, no apology from her. I guess this doctor needs to learn to respect her patients. I will be informing other friends who go to her about my experience. I feel that, being a patient, I deserve respect which is far out of Catalina's range. Also, when I went to the pharmacy, to which she had supposedly called my Rx's into, she had missed one completely. I had 2 prescriptions. I had to call her secretary and inform her to please make the call again for the prescription and she said she would call me back. It's been 3 hours, and no call back. I will be posting this review elsewhere too to keep patients informed about what kind of a doctor they are going to.
4.0 Rating
November 2nd, 2015
2.0 Rating
May 28th, 2015
There are much better doctors out there
5.0 Rating
May 20th, 2013
thank you
1.0 Rating
July 16th, 2011
caused me great pain and embarassment
the first appt i had with dr dinu and she was doing vaginal check she burst out laughing at me. i was mortified. the second appt i had an IUD placed. she never explained the procedure and caused me excruciating pain for days. the third appt she ripped the IUD out and stated i needed a hysterectomy for birth control. this woman needs to have her doctor license revoked
1.0 Rating
October 9th, 2010
Dr. Dinu is the worst, most unprofessional doctor I have ever had to deal with. She diagnosed me with cervical cancer last year. I wont bother going into a long rant about her horrible bedside manner or lies she told me about my diagnosis, I'll stick to the worst bits. After doing a cone biopsy I was in a lot of pain. I asked for an earlier appointment, which was unavailable. When I went in for my check up they wanted to do a vaginal ultrasound, and when I said that didn't sound right they checked and saw that I was put in for the wrong appointment. Dr. Dinu could not be bothered to see me and had them reschedule me for the next available appointment... 2 weeks later. I was in a lot of pain and fed up with her crappy attitude so I made an appointment with another DR. Thank goodness because I had a massive infection. 6 months later at my next follow up I am told that Dr. Dinu did not remove all the cancer. For 6 months the cancer sat there and grew. Not so much as a phone call to let me know I wasn't cancer free. I'm scheduled for a hysterectomy later this month, I'm just glad it's not worse. I could be dead.
5.0 Rating
July 16th, 2010
1.0 Rating
March 21st, 2008