Rate Now
Share Your Experience
Have you seen Dr. Charles Haddad?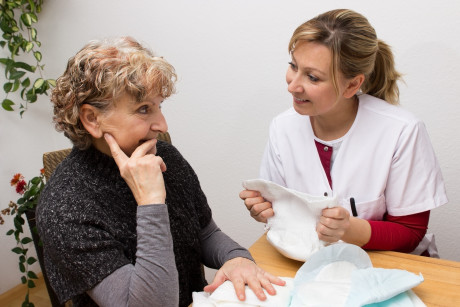 Urinary Incontinence
Learn about the symptoms and causes of urinary incontinence or urge incontinence.
Quality Rating
Highly Satisfied
115 Ratings with 14 Comments
5.0 Rating
February 19th, 2016
Amazing OBGYN
5.0 Rating
June 2nd, 2015
True Lifesaver!
My hubby and I had two miscarriages before being introduced to doctor Haddad. I have never met a doctor who is so involved, kind, caring, efficient, loving, and sweet. I had a very complicated pregnancy which I had to spend over a month in the hospital. Dr Haddad and his fellow doctors are all amazing, even his staff. I owe him everything because he saved our daughter's life. Although she was born prematurely, he saw it fit for her to make her way into this life, and she is thriving magnificently. I have read some of the negative reviews and I feel like it's an entirely different doctor that is being discussed. Yes you may have to wait in the office because everyone wants to be seen by him which he is only available on Tuesday and Thursday, the other days he is on call at the hospital. Dr. Haddad will always be the most wonderful and amazing doctor I have ever met! I am thankful to have had the opportunity to be a patient of his☺
1.0 Rating
April 5th, 2015
My daughter went to the ER due to bleeding during her pregnancy. She delivered the baby at home at 12 weeks. The bleeding continued at the ER where she passed the placenta. She was admitted to make sure that all the products of conception were passed. Since her midwife did not have privileges at the hospital Dr Haddad became involved. He prescribed a specific medication. He refused to come and examine her that night. The next morning he walked into her room, sent her for an ultrasound and said she could home. He spent less than five minutes in the room and never examined her. He never even touched her. For this, he billed the insurance company $17,000.00 and was paid $16,850.00. We are disgusted by him, would never recommend him and have nothing positive to say about him. It is unfortunate that anyone would ever take advantage of a situation such as this.
5.0 Rating
February 18th, 2015
Risk Manager
1.0 Rating
February 10th, 2015
1.0 Rating
September 10th, 2014
Careless doctor,crazy with procedures, Not professional
This doctor is very careless and unprofessional at all. He let his staff to prescribe a very dangerous medicine to my wife (menopur). They gave her over dose and didn't monitor her, her belly got so big and she was not able to breath as the over dose cause her ovaries to become over stimulated and build up cysts. We rush to him and he decide to do surgery ASAP to remove them and He did it. 3 weeks after the surgery, my wife got the cysts back as he did not remove them right. Never trust this doctor. He doesn't deserve even one star
5.0 Rating
April 14th, 2014
My experience
1.0 Rating
November 5th, 2013
The absolute worst experience in a doctor's office I have ever had
The only reason I am involved with this man and his embarrassingly sub-par operation is because I am carrying twins and my wonderful midwife (who practices in the same building) works in conjunction with him on multiple deliveries in the event there is a need for medical intervention. That said, I have now been to his office three times, once for a consultation and twice for ultrasound. I will not be going back to his office for the remainder of my pregnancy. Each time I am made to wait over a half hour (once for a full hour) for my appointment. His bedside manner leaves A LOT to be desired, he constantly refers to his female patients and staff as "honey" (creepy and inappropriate), his handshake is like a dead fish and he seems to constantly want to sell me on unnecessary invasive procedures despite the fact my pregnancy has been flawless at 35 weeks and I am in perfect health. Neither he nor his staff ever seem to know anything about me or my medical history each time I have come (just read the flipping chart!!!!). Everyone on his staff seems frazzled and aggravated, which incidentally is exactly how I feel when I am leaving his office. Each time the whole experience has been just awful. I can clearly tell that there is no regard for providing true care to his patients (meaning not only a certain level of professionalism and proficiency but also respect for his patient's time and emotional wellbeing) Absolutely shameful. I wish I could give less than one star.
5.0 Rating
November 24th, 2012
Awesome doctor