Rate Now
Share Your Experience
Have you seen Charles Goodwin?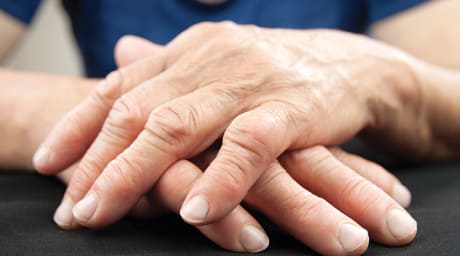 Osteoarthritis
Get the facts about osteoarthritis, including the symptoms and doctors who treat it.
Quality Rating
Highly Satisfied
101 Ratings with 53 Comments
1.0 Rating
August 25th, 2017
All about the Benjamin's
5.0 Rating
August 22nd, 2017
5.0 Rating
August 16th, 2017
Great Physician, Surgeon and Person
Dr. Goodwin is the best! He not only is an excellent surgeon, but he is also very informative, shows patience, and has bedside manners that all physicians should have. I base this on experience, having had several surgeries with different physicians. I recently had an L4. L5 decompression and fusion with graft, rods and screws. I was in HSS for the surgery, and released less than 48 hours post the procedure.I never had to have any morphine for the pain, just a bit of hydrocodone, and I was on Tylenol a week following surgery. Follow-up appointments are with Dr. Goodwin and not just a PA. Please see Dr. Goodwin, you will be glad you did, and if you are already speaking with another Doctor, visit him for a second opinion. Joe Labriola
5.0 Rating
July 25th, 2017
5.0 Rating
July 24th, 2017
Quality of Life Restored
I had been suffering with severe leg/buttock pain for over three years and had tried various medications, injections and therapies before coming to the conclusion that surgery was going to be the only permanent source of relief. I was referred to Dr. Goodwin by my primary care physician and met with him immediately. Being 80 years old, I was very apprehensive about the idea of spinal surgery, the risks involved and the recovery that would follow. After my initial meeting with Dr. Goodwin I felt completely comfortable and confident that I could actually pull through this much dreaded spinal fusion and decompression. The surgery went very well, the recovery had its challenges but now my pain is completely gone. I am now in my third month of recovery and am getting back to my normal life through regular physical therapy with no pain medications necessary. Dr. Goodwin has a very sincere, confident, and kind manner about him when interacting with a patient and I always feel completely at ease when asking any question or expressing a concern. His office staff has also been extremely helpful and available throughout the stressful surgery process. I am very grateful to Dr. Goodwin for finally eliminating the daily pain and limitations that I had been experiencing for the past few years and now can look forward to all my active and pain free years ahead! I would highly recommend Dr. Goodwin to anyone who experiencing debilitating pain that has affected the quality of their life.
5.0 Rating
July 24th, 2017
Didn't get to see the doctor but the Staff is Great
I called to schedule an appointment for my daughter, as an emergency, and the doctor was out of town. After taking all of my information the secretary informed me that a: he didn't treat her problem and b: he was out of town. I explained she needed immediate care and the secretary took all of my info and made some calls. She called me back 20 minutes later w/ an appointment for my daughter later that morning and my daughter surgery 2 days later. I am forever grateful. I don't know her name but she was kind and helpful. If I should have a back issue my first call would be to this office.
5.0 Rating
July 20th, 2017
Recommend Highly
Performed micro-spine surgery. Relieved sciatica pain that I had for four months. Non-invasive methods failed. Hope to get back to full activities soon.
5.0 Rating
July 14th, 2017
Sciatic pain gone
I had severe sciatic pain and numbness in my right leg that remained even after trying to find relief through physical therapy, and acupuncture. I was aware of Dr. Goodwin's incredible reputation through numerous friends who had excellent results after he operated on them. That's the reason my husband selected him to fuse his spine last year. I knew I was in good hands, and I was not disappointed. Even his staff are outstanding. I walked out of the hospital with absolutely all pain gone. The operation was 2 weeks ago and I'm feeling great.
5.0 Rating
June 20th, 2017
Happy and grateful
I have suffered over the years with several joint issues—an autoimmune form of arthritis, a knee that had been replaced, and then, this latest. One day (it seemed to come on that fast) my left leg didn't have enough strength for me to get up on a footstool. My gait had become somewhat like that of Popeye—bowlegged and awkward. I also had been suffering severe back pain over the course of several months. And then the sciatica kicked in—from my hip all the way down my leg. It finally was so painful I could hardly walk. I tried the usual sub-surgery treatments—physical therapy and steroid injections. But nothing did the job. Finally, I visited Dr. Charles Goodwin. Dr Goodwin showed me the MRI of my lumbar region and I was surprised and horrified when I saw what was going on in there. The good thing was that he had a solution to the problem! Just six weeks ago I had lumbar decompression and fusion surgery. My response to the surgery was immediate and positive. By the time I woke up from the anesthesia, I felt not a twinge of sciatica. When I stood up (soon after) I could tell that that pesky left leg was going to be back in business. The post-op care in HSS is exceptional. There was no waiting when you rang that bell. Someone would come right away and take care of whatever it was you needed. The people working there were both efficient and kind. Now I face a period of general healing and physical therapy to strengthen my back and legs. I love being able to take enjoyable walks outside again and climb those subway steps. I enjoy the physical therapy, which is giving me back a strong body. I couldn't be happier or more grateful to Dr. Goodwin!
5.0 Rating
June 11th, 2017
Absolutely amazing
5.0 Rating
June 2nd, 2017
I AM BACK IN THE GAME OF LIFE
It is difficult to put into a paragraph how Dr. Goodwin's experience and skills have CHANGED MY LIFE. I know that sounds dramatic but you can decide for yourself after reading this. Dr. Goodwin performed a Lumbar Fusion which was necessitated by the premature degeneration of discs due to a prior Lumbar Surgery that was not performed properly (other doctor). Prior to being treated by Dr. Goodwin I was in constant debilitating pain. I was unable to exercise, bike ride, play golf (my favorite activity) and walking was severely limited (I could not walk from my car parked in a lot into a store). My physical limitations resulted in me putting on 40 lbs. The aforementioned was life threatening as I am a diabetic...my blood sugars were out of control and I was hospitalized twice due to my diabetes. Not trying to be to personal but I could not make love to my wife, could not help her with household choirs or gardening....could not even take out the garbage. Excuse me for being old fashion but as a man it was humiliating to see my wife having to do everything especially when she was tired or sick. A friend of my wife (HS football coach) saw Dr. Goodwin for a Lumbar Fusion and he was back on his feet in no time so I figured I would make an appointment with Dr. Goodwin. I knew from the start he was the surgeon for me. So lets see if I was being dramatic...my blood sugar levels have been stable and the best I have ever experienced. I go to the gym (stationary bike, treadmill and lifting weights) 5 days per week...I go for 1 hour long walks and bike rides with my wife 1-2 times per week...I lost 25 of the 40 lbs so far.....I help with chores and gardening...check this out...recently we had 15 square cubic yards of mulch dumped at our house and I was able to shovel all of it into a wheel barrel, push it around the property while filled and dump it into the flower beds...the entire time I kept saying "thank you God for Dr. Goodwin" over and over and over. I would look at my wife like a little kid and say "look at me...look at me". Oh, by the way our intimacy is as beautiful as it was in our youth. So what do you think...did Dr. Goodwin change my life or was I being dramatic? Believe me I know your answer. Be blessed and GET BACK IN THE GAME OF LIFE.
5.0 Rating
May 16th, 2017
He repaired my ruptured Quad tendon
Nearby Doctors

Charles Goodwin is similar to the following 3 Doctors near New York, NY.