Rate Now
Share Your Experience
Have you seen Dr. Charles Rolle?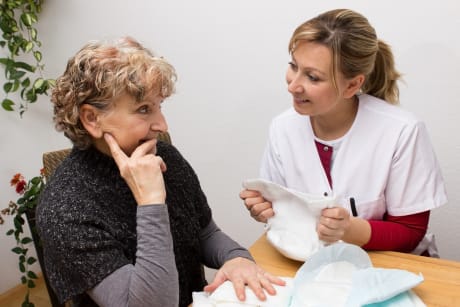 Urinary Incontinence
Learn about the symptoms and causes of urinary incontinence or urge incontinence.
30 Ratings with 11 Comments
1.0 Rating
April 16th, 2015
Wouldn't recommend Dr Rolle
Said I had to have a hysterectomy and I didn't know any different, then later found out that the surgery was not necessary at all. Should have got a 2nd opinion before I let him operate. He is old school and thinks any problem is solved with a hysterectomy and now there are so many minimally invasive procedures to be done. Please see someone else.
5.0 Rating
August 16th, 2014
Wonderful Doctor!
1.0 Rating
April 4th, 2014
Worst OBGYN Office EVER! Beware -
Worst doctor I have ever visited in forty years of life. I had two appointments with this doctor (hoping that the first was a fluke). In both appointments the front desk personnel was rude - the nurse was even more rude - I was rushed in and out of the office (actually pushed out the door). The nurse, front desk or doctor would not answer a question I had about my prescription a few days after at all - and actually hung up on me because 'she was busy'. I should have known with there being nobody else waiting in this office - that I should have never come back after the first visit.
5.0 Rating
March 10th, 2014
Dr. Rolle is an Angel!!
After suffering for 5 years after a botched hysterectomy from a different doctor, I went to see Dr. Rolle after several ovarian cyst had ruptured. I did require surgery, it was a very tough recovery but the issues are gone. There was so much left over that should have been taken care of during the hysterectomy that was completely ignored and then I was lied to about what was done. Dr. Role fixed all of it. He genuinely cares, he called me to check up, he took very good care of me in the hospital, even helping me on and out of bed when I was in pain. I was blown away. When I arrived for my first visit, he already had my file, medical records, etc and had reviewed them. He asked in depth questions about my medical history. I felt at ease and knew I was with a capable doctor who would take great care of me. He then met with me and my husband so he could explain to him the procedure and the recovery process and it make an enormous difference. My husband knew what to expect and took better care of me because he was prepared and knowledgeable because of Dr. rolle. I would trust him with my life with no hesitation. I will never go to another doctor for any of womens needs.
5.0 Rating
June 5th, 2012
Excellent Physician
1.0 Rating
August 30th, 2011
Dissapointed
I went in because I thought I had an ovarian cyst and I ended up having one. I told Dr Rolle that my insurance would not cover much, so that we could do ONLY WHAT WAS NECESSARY. He ended up giving me a pelvic, as well as a vaginal ultrasound, which all together cost about $540,00. The pelvic ultra sound would have not been necessary, considering the circumstances. I had trusted him and therefore did not resist either one of these ultra sounds. Upon my next visit, I learned how much I owed and my heart sunk. I paid half or my bill and a 2 months later made some arrangements with Juli the financial lady in the office. She , however, very unprofessionally forgot that we had made this arrangement and turned me over to a collection agency, who charge 30% of what I owe. Thank you Juli...new patients beware and make the costs clear before you go. DR Rolle is a nice man, but stuck on the dollar aspect it seems.
5.0 Rating
June 1st, 2011
Puts Patient At Ease
1.0 Rating
May 3rd, 2011
Completely misdiagnosed hysterectomy
6 months after diagnosis for hysterectomy and ovaries removed - have seen two doctors who have said there is no medical reason for a hysterectomy let alone a LEEP or colposcopy. WATCH OUT - get a second opinion - he has 9000-10000 hysterectomies and is making $500,000-$1,000,000 a year cutting up your body
1.0 Rating
January 31st, 2011
Do not trust this doctor to care for you
5.0 Rating
November 29th, 2010
I recommend Dr. Rolle
1.0 Rating
November 18th, 2009
I do not recommend Dr. Rolle to operate on your sheep!
5.0 Rating
May 26th, 2017
Nearby Doctors

Dr. Charles Rolle is similar to the following 3 Doctors near Scottsdale, AZ.