Rate Now
Share Your Experience
Have you seen Dr. Christina Dooley?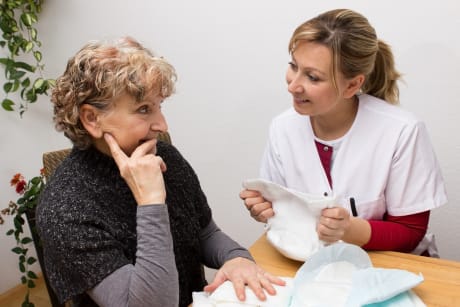 Urinary Incontinence
Learn about the symptoms and causes of urinary incontinence or urge incontinence.
Quality Rating
Highly Satisfied
35 Ratings with 15 Comments
5.0 Rating
November 2nd, 2016
Best doctor EVER!
I have had 6 children my last 2 with dr Dooley. She is very warm and inviting. When we lost our son she knew exactly what to say and spent time with me and listened. She even called me at home to check on me. Her nurses are great. Especially Wendy. We are pregnant again and im so excited for her to deliver our little one. Good Christian doctors are hard to find. Cherish dr Dooley. She's such a sweet doctor. I'd recommend her 110%
4.0 Rating
September 7th, 2016
1.0 Rating
March 18th, 2016
i WOULDN'T REFER THIS DR. TO ANYONE.
After waiting 3 MONTHS to get in for my appointment and after having giving my info on my insurance, I was called 5 days before said appointment and was told they don't take my insurance and were canceling my appointment! I called my insurance company and was told they DO take my ins. I called the dr. office back and was told that as of right NOW their "panel" was full and they don't take my ins. Sorry. I waited THREE MONTHS for that appt and was treated like crap! What kind of dr. is THAT!
5.0 Rating
December 18th, 2015
1.0 Rating
April 14th, 2015
Run for your life!
2.3 Rating
February 9th, 2015
5.0 Rating
August 25th, 2014
Love Her!!
Dr. Dooley is great! She REALLY listens to all my concerns. I have seen her and her partners (Dr. Walsh and Dr. Cummings), and I really feel comfortable with all of them. Now I feel like I can see ANY of them and feel completely comfortable. They all seem close and seem to keep each other up to date about the patients. Its a very pleasant atmosphere.
1.0 Rating
November 7th, 2013
Beyond angry
I was a new patient and had an appointment at 1130am, but got lost and arrived at 1145am on Thursday. I had immediately called the office when I got lost and it rang and rang with no answer, so I left a message explaining I was lost but on my way and apologized. The office is split with two sides for check ins for OB and GYN. I could not find anyone at either desk when I arrived and so I waited until a nurse came out a door and I was frantic trying to explain that I had been waiting. It was closer to 12:00 before a rude woman finally came to the front desk and told me I could not be seen because of their 15 minute policy. I told her I was there and also had called, but they could care less. I work full time and they told me I would have to come back 2 hours later to be seen or reschedule. I had already driven 25 miles one way to their office and waited 2 months for this appointment. I told them I would find another physician and left extremely angry. I am sure the doctor may have been a good physician, but due to her incompetent office staff I never got to find out. Be warned they are not very professional or responsible in handling their phone calls or greeting patients.
1.0 Rating
February 19th, 2013
I am so upset/angry with the practice! I took my daughter to an appointment here and while there they performed test on her without my consent (I was in the waiting room) now I am being charged $303!!!! I'm a single mother and can't afford $300. I called and was told I could be put on a payment plan of $50 a month, but for whatever reason they decided to enter it in the system as $78.00. I was also given (told...haha)a discount would be applied to help with the charges. The discount has never been applied! NOW I found out I have a bill from the lab company for $157 that I must pay!!! This bring my total bill to over $450 for unnecessary charges!!!! I WILL NEVER VI ST THIS OFFICE AGAIN!!!!! I could have taken my daughter to planned parenthood for $98...should have!!!!!!!! She is a minor and I should have had the opportunity to decline the test!!!!
5.0 Rating
September 24th, 2012
Best OBGYN in the metroplex
5.0 Rating
November 11th, 2011
Great Doctor! Poor choice for billing employee in office.
DR. Dooley is great! She is very kind, caring, and knowledgeable in her field. She listens intently and answers your questions with care. I felt I was in good hands. Dr. Cummings ended being on call when I went into labor, and he was excellent, well. The OBGYNs in the Presbyterian Hospital of Denton area are very competent and do a great job. At the time we were struggling financially and my insurance reached its limit in the middle of my pregnancy. After my delivery my husband and I were trying make payments towards the remaining balance when we could. About a year later I returned, blessed with my second pregnancy. The billing lady in the office told me that because I had a past due balance, they could not see me. She continued by saying that I tried going to any other office affiliated with Presbyterian, they could pull up my file and would turn me away, too. She was always uptight, cold, and that last day, very cruel. I found out at a different office that she was not supposed to do that. In spite of her, I definitely this this office is the place to go, and I would still go if I could
5.0 Rating
June 19th, 2011
Amazing doctor!
Dr Dooley is amazing! She successfully diagnosed major uterine fibroids in me that other doctors had missed, and successfully performed a total abdominal hysterectomy. Not only is she an excellent physician and surgeon, but she is kind, funny, and down to earth. I trust her with my life and highly recommend her!!
Nearby Doctors

Dr. Christina Dooley is similar to the following 3 Doctors near Denton, TX.