Rate Now
Share Your Experience
Have you seen Dr. Courtney Hunt?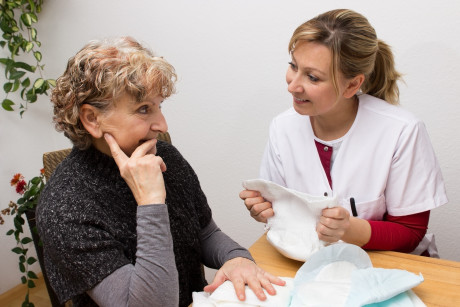 Urinary Incontinence
Learn about the symptoms and causes of urinary incontinence or urge incontinence.
35 Ratings with 25 Comments
2.0 Rating
August 31st, 2016
In it for the $
Dr. Hunt has an excellent education background. However, she and her practice have changed dramatically. She is focused on making money on Coolsculpting and services that are not insurance based. She is aloof and pretends to care. Her follow up is awful and she will suggest you meet with her NP. She is very focused on her own looks and her social media lacks professionalism. I would not recommend care with her. There are many options for hormone replacement, genetic testing, and "coolsculpting" in Scottsdale/Phoenix area. She is one I would not recommend.
1.0 Rating
July 3rd, 2016
In it for the $$ No breast exam
Would not recommend Dr Hunt. While she may be smart she has become sloppy with exams and care. Agree with some of the other reviewers. She is very arrogant and not genuine. She did not even order a mammogram. Don't think she even wants to work with people. Her nurse is very nice. Her office/front desk staff are unprofessional. Office is tiny and wait time is ridiculous. She is not even delivering babies and she runs late. Due to her lack of attention to detail I would not trust her to cut me now versus in the past. Her service has changed and I would not take risks.
1.0 Rating
July 16th, 2015
Corrupted by Greed!
I concur with all negative comments below! Dr. Hunt is truly arrogant, narcissistic, money-hungry, and incapable of running an efficient, responsive business. My first gynecological appointments with her, prior to setting up her own practice, were very positive; I was impressed by her progressive approach and knowledge. But my opinion quickly tanked as she went into private practice. Wait times were excessive, existing patients were expected to annually fill out lengthy and confusing medical history forms, repeating data that should already have been in her files, breast exams were not conducted (or even offered), and Dr. Hunt became progressively more distant and dismissive. When eventually sloughed off to a PA for my annual exam, I didn't object, as, by that point, I'd lost respect for her as a doctor. (It never occurred to me that the fluffy "spa robes" in each exam room weren't freshly-laundered for each patient -- as another reviewer has suggested. Yuck!) The final straw was my 3-month saga of attempting to renew a prescription; her staff ignored my voice-mails and repeated messages from my pharmacy, and I finally gave up. By the grace of God, I have no medical issues at this time, so her negligence is doing little harm to me. But, believe me, I'll be moving on. "Dr. Hunt, you're fired!"
1.0 Rating
December 28th, 2014
Questionable billing practice
This doctor also gets a poor rating because of her/billing person's questionable integrity. Dr. Hunt will not speak to you about billing at all. Regardless if you have a concern she tells you that Stacy is in charge of billing concerns. Stacy will go over your cost but BEWARE. Regardless of what you both agree on she will manipulate the billing to the doctor's advantage if you are having multiple procedures done. This means that depending on your insurance benefits you may be find yourself with huge out of pocket expenses. If one of your procedures comes back at a lower contracted rate she will bill the other procedure first because on multiple procedures anything after the first one, gets paid at a discounted rate. When I confronted her about billing differently than what we had agreed on the phone she simply stated she wasn't going to let the doctor loose money. Sadly for me I am out of luck now because I didn't find this out until after my surgery. I am now out of pocket upwards of $3,000 (when I could have paid less than $1000) because the procedure that was covered at 100% was billed last and the item she chose to bill first subjected me to my full high deductible. But there is still time for you. BEWARE! Go to a different doctor whose billing person will honor what is discussed and agreed upon by you.
1.0 Rating
August 21st, 2014
Worst office
Dr.Hunt has the most unprofessional staff I have ever seen. Some of the staff dont know what they are doing, I even over heard them says some extremely rude things about some of the patients. I will never again go to her office, even if she was the last office on earth.
1.0 Rating
November 12th, 2013
Skip this gyn
This Dr is very strange.I would be very afraid to let her operate on me. As soon as you walk into the office the smell of mold and mildew could make you sick. Her idea of a gyn exam is to tell you to take your pants off and in less than a minute walk out. There is no breast exam even though I have cysts in my breast. She never asks if you have any problems and had an assistant and a student come in before the so called exam and acted like I had a problem because I did not feel that I needed a student in the room during a private exam. She does not give you a paper robe like other gyn's. instead if you ask, she seems annoyed and said that there was a robe on the door if I felt I needed it. A used robe! I remember her when she took over a practice from another retired gyn, She asked to look in my mouth!!! She seems to have a problem with people that have medicare and Gov insurance,maybe that's why she does half of an exam and then tells the girl at the desk to make an appointment for the rest of your exam. Her office called to tell me to come in even though my test results were not in yet. When I said i'de rather wait for the tests she told me I had a growth in my stomach. When I went in the dr office she did not do the other half of the exam and when I asked about the growth she gives me this strange stotty look and just shook her head. I still am in a lot of pain but I will never go back again!!!
1.0 Rating
September 24th, 2013
No compassion
Dr. Hunt was so cold to me when she told me I had a miscarriage. She even started the conversation with, "What made you think you were pregnant?" Her diagnosis was either I was never pregnant or I had an early miscarriage. There was no "I'm sorry for your loss" sentiment at all. I don't feel like she got to know me. I don't feel like she offered any sort of hope for a future baby. I felt rushed to the point where I couldn't get all my questions answered. She was business-like during a time that called for some humanity. That said, the rest of her staff, particularly the ultrasound technician, were really warm. The technician answered all of my questions and said, "Maybe we will see you back in a few weeks with better news."
1.0 Rating
September 5th, 2013
Rude and Inconsiderate
This doctor's self-importance is ridiculous. I did not have a problem with her staff- although I'm not sure how they can be cheerful working for such an arrogant person. I'm not sure how this doctor has a single positive review and also suspect staff and/or friends are the only thing keeping her rating above 2 stars. She is disrespectful and inconsiderate and I would NEVER recommend her to anyone. I have maybe written 3 online reviews in my life but felt compelled to write this one in order to save even one patient from starting care with her.
1.0 Rating
June 28th, 2013
Dangerously Narcissistic
Dr. Hunt has a self-absorbed demeanor; she lacks warmth and has no ability to make you feel like she cares about your well-being. Worse than that she suffers from either severely selective memory or utter lack of integrity. Whichever it is, it nearly cost me someone I love. It also makes her not just a below average physician, but a dangerous one. Having had experience with her and her staff, I can only assume the few rave reviews she has received on this site were written by people that work for her or personal friends.
5.0 Rating
November 5th, 2012
Prenatal Care
Dr. Hunt is the best, I am 41 having my 3rd child, she cared for me and addressed any concerns and monitored them closely. Her bedside manner is sincere concern for me and my baby. Last week I deliverd a healthy 6.4 lbs baby boy! If you want a real personal connection with your Dr. make an appointment with Dr. Hunt. Being a mother herself she shares the same concerns we all have as women.
1.0 Rating
March 14th, 2012
Have left this practice. Truly horrible experiences, should have left far early. I was treated for the wrong thing for six months. Every appointment I saw a different person (physicians assistants or dr) and was told to wait and see how I was next appointment - meanwhile, two years went by. During my final appointment I was asked how I was doing on medication they'd written down as prescribing six months earlier...only I hadn't been given it.
5.0 Rating
January 17th, 2012
THE BEST DR I HAVE EVER HAD