Rate Now
Share Your Experience
Have you seen Dr. Daniel Halpert?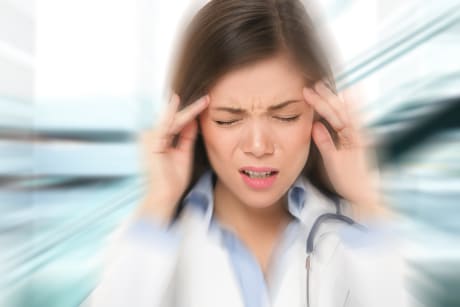 Migraine
Get the facts about migraine headaches, including the different types of migraine and migraine triggers.
39 Ratings with 14 Comments
5.0 Rating
September 8th, 2017
Wonderful!!!
1.0 Rating
June 9th, 2016
5.0 Rating
May 7th, 2016
This doctor is excellent. The bad reviews are obviously coming from people who are drug seekers. If you are one, do not see this doctor, he is not for you. Stop seeking drugs, you are making it very difficult for people who are really in pain like me, who suffers from chronic pain after my leg was amputated.
5.0 Rating
February 3rd, 2015
Keeping what's important in mind THE PATIENT
5.0 Rating
April 15th, 2014
Wonderful, pleasant doctor, only one to help me
1.0 Rating
January 27th, 2014
Poor bedside manner
I have been seeing Dr. Halpert for about 5 months now. I have been in chronic pain for over 10 years . My family Dr. has refused to help me anymore since my pain hasn't gotten any better, so he referred me to Dr. Halpert. I don't recommend anyone in chronic pain to see this man. He doesn't even examine you. He spends a total of about 8 minutes in the room with you assures you he can rid you of pain and is gone in a flash. To the reviewer who said anyone that writes a bad review must not really be in pain. You should never judge anyone unless you have carried their pain and walked in their shoes through their daily life. Everyone that needs pain meds are NOT people just addicted to them. I was on pain meds for 9 years and never was I addicted, there were times I couldn't afford them and went without them with NO drawbacks. So don't say people must be addicted unless you actually know what you are talking about.. Dr. Halpert has tried 4 different meds, they only make me feel sick, crazy, loopy, shakie, foggy, nausause, in plain words they just do not work but all he does is up the dosage. I am in the process of finding both a new Family Physician and a New Pain Doctor. I don't care if I have to go to another planet there has got to be someone who is willing to treat my pain without being so disrespectful and act like he's doing me a favor by being there.. Dr. Halpert doesn't even take the time to talk to me. All he says is it'll get better it's just got to work it's self out. Work it's self out? How does chronic pain just go away? It doesn't. I've also tried physical therapy, heat therapy, tens therapy, any type of thing that has been recommended but nothing works and neither does Dr. Halpert, he is just after his money he doesn't care about his patients. Some of his patients must have a lot better insurance than myself . I have seen him take his time and be really nice to some people but to most of us he is really rude and doesn't even pretend to care. Please if you are thinking about going to this Dr. please think twice before you do. I honestly don't want to check any stars on the accurate diagnosis, bedside manner, spends time with me, and follows up after visit but it won't let you submit your review unless you at least check one star. He doesn't deserve any.
5.0 Rating
October 12th, 2013
5.0 Rating
September 7th, 2013
5.0 Rating
August 30th, 2013
I had an excellent experience with Dr. Halpert. It's true that he is not a big believer in opioid pain medication. However, there are many good reasons for this that anyone with a bit of intelligence can attest to. It seems that most of the negative reviews on here are from people who are seeking pain medication. What a surprise. I find him to be compassionate, empathetic, warm, and caring physician. He is very knowledgeable and provided both me and my mother with tremendous pain relief. I highly recommend him to others.
1.0 Rating
August 29th, 2013
Pain Management? No.
If your pain management programme includes drug therapy, don't bother seeing Halpert. On my first and only visit, he stated to me that he does not believe in prescribing opiates, even for cancer patients! Nor does he seem to believe in any other forms of drug therapy, except for Motrin. It was clear that he had not read my file, nor had he looked at my MRIs & X-Rays. He performed NO physical examination, except to see if I had missing teeth! I have no idea what that was all about--was he looking for plaque? I am in severe chronic pain due to a car accident 8 yrs ago, & have been on opiates since. I have never abused my medication, nor given my doctors any trouble. Halpert treated me rudely, gave a speech about the evils of opiates that came straight out of "Reefer Madness," & implied that anyone on painkillers must be an addict. After 10 minutes he handed me a "detox" plan. I just nodded politely & left. I have a female coworker with a severe spinal injury who was also referred to Halpert last fall-she rec'd the same "detox" plan and a series of worthless trigger point injections that did more harm than good. I now have to drive an hour every month to my new doctor-but it's worth it! Without opiates I would be disabled--medication allows me to work, be "there" for my family, & enjoy life. I have no idea as to why this doctor chose the field of "pain management." I do know that calling his practice that is deceptive.
5.0 Rating
August 8th, 2013
A very no nosense doctor
Dr Halpert is not for you if you want him to tell you what you want to hear and this is a fact of life. He helped me out in ensuring that I would get the support I needed to get off the opiates and find a new way to treat my condition. Is it perfect no, however, who said medicine is a perfect science. The only issue with his office are the nurses who only go by the book and look at you as if you coming from Mars when you tell them you do not wish a specific step of their routine. While there are ways to improve this office, I am grateful we have him in our community
Nearby Doctors

Dr. Daniel Halpert is similar to the following 0 Doctors near Culpeper, VA.