Rate Now
Share Your Experience
Have you seen Dr. Daniel Mekasha?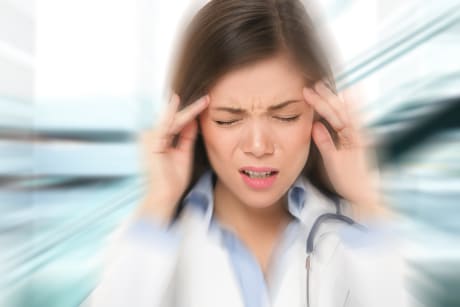 Migraine
Get the facts about migraine headaches, including the different types of migraine and migraine triggers.
65 Ratings with 20 Comments
5.0 Rating
September 19th, 2016
disabiled
I will miss Doctor Mekasha, as my pain doctor. I know he truly tried to help. Yeah the shots may not of helped but he truly kept my pain level down. It is a crying same he had to close his office. He is the one losing money to protect his staff and Rita she was on target with my meds.Rita will also be missed. And the other staff was also friendly with me. and who ever said about the tattoos climb a tree u judge mental person. It was the people who made the threats he had to close rember that shame on yous. Good luck doc Daniel and rita ill pray for ur safety.
1.0 Rating
September 16th, 2016
We just started seeing this doctor for my husband's pain. I just spoke with the doctor and was told that he is closing his offices and will not continue treating pain. We only had one appointment, in which our prescription was incorrectly filled out and not signed. We were unable to get a correct prescription and now the doctor is closing his office.
1.0 Rating
August 16th, 2016
BAD DOCTOR
1.0 Rating
July 7th, 2016
Disgusted
My first impression of the office was the front receptionist. The front receptionist was wearing a cami shirt when I went to my apt. She had her bra strap and tattoos showing. VERY unprofessional. If that was bad enough she was talking and playing on her cell phone. I showed up early for my apt, figuring I had paperwork to do. I signed in and waited for about 20 minutes before I went to the window to ask if I had paperwork. When I asked her she was playing on her cell phone and told me "you have to give her a minute" and she went back to her phone as I returned to my seat. After being there for 50 minutes someone called me to the back. This person asked me if I had my insurance cards copied yet. I stated I hadn't had my cards copied or been given paperwork. She proceeded to asked to ask me for notes from my referring Dr, which I was never given by my referring Dr. They told me I had to reschedule and they wouldn't see me. I refused to reschedule! After the unprofessionalism of the staff, I was not interested in the office. I went to this office because I refuse to take narcs and I need an alternate relief for RSD in my foot. I will find someone else to help me.
4.0 Rating
May 19th, 2016
R.N. Henry Ford
I am highly satisfied with how Dr. Mekasha has navigated a plan for my pain management. I am on less medication and more active now with the help of having injections done. The office is so much more organized now and it seems like his new staff has made changes for the better. I am impressed with the new policies and structure. As an employee of HFH I see the changes not only as a patient but getting rid of the problem patients that do not follow policy and abuse medication and drug seekers that seemed to be cluttering the lobby and outside his office. I would highly recommend his services.
1.0 Rating
May 15th, 2016
Liked him, until they changed all staff & rules! I went weeks without my prescription, and because of that norcos was not showing in my drug test. So I look it up & it takes 2-3 days for them to be completely out of your system so of course they weren't showing up! I was told I couldn't come back there. Really!? I suffer with pain take me off all meds if you think I'm not taking them which I do WHEN I HAVE THEM, they help me MOVE! Give me pain block shots! Nope, they don't care! Just terrible!
1.0 Rating
April 22nd, 2016
NoneNot sure anymore
He seems to push injections, blocks, burns! Doesn't seem to have the time to listen. Told me he has preformed injections on himself! Had an awful experience. Too fast and seems to cut you off and treat you like hurry up and like you know nothing about your pain. I'm going somewhere else. It seems like it's all about an assembly line of injections for the money!
3.0 Rating
January 20th, 2016
What is going on????
I have been going to dr makesha for a few years now, first started in Monroe now Brownstown. I like him, the staff was nice & understanding until recently the new staff just seem to shrug me off like the pain Meds I NEED to help get me through the day all of a sudden you have to call a week ahead of time and they are only open 2 days a week to pick up a script!!! Why would you not let people that are in pain know that's the NEW POLICY?!?!?! I've now been suffering for a week now with no relief!!! Have a little more compassion!!!!!!
1.0 Rating
January 9th, 2016
I have been nothing but a perfect patient so I was surprised when I went in for my prescriptions and the DR. closed office w/o notice and told everyone to come back in 3 days. He obviously didn't care about leaving everyone w/o there medication. I'm no DR. but the medicine he had prescribed you need to taper off. I have cancer and now am at risk of going into convulsions & death. I was not even able to speak with him or any of his staff. I guess now your supposed to call a week in advance for scripts but his voicemail is full. What do you do on a Friday afternoon? This DR. is playing god!!! RUN TO SOMEONE ELSE
1.0 Rating
January 8th, 2016
5.0 Rating
October 21st, 2015
Love him ! He always takes time with you . Has a great personality & is always friendly . He has helped me tremendously ! He is a great doctor .
1.0 Rating
January 14th, 2015
Nearby Doctors

Dr. Daniel Mekasha is similar to the following 3 Doctors near Brownstown Twp, MI.