Rate Now
Share Your Experience
Have you seen Dr. David Burns?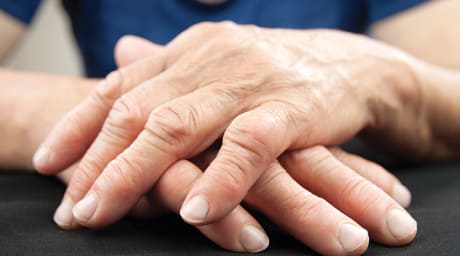 Osteoarthritis
Get the facts about osteoarthritis, including the symptoms and doctors who treat it.
Quality Rating
Highly Satisfied
45 Ratings with 11 Comments
2.0 Rating
June 6th, 2017
Dr. Burns and his PA Matt are Fine...office staff not so much
Should have known when I scheduled my visit. I last had veen into the office 8 years ago, much different now. Almost to big a practice. During that initial call they seemed overwelmed to deal with me. Finally the day of my appointment. Since I had visited previously, 8 years ago, I was told I was all set. No additional paperwork to do. Hold on, not a true statement. Still had a folder of docs to complete. All done and watched them scan them into their system. Off they sent me to see rhe doc. Hold on, need to get a set of x-rays. Oh, I'm sure I will hear from my insurance saying I have to pay for them...ugh. Now take a seat, 10 minutes later my name is called. Escorted yo a room by someone who never identified themselves. She took my vitals....oops no rather asked me my height and weight. Now she went off and got Matt the PA who was excellent. Informed me my patella was a mess....learned it from the xray and oh yeah the 6 inch scar on my knee from my patella tendon repair nearly 20 years ago. My point, xray was irrelevant. Offered to scrape or suck out stuff in my bump on my knee which in the process he said looks like a touch of gout. I said yes I had acknowledged I suffered from occassional gout flare ups on the docs I filled out. Not read. Now the best part, prescribed meds and said they'd be called into my pharma which I confirmed. 3 hours later, still not called in. Called office and told they're to busy for me. Ugh...I had heard such good things about this practice but this experience has been awful.
4.0 Rating
September 15th, 2016
1.0 Rating
January 7th, 2016
5.0 Rating
September 12th, 2015
follow up checkup.
5.0 Rating
March 3rd, 2015
1.0 Rating
December 30th, 2014
South County orthopedics should be renamed south county orthopedic factory. There are too many issues which are unethical to say the least that can go on and on. Stay away from this factory and go elsewhere. Nothing in life is perfect but my life has suffered due to attempting to obtain the best treatment. Dr Burns and his two PA's give you the "pie in the sky" attitude only to find out that they have hurt some patients physically and emotionally. Try to prove it. However, the truth is the truth and they have to sleep themselves at night knowing that some patients who gave complete trust and faith in them are now hurting on levels they didn't even know they would have newer problems. They're factory workers. End of story.
1.0 Rating
October 13th, 2014
old folks
i was put out to pasture by Dr. Burns. I am 63. I have arthritis. He sent me home and told me only thing to do was take Aleve.....never mentioned PT, cortisone, or the specialists in Providence. I would highly recommend folks get second opinions.
1.0 Rating
June 2nd, 2013
Dr. Burns stood in the doorway while talking to me on several occasions. He was distracted. Neither he nor his staff wore gloves and I had open wounds! I was handed gauze pads from a box that were not sterile to dress a wound. I have a major lifetime complication as a result of his operating on me. On one visit, his nurse stood with her purse on her shoulder waiting to leave. His secretary Jane was AWFUL!!! She as rude, didn't call me back and didn't make appts. I do not recommend Dr. Burns. I have a new doctor now who has shown me the way an orthopedic doctor ought to treat his patients.
5.0 Rating
February 19th, 2013
Transparency, and complete finesse, and integrity as Dr. and Surgeon.
2.0 Rating
August 8th, 2017