Rate Now
Share Your Experience
Have you seen Dr. David Dupuy?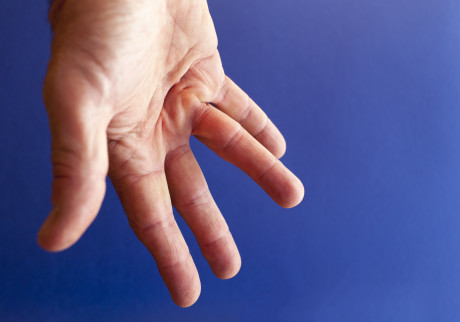 Dupuytren's Contracture
Dupuytren's contracture is a thickening of the tissue beneath the skin of the palm of your hand
38 Ratings with 14 Comments
1.0 Rating
June 23rd, 2016
2.0 Rating
October 23rd, 2015
1.0 Rating
April 26th, 2015
Karma will come for this devil of a Dr.
This man ruined my father's life. He used failed to use sterile techniques for what is suppose to be a "routine" minimally invasive procedure. Nearly cost my father his life. My dad is now permanently confined to a wheel chair because this worthless turd of a human being not only introduced staph into his deep tissues, but also failed to own his mistake and would have left my father to die. It was not until a large number of the doctors at Presby Matthews demanded that he perform remedial measures on the area that he introduced the staph that he finally decided to do it. Not only does this piece of poop ruin his own patients' lives, he is also known for being a useful tool for insurance companies who are battling injured workers seeking workers' compensation benefits. Employers' workers' comp insurance carriers pay him handsomely to testify against injured workers in depositions. He is a dream come true for insurance companies and defense firms ...... he is a nightmare to honest patients looking for help. DO NOT WASTE YOUR TIME WITH THIS DOCTOR, HE WILL DO MORE HARM THAN HELP. These statements are intended to be statements of opinion, and not statements of fact. The author of this opinion feels very strongly about his assertions, but will not be subjected to defamation actions as such publication is made merely as a review of experiences and opinions regarding this doctor.
1.0 Rating
March 24th, 2015
TERRIBLE
1.0 Rating
January 7th, 2015
5.0 Rating
March 30th, 2014
Compassionate and thorough
Dr DuPuy has to be one of the most knowledgable, caring & compassionate Dr's I've ever met. He has cared for my daughter, husband and myself. The last surgey was my carpal tunnel and it went like a charm. NO pain whatsoever afterwards, can't even see the scar. Wish he were more extensive in the types surgeries he cares to do. He'd be going all of my ortho surgery (and I've had my share).
1.0 Rating
November 12th, 2013
I Would not recommend this man to my "PET"! He's a total Quack. I was so disappointed and frustrated. I went to this man for a "2nd opionon" on an injury. He came into the room with a "Thick textbook-like" document. He preceeded to tell me that the previous Doctor did exactly the right thing. He never asked me if my knew was in pain, how I was feeling, what was my complaint, NOTHING!... Seriously, he never even TOUCHED me. He simply defended the previous doctor's work (which I never questioned. I simply wanted a 2nd opinion), and told me to "keep doing what you're doing. It'll get better". WHAT!? REALLY!? I wanted to ask him how do you know what I've been doing? You haven't examimed me, asked me any questions or anything. Please tell me how this quallifies as a 2nd opinion?! He opened his "book" & turned to a page pointing out that the state allows a rating of a certain percent for such an injury and that there would be a few thousand $ in it for me. WHAT?!... who said anything about about $? I want to know what's wrong with my knee!. So I said to him: "I'm not concerned about the money, what about my leg?" He shrugged his shoulders, and said "well, all I know is Dr. ____ did exactly the right thing. So I don't know what to tell you." ... and walked out of the room with his "Book". I've been to a lot of doctors in my 63 years... he has got to be the absolute WORST. Take my advice... DON'T Go To This Man. UNFREAKING BELIEVABLE!
5.0 Rating
March 21st, 2013
Excellent Doctor
Let me tell you, some reviews can be really misleading... * Dr. Du Puy was very courteous and extremely attentive to all my concerns. Didn't feel rushed at all during my early morning visit (with a waiting room full of patients). He has an excellent disposition and made me feel that we had a long and friendly Doctor-Patient relationship. I am more than satisfied with every aspect of my visit to Dr. Du Puy's office and, yes, I will definitely recommend him with full confidence to my family, friends and colleagues!
2.3 Rating
March 27th, 2012
Great office staff and assistant but poor diagnosis
1.0 Rating
November 3rd, 2011
Rude
This doctor had a biased 'professional' opinion on my diet, even though he is not a nutritionist. He basically told me I would never be good at the sport I love because I am unable to get enough protein. This statement was NOT in his place to say. He didn't even seem concerned about my ankle, the reason I was there. Concerning the entire appointment, he told me what's wrong with my ankle and then didn't make any effort to suggest how to recover from it.
1.0 Rating
March 16th, 2011
Wish I'd Never Heard of Dr. Dupuy
Dr. DFupuy operated on my knee. 6 months after the operation, it was hugely swollen and in bad pain. He said there was nothing wrong with it and gav ...