Rate Now
Share Your Experience
Have you seen Dr. David Fish?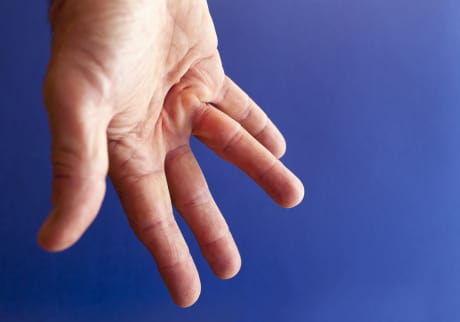 Dupuytren's Contracture
Dupuytren's contracture is a thickening of the tissue beneath the skin of the palm of your hand
39 Ratings with 20 Comments
1.0 Rating
June 27th, 2016
Rip off Doctor
5.0 Rating
June 13th, 2016
Great care and excellent pain relief.
1.0 Rating
May 7th, 2016
Don't waste your time and money with Dr Fish Radio Frequency Nerve Burn
Don't waste your time and money to see Dr Fish. I should have paid more attention to the bad reviews. Poor bed side manners, only interested in injection and RFNB, both are very painful. Sticking a needle directly into each nerve is painful enough, then the burning and pain increases when inject Novocain into each nerve. RFNB, burning nerves did not provide any relief, only aggravation. After I told Dr Fish I was not happy with the results, he could not get me out of his office fast enough. His referral was on a piece of paper without his letterhead, no diagnoses face to face. Poor, poor experience.
1.0 Rating
October 18th, 2015
Rude and arrogant Doctor
1.0 Rating
September 24th, 2015
Cold Fish
Dr. Fish should go by Dr. Cold Fish. When I called UCLA Orthopedic Center and explained my hip pain, they referred me to the spine center and I was given an appointment with Dr. Fish. My first appointment took less than 2 minutes and, even then, he was hurried and uninterested. He asked me zero questions and, after I offered up what I thought was going on, just prescribed 3 MRI's. After having the MRI's, I went back to him today and the appointment was less than 2 minutes and a huge disappointment. He didn't bother to show me my results and just said, "Your lumbar is fine. You have a tear in your right labrum (hip joint). I don't do hips. Just spine. Sorry." He could not have cared less. Finally, I got a referral to a hip specialist out of UCLA and I only hope she has a better bedside manner that Dr. Cold Fish. If you want to see a doctor that puts the Care into Health Care, Dr. Fish is NOT the one you want to see. He should just stick to research in an ivory tower and have no human interaction.
1.0 Rating
June 25th, 2015
Stay away
1.0 Rating
June 1st, 2015
Utterly incompetent and rude physician
Nothing. The staff is abrupt and the waiting room is depressing. Lots of disgruntled patients! I'd give Fish a zero if I could. He spent less than one minute with me, said he'd read my chart but had know idea why I was there. He ordered a steroid injection. When I asked why he said it would help my Sacro iliac pain. I stood up and said I'd been referred to him for HIP pain. This literally had know idea why I was there stay away, this is a chop shop.
1.0 Rating
February 13th, 2015
Terrible
1.0 Rating
April 19th, 2014
Expensive and inneffectual
Dr. Fish charged me over $500 just for a referral to a physical therapist. I went to him with lower back pain. He talked to me briefly, he barely looked at me and ran no tests. Without assessment or diagnosis, he sent me to a physical therapist. Then he charged me over $500 for the 15-minute visit. And that's after insurance discounted some of it. His full billing rate was over $3500/hr. It might have been worth it if the physical therapy had solved the problem, but it didn't. When I called back to ask about possibly getting an MRI, I was told that I'd have to come in for another appointment (and presumably another $500). By the way, although the outgoing voicemail message promises to return your call by the same business day if you call before 3, they frequently don't. When I did talk to the assistant, and she promised to get back to me within a couple days, I didn't hear from her until six days later when I called her. Unresponsive. Ineffectual. Excessively expensive.
1.0 Rating
November 23rd, 2012
UCLA RIP OFF
Worst experience I have ever had with a physician. This doctor and the UCLA Spine program is a huge rip off, their goal is to perform as many tests and procedures as possible. Dr Fish looked at my MRI and performed a 1 minute exam. He said I needed a piriformis block (I should have NEVER agreed to this procedure). Two weeks later at UCLA's St. John outpatient center I waited for three hours for the block. The OR was chaotic and out of control, nurses complaining nonstop about their hours, the resident stated that happily this was his last day. In the procedure room ( it is now 7 PM) Dr Fish jabs me in the upper back and leaves. Two weeks later I call him and complain about the chaotic environment and that my back is worse! What does he recommend? Another injection! DO NOT GO TO THIS DOCTOR! I have written a letter to the hospital administration and the chief of orthopedics. No response, no surprise.
3.7 Rating
October 22nd, 2012
I thought his bedside manner was fine. He was reassuring during the procedure. He was training an intern, but I didn't feel like that hindered the care. He is efficient and didn't spend a lot of extra time with me, but I don't think it's because he doesn't care (as some of these reviews suggest). He addressed all of my concerns.
Nearby Doctors

Dr. David Fish is similar to the following 3 Doctors near Santa Monica, CA.

Dr. Arya Shamie

Orthopedic Surgery of the Spine, Neurological Surgery, Orthopedic Surgery

Santa Monica, CA 0 mi