Rate Now
Share Your Experience
Have you seen David Kieff?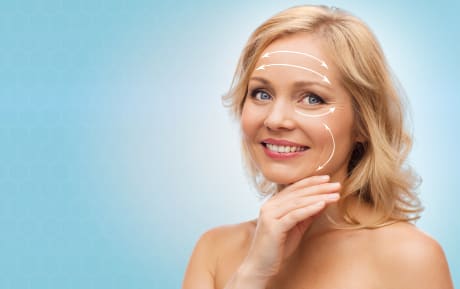 Facelift
Get the facts about facelift, including the visible signs of aging that different types of procedures can address.
Quality Rating
Highly Satisfied
75 Ratings with 47 Comments
5.0 Rating
April 24th, 2017
Excellent Experience
My experience with Dr. Kieff was excellent. He is a true professional and master of his craft. He performed a surgery to remove a salivary gland, and I the result is amazing. His standard of care is second to none. The office staff was also amazing, frequently having to call my PCP prior to the visit. I very much appreciate their diligence on my behalf. Overall, the experience was great, and am thankful to have had such a great team to take care of me.
5.0 Rating
April 11th, 2017
Great ENT specialist!
I visited Dr. Kieff after being referred by my PCP due to having frequent/severe sinus headaches. Dr. Kieff examined me and promptly identified that a deviated septum could be putting extra pressure on my sinuses causing the pain. He told me septoplasty and turbinate surgery was an option, but didn't push me too hard. He gave me all the info I needed and pros/cons of the surgery, which I eventually moved forward with. Ironically, via a different ENT physician, my sister had the same surgery just weeks before I did. In talking through her experience vs. mine in terms of information given ahead of the surgery, follow-up care recommended, etc., Dr. Kieff seemed to be far superior.
5.0 Rating
April 5th, 2017
Amazing sinus surgery!
After hearing horror stories and waiting 30+ years, I finally got around to have sinus surgery. Absolutely the best experience and outcome imaginable! Entertaining significantly improved quality of life and once again flying without sinusitis and earaches. Mass Eye & Ear was excellent. All this from a very fussy retired nurse practitioner. Many thanks, Dr. Kieff.
5.0 Rating
July 16th, 2016
I visited Dr Kieff for allergy-related nasal problems and was quickly diagnosed with a deviated septum. He and the office staff were able to schedule my surgery fairly quickly and Dr Kieff was very responsive/available for my questions along the way. My symptoms are much improved and I'm glad I decided to go in. I am no longer on my allergy medicines.
5.0 Rating
January 29th, 2016
Excellent experience with Dr. Kieff
5.0 Rating
October 23rd, 2015
The most thorough Dr. I have ever worked with
Dr Kieff took the time to investigate every aspect of my illness to diagnose what was wrong with me and give me targeted medicine., a huge relief after my GP and another ENT both mis- diagnosed me and gave me meds that were ineffective for my illness. This is the Dr. that will get Ito the bottom of it right away.
5.0 Rating
August 17th, 2015
Deviated Septum/Acquired Deformity of Nose
Dr. Kieff is a fantastic doctor. I had a deviated septum and an acquired deformity of my nose which happened over 11 years ago. It was an incident where I had my nose broken pretty badly. I chose to live with until I decided to finally see a specialist. Dr. Kieff's standard of care from the beginning was excellent - right from the consultations up tthrough the post-op. He explained what kind of surgery he could do to solve my problem (fix my deviated septum, reduce the size of my turbinates, and straighten the outside of my nose). In the end he did a fantastic job. My septum and the outside of my nose are as straight as can be. I am amazed at what a good job he did. Although I would not want to have to do through the procedure again (nose surgery is not fun), I would if I had to and I would definitely have Dr. Kieff perform the operation again.
5.0 Rating
June 24th, 2015
This late spring, I entrusted Dr. David Kieff to correct my congenital deformities of a severe deviated septum, misaligned nose and nevus on my right nostril. He surgically corrected these by preforming a functional septorhinoplasty, turbinate redux and nevus removal. I couldn't be happier with the results but more importantly, how outstanding my treatment was prior to, during and post procedure by Dr. Kieff and his competent, professional hospital and office staff. Dr. Kieff thoroughly explained the surgery and recovery in a calm manner that put me at ease. This gave me the confidence in my decision to schedule the procedure with him at Mass Eye and Ear. The surgery follow up was professional and personal, with a reassuring weekend follow up call from Dr. Kieff. I would highly recommend Dr. David Kieff based on my overwhelmingly positive experience.
5.0 Rating
May 6th, 2015
Highly Recommend
5.0 Rating
December 13th, 2014
Dr. Kieff - a wonderful doctor
Dr. Kieff was an incredible doctor. Our 6 year old son received a head injury during a moon bounce collision, and we took him to Dr. Kieff. The cut was down to his skull, and we wanted to be sure to have a facial plastic surgeon stitch the injury since it was on his face. I was expecting it to be a traumatic experience for him, but Dr. Kieff was so calming during the entire process that our son said that "it was easy." The stitching was done to perfection, and you can't even see the scar on our son's face. We are so thankful to Dr. Kieff for his time, effort, and compassion.
5.0 Rating
December 12th, 2014
I have had both chronic & recurrent sinus & ear problems for over 20 years, & Dr Kieff has been my 'Go To' ENT guy for about the past 15. He reports his findings, explains my options, and makes his recommendations. He answers all of my questions and always makes it clear that my treatment decisions are ultimately up to me. He never seems rushed. He even has answered my phone calls after hours personally I've had problems. His office staff are competent, efficient, and a pleasure to deal with. I most highly recommend Dr. Kieff to antone who might need his special expertise.
5.0 Rating
November 21st, 2014
Dr. David Kieff is an outstanding doctor whom I would highly recommend. My fifteen year-old-daughter and I (a 46 year-old-woman) have been seeing Dr. Kieff for years and have appreciated his insight, time, and dedication. Each time that we have visited his office, he has focused on our medical care and has answered all of our concerns and questions with clearly understood and thoughtful answers. When other doctors have been unable to diagnose certain conditions, Dr. Kieff has been able to make an assessment considering a multitude of factors and come up with a viable solution. We have never felt rushed and always feel that we are in the best care. It is rare to find a doctor such as Dr. Kieff who is both extremely competent and who possesses a good bed side manner.