Rate Now
Share Your Experience
Have you seen Dr. David Okonkwo?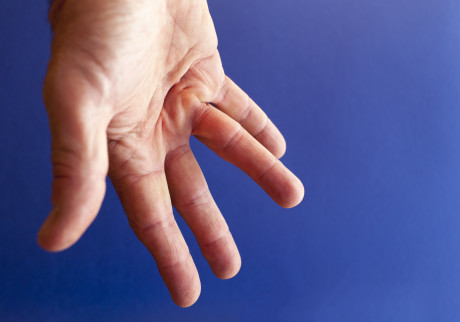 Dupuytren's Contracture
Dupuytren's contracture is a thickening of the tissue beneath the skin of the palm of your hand
Quality Rating
Highly Satisfied
67 Ratings with 12 Comments
5.0 Rating
December 14th, 2016
I can not believe that some of these reviews are for the same surgeon that took care of my son. My son got the best care from Dr. Okonkwo. He was upfront about my son's surgery and the chance of it making things better. He spent as much time as we needed to digest and make a decision on whether to move forward or not. He showed genuine concern and understanding of an 18 year old boy.My son spent 6 1/2 years going from doctor to doctor , each one adding or changing the drugs he was on. Dr. Okonkwo recommended surgery to fix the problem. My son got his whole life back and is on no medication. We owe a lot to this Doctor and will be forever grateful for him taking the time to try and help us.
1.0 Rating
November 28th, 2016
Past Patient 2015
This man told me he could relieve me of 90% of my LS Spine pain. 13 months after surgery I have 100% additional pain along with conditions I did not have prior to the operation. The waiting room for clinic is like a room filled with cattle; you wait a minimum of 2 hours and then you see a PA and see the Dr for about 10 minutes. I am a ghost of a women compared to what I was prior to the surgery. I would not reccomend thi
5.0 Rating
July 6th, 2016
Amazing!!!
1.0 Rating
November 8th, 2015
wait Time
This comment has nothing to do with how well this Doctor performs. but if the average wait time is a reflection of how accurate the other categories are the they are all sadly inaccurate. I have been to this office twice. First time I waited in the exam room for 3 hours before seeing the doctor for ten minutes! Second time I arrived in the office at 11:30 am and left at 2:30 pm. So in my humble opinion he only thing these ratings are good for is a good laugh!
1.0 Rating
August 20th, 2015
Did I see the same dr. as the rest of these reviewers? His PA spent about 15 minutes explaining my mri and possible surgery: i.e outcomes, risks ect. He came in to talk to me and his phone rang. He said he had to take the call and was gone about 10 minutes. In the mean time his PA comes back hands me a script for additional xray views (not told why) he then walks in and says .."oh good you got your script. see you in 6 weeks"........um no doc you wont!
5.0 Rating
December 27th, 2014
Life saved by him
5.0 Rating
May 21st, 2013
Patient
Dr Okonkwo is in my opinion the most thorough,and professional That I have ever meant.Unfortunately it was over a fall injury that resulted in a burst fracture to my back .He was very courteous and answered all questions or concerns..To Dr Okonkwo I say Thank You Best Neurosurgeon In United States in my Opinion!!!!
5.0 Rating
April 6th, 2011
Brain Injury
Doc Okonkwo has performed 4 brain/skull surgeries on me. He is like my new BFF. Spend so much time with him. He is great, his bedside manner is awesome, and he is personable. treats you like a human being and not just another patient/statistic. He is so knowledeable and willing to share that knowledge. Answers all questions and takes concerns seriously!
5.0 Rating
January 25th, 2011
Dr. Okonkwo is an excellent doctor
Dr. Okonkwo is an excellent surgeon. He is respectful, LISTENS WELL, and speaks in lay terms when talking with patients. He is not a doctors doctor, he is there for the patient. He is not arrogant, condescending, or intimidating in any way. I felt extremely comfortable in his care and I am grateful that I found him and that he is my spinal surgeon. I have recommended him to several of my family members and friends.