Rate Now
Share Your Experience
Have you seen Dr. David Samadi?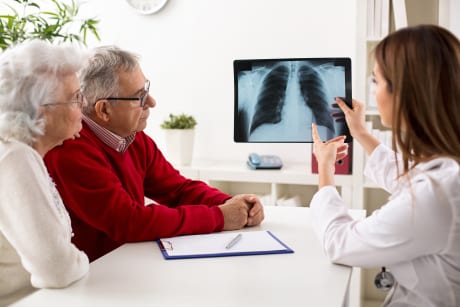 Lung Cancer
Get the facts about lung cancer, including how many people get it and what increases your risk for developing it.
Quality Rating
Highly Satisfied
121 Ratings with 30 Comments
5.0 Rating
September 17th, 2017
Dr. Samadi embodies the ideal physician. He exudes an aura of warmth and confidence, he is compassionate and persistently empathic towards his patient. He always puts patient's dignity and welfare above everything. In terms of avant garde technical knowledge and skills, he is par excellence. He is detail-oriented, meticulous but cautious. A cut above the rest. He is a rare gifted, heaven-sent healer; truly a yardstick of standard for his fellow colleagues. Hats off to him, I am cancer free.
5.0 Rating
June 20th, 2017
Pre- and Post-Op review
I met Dr. Samadi for the first time in May 2017 to get a second opinion for my diagnosis of prostate cancer. I was able to get an appointment the same week I called the office and after my consultation, immediately decided to have my surgery performed by Dr. Samadi. His office staff epitomizes courtesy and professionalism. Dr Samadi performed the surgery at Lenox Hill hospital, which was another amazing experience. Post-surgery, I was up and walking after a few hours and was discharged from Lenox Hill hospital on Day-2. My recovery has been remarkable and I experienced very little side effects post prostatectomy. I strongly recommend Dr Samadi and his staff to all who are seeking top-notch care.
5.0 Rating
November 17th, 2016
Thank you, Dr. Samadi!
As Thanksgiving approaches we can't think of a better time to express our gratitude and appreciation to Dr. David Samadi and his wonderful concern, skill and care during my husbands recent suregery for prostate cancer. Not only is Dr. Samadi the most skilled and highly respected urologist in his field, his caring and concern peppered with a dose of humor gives his patients the confidence that they are in the best of hands. His offie staff could not be nore caring and Lenox Hill Hospital a quiet and even elegant respite to convalesce during this stressful time. Thank you Dr. Samadi for restoring my husband to good health and also for being the talented and compassionate man that you are!
5.0 Rating
May 19th, 2016
I have nothing but the highest regards for Dr. Samadi. He is very knowledgeable and compassionate. Both he and his staff are very courteous and comforting. He listens to you and answers all of your questions. The office wait time varies. Sometimes it can be less than 10 minutes. I have no regrets. As a result of the surgical procedure that he performed on me, I can sleep at night (and I am not referring to whether or not I have to get up to use the bathroom). My stay at the hospital was a pleasant experience. I am assuming that his orders to the hospital staff were such that if I needed any medication, I did not have to wait for them to contact the Dr. which certainly saved me a lengthy wait until I received the medications necessary at that time. I only wish that he had an office closer to where I live.
5.0 Rating
February 13th, 2016
Top quality professional care from a great and caring doctor!
I wanted to post an update and let everyone know that I can't say enough nice things about how great Dr. Samadi has taken care of me. He always returns my calls and emails and he follows up with genuine care and concern. Dr. Samadi saved my life 2 years ago with his special robotic and medical skills and I have been back to normal routine, working out and runnig right a way and with running my business. Just as important to mention is his wonderful office staff and his Lenox Hill team and special wing for his patientsI So for anyone as world renowned and busy as Dr. Samadi is to take the time to return your calls and emails is truly amazing. He is a wonderful caring person who happens to be the best there is anywhere. Did I mention a good sense of humor? Haha. Consider yourself lucky if you find Dr. Samadi he can save your life too. Good health to all.!
5.0 Rating
February 2nd, 2016
life saving surgeon
When I first was told by my local urologist that I needed to have a prostrate biopsy, as he suspected cancer, I was quite alarmed. I proceeded to try to educate myself as quickly as possible, as I had virtually no knowledge on this topic at all, or even what a prostrate biopsy really was. A doctor (non urologist) that i trusted confirmed my thoughts of having an MRI and then a biopsy, which confirmed that I did have prostrate cancer. Now I had a whole new topic to research, with the additional pressure of knowing that I had prostrate cancer! As I tried to make decisions as to treatments, I found the information (to this novice) to be overwhelming and confusing. Again my non urologist doctor friend intervened, on multiple conversations with the advice that i needed, including strongly advising that I should travel from Illinois to New York and meet with Dr. Samadi. To my utter amazement, following my inquiry, Dr. Samadi himself called me, and indicated from the information that I shared with him that I should have surgery IMMEDIATELY, and he was able to arrange that even sooner than my local surgeon. From the VERY FIRST phone call, and every conversation since, Dr. Samadi and his team have been the most punctual, considerate, prompt and professional medical team I have ever encountered. Setting up my travel and meetings in New York was painless and ALWAYS detailed. From my very first meeting with Dr. Samadi, when he met with my wife and myself, I knew I had made the right decision. As we discussed my biopsy pathology and surgical options, Dr. Samadi was very thorough and most reassuring. When he met with us just before I went into surgery, and told us that he would take good care of me, I knew again we had made the correct choice. The robotic prostrate surgery was quite successful; during the surgery, Dr. Samadi also noticed some soft tissue that was suspicious. The surgery pathology confirmed that that tissue also was cancerous. I believe that ONLY the skills and experience of Dr. Samadi could have made that decision during surgery. As I write this tonight, I have just started back to work full time, not even four weeks since my surgery, and have no need for chemo or radiation. I am CONVINCED that my recommending doctor and Dr. Samadi literally saved my life! Every single aspect of this surgery - from the team before and during the surgery, the recovery facility, Dr. Samadi himself - could not have been better. If anyone is considering or needing prostrate surgery, I would look no further than Dr. Samadi. When was the last time your surgeon volunteered a hug, as he confirmed that he wanted to see every one of my upcoming PSA tests, as I would now be his patient as long as needed.
5.0 Rating
August 16th, 2015
Best yet to come.
5.0 Rating
August 7th, 2015
Mr.
5.0 Rating
July 30th, 2015
Updated with correct stars! All I can say is that Dr Samadi is remarkable, exceptional, amazing, astonishing, astounding, sensational, incredible, unbelievable, phenomenal, outstanding, momentous, impressive, memorable, unforgettable, unique, out of the ordinary, and rare. A truly talented gifted surgeon who saves lives that sums him up
3.0 Rating
July 22nd, 2015
everything is wonderful your going to be fine you won't be incontinent and you will be having sex in a month I'm going to take care of you like family after surgery you have to do more Kigali exercises you have to lose weight I'll have you try some medications I'll have to look into and consult with some colleagues and get back to you after several more visits and repeated request for referrals with no results I moved on to other doctors with compassion and suggestions for remedies for in contontinance and since met other patients with similar experience with him he seems to be more interested in celeberty than his patients he may be a good surgeon but his smart method and results for a normal life after surgery are greatly exaggerated BEWARE!!!
5.0 Rating
June 23rd, 2015