Rate Now
Share Your Experience
Have you seen Dr. David Sherry?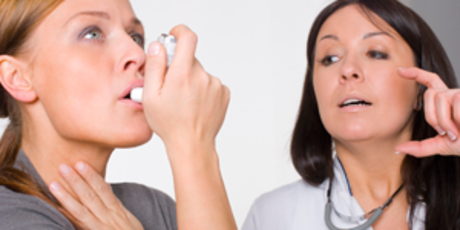 Asthma
More than 22 million Americans of all ages have asthma. Prepare to talk to your doctor about symptoms, diagnosis and treatment options.
Quality Rating
Highly Satisfied
59 Ratings with 25 Comments
1.0 Rating
April 19th, 2017
Although Dr. Sherry was helpful, his office management was horrible and as a results we paid a lot of money and nothing was accomplished. After visiting 10 specialists, we were referred to Dr. Sherry. It was a relief to hear him say..."I know what your son has. There is an 80% chance I can cure him and 100% chance I can make his life better" We left with hope. Then the nightmare began. I received a call saying our insurance did not cover the services he needed, there was nothing they could do. (We had BCBS, what had been excellent insurance for us so I was very surprised). Trying to reach Vanessa (Office manager) was difficult because she rarely returned phone calls and did not communicate well. When I asked, What are my options, she referred me to the nurse practitioner. When I spoke to her she asked, "Why are you calling me, I didn't see your son". Finally I was given the option to come see an OT/PT in the AMPS clinic who could help individualize a home therapy plan. We drove all the way back (from NC). Our "individualized" assessment consisted of a 12 min run on a treadmill and the "individualized plan" consisted of a photocopied total body work out. For that we received a bill for $1900. Disgusting. Our medical system is broken! Do not waste your time with this office.
1.0 Rating
March 4th, 2017
Don't let the clown nose fool you. He should be wearing horns! He is an evil man hiding behind stupid jokes. He is using your children as mice in an experiment. However, unlike medical mouse studies, he will dismiss any patients with an unfavorable outcome. If you choose to go down this road, good luck, hopefully your children won't die.
1.0 Rating
September 24th, 2016
Dr sherry lies to his patients. He spells it out in his numerous journal articles. He does not believe in AMPS/RND/RSD/CRPS pain and he manipulates parents into letting his staff emotionally abuse their kids. Do not see this man.
5.0 Rating
July 24th, 2016
Thank you Dr. Sherry and CHOP! You are AMAZING!!!
Dr. Sherry is an amazing doctor and even though my pain hasn't gone away yet, I am grateful to him for making me functional. We scheduled my appointment at CHOP with Dr. Sherry because I had been diagnosed with RSD/CRPS and none of the treatments where I lived were working. My parents found Dr. Sherry and his amazing treatment program, and he was the best doctor I had ever met. He was very knowledgeable, and gave me an accurate and detailed description of my diagnosis that I could understand. He told jokes that I would pretend weren't funny, but they actually were. He takes his time with you and never makes you feel like he's in a rush or has to see other patients; all of my appointments were pretty long. About a month and a half after my initial evaluation at CHOP, I went to Philadelphia to start my treatment at the hospital with physical and occupational therapy, accompanied by psychological counseling. My four weeks at CHOP were the hardest and most painful weeks I have ever experienced, and probably will ever experience, but they gave me my life back. I had swimming every morning, which could never compare to the intensity of the swimming workouts I normally do, but helped to prepare me for when I went back home. I practiced carrying laundry up the stairs and other basic life functions in occupational therapy, and I know that I would be nowhere near as functional as I am now without them. Physical therapy got me ready to be an active soccer-loving tween again, and now I can run and cut just as well as my teammates who don't have RSD/CRPS. My favorite parts of my stay at CHOP were Fun Fridays (when all of the AMPS patients would work together during physical therapy for an hour and have fun) and lunch (where all of the patients could talk openly about our days, our worries about returning to normal life, our challenges, and encourage each other. I am now close friends with the people I met at CHOP who were just like me. AMPS is caused in part by stress, and some of that stress is from having nobody around who has or knows a lot about your condition. Seeing other kids go through what I'm going through really helped me on my path to recovery, and I'd like to thank all of my friends for that). I want to say a special thank you to all of the people who helped me to become the competitive athlete that I am now: Dr. Sherry, Deb, Traci, Steve, Ashley, Jamie, Joyce, Jaclyn, Lori, David, Michelle, Ed, and every other person who works at CHOP! Thank you!
1.0 Rating
April 20th, 2016
Dr Sherry is an evil man..he has spread his lies across the country to several other "Pain programs" for children. My child suffered from a REAL horrible disorder called RSD, not AMPS..AMPS is a word he made up..basically he says this is not a real disorder and it is all in there head. If that is not sick enough, he gives lectures to medical people where he says, " the MOM is the problem" " If you separate the child from the MOM the problem (RSD) goes away" I swear this is true..He harms innocent children with his twisted philosophy and is fooled by desperate parents searching for something to help their child. DO NOT EVER let your child be treated by this horrible man..he will call the DCF on any parent that questions his beliefs, BEWARE of him. The other "Programs" that share his horrible philosophy are The Cleveland Clinic Children's Pain Program, PPRC at Boston Children's Hospital. Do not subject your child to this abusive doctor!
1.0 Rating
March 22nd, 2016
DR SHERRY IS A HORRIBLE DOCTOR. STAY AWAY !!!!
1.0 Rating
February 5th, 2016
Medical Ethics
Dr. Sherry's program needs a serious review by a medical ethics board. The doctors at Chop are now slap-happy to diagnose children with this disorder. It is a serious cas cow for the hospital. If your child is diagnosed without out any real medical science behind it, seek another opinion. The children are victims of horrible treatment and MANY don't recover simply because they were misdiagnosed.
5.0 Rating
December 11th, 2015
5.0 Rating
February 18th, 2015
4.0 Rating
February 13th, 2015
One of the Great's
5.0 Rating
June 21st, 2012
Amazing results!
5.0 Rating
May 3rd, 2011
Dr. Sherry is a kooky, brilliant doctor. My daughter went through his program and sadly is not 100% cured, but is completely confident that she can do ANYTHING and will never let her pain hold her back. Too many doctors we visited fed my then 15 year old narcotics & muscle relaxers and told her the pain was in her head. I would love to see him study WHY the condition occurs, but I am so grateful that we found him. What a wonderful physician!
Nearby Doctors

Dr. David Sherry is similar to the following 3 Doctors near Philadelphia, PA.