Rate Now
Share Your Experience
Have you seen Dr. David Wall?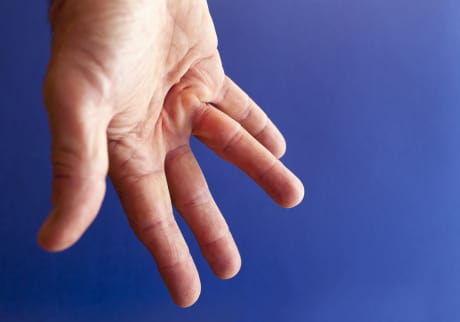 Dupuytren's Contracture
Dupuytren's contracture is a thickening of the tissue beneath the skin of the palm of your hand
11 Ratings with 3 Comments
1.0 Rating
February 22nd, 2012
1.0 Rating
July 30th, 2011
I'm sure he's a good doctor, but he's too old. His skills are obsolete. I had 2 (the second cuz he screwed up the first) arthroscopy done with him and he cut a 1" gash on both sides of my knee. (if you ever have a arthroscopy done, they do not cut a 1 inch gash on both sides of the knee to clean out the scar tissue...it should be the size of the tip of the pen ) ( I consulted with another doctor and he told me not to use him. That technique was don in the 80's. After surgery he sets up a time for my follow up appt. When I see him he tells me to bend my knee and I can't. It became stiff cuz the scar tissue formed. ( no range of motion at all) Next, he tells me we have to do another surgery but this time I'll put you on a cpm machine after the surgery so we can work on the range of motion and the scar tissue wont form. Why didn't he do this the first time? But stupid me I agreed. I did the 2nd surgery, same as the first, and ended up staying in the hospital a whole week for a one day outpatient surgery. They did put me on a cpm machine but my knee blew up like a elephant. they thought I had a blood clot. Luckily it wasn't. My knee became worse. I was told my knee has gone thru so much trauma from the two surgeries. I was a scar tissue machine. My knee made so much scar tissue that I did have any range of motion. My leg was stiff. After all the trauma I went thru, I decided to leave Dr. Wall. The best decision I ever made. When I told him I was leaving he ask "why?" I have the more experience that any surgeon out there. So why is my knee worse off than when I intitially came in? After months of research and consultations I found a doctor at UCI. He told me I have patella baja and that he could get me to a range of motion of 100 degrees after surgery. That means I can sit in a car properly and walk normally again. I did it and me knee is way better than it was with Dr. Wall. My range of motion is at 130 degrees. And get this, After my surgery, my scar on my knee is about 2mm square as opposed to the 1 in gash Dr. Wall made. I did try to file a law suit against Dr. Wall. Under California law, the most you can sue a doctor for malpractice unless the outcome is death is $250,000. No Profesional lawyer wanted to take it because it would take that much to litigate it. Today I am happy with the outcome of my knee. I am back to normal activities and just started recently working. In summary, I'm sure Dr. Wall is a great doctor with 41 years experience. He must be in his late 60's or early 70's. But he's just too old. Come on, would you trust you 70 year man to cut you? The hands are not the same as 30 or ever 40 year old.
5.0 Rating
February 18th, 2011
2.0 Rating
February 20th, 2017
3.0 Rating
February 20th, 2017
1.0 Rating
January 28th, 2016
5.0 Rating
April 13th, 2015
5.0 Rating
October 10th, 2014
2.3 Rating
October 8th, 2014
5.0 Rating
August 22nd, 2014